Every preview luncheon features a panel of alumni who offer their personal insight into the benefits, challenges and experience of the TCU Neeley Executive MBA program. Here are some of our favorite soundbites from the May 4 luncheon.
May 31, 2017
The panel
Jesus Miranda, '17
Campus president, Universal Technical Institute
Jesus pursued his MBA as part of a personal goal, not because he thought he really needed it – then he ended up amazed by how much he learned. 
Kim Speairs, APR, '14
Director of Client Services & PR Specialist, Balcom Agency
Kim became interested in Neeley while handling marketing for the program through her position at Balcom Agency. But it wasn't until a co-worker mentioned wanting to pursue an MBA that she realized she didn't want to be out done. 
Ken Stephens, '11
Founder and CEO, Private Equity and Venture Capital
Ken was already a highly successful executive. He entered the program to find a way to become semi-retired – making more money while working less.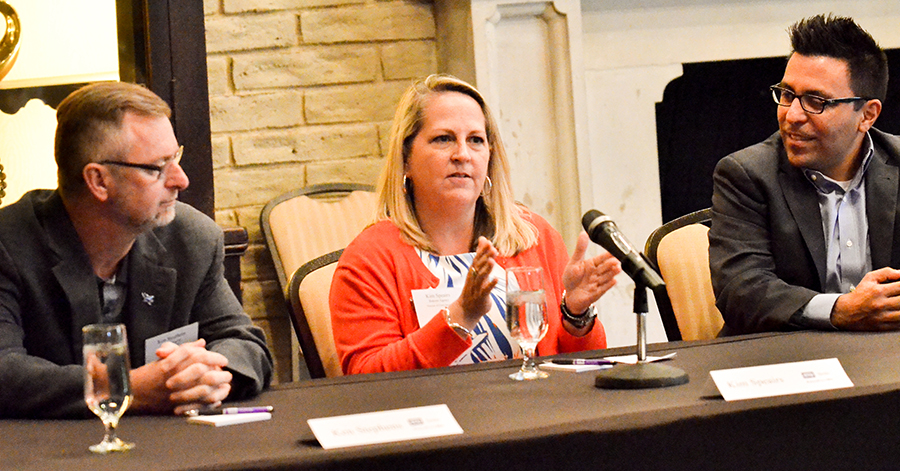 ON CHOOSING NEELEY
JESUS:
"I chose Neeley for the people. I visited other schools, but they lacked the 'it' factor when it came to caring for people."
ON GROWING AS A LEADER 
KIM:
"You do a 360 evaluation with your team, when you work on areas in yourself to become a better leader. I come from a small company, about 37 people; we don't have the resources of a big company to hire an executive coach, so it was a great opportunity for me to be able to work on those things one-on-one, and to be held accountable by my team." 
JESUS:
"I came in with confidence, thinking 'I've accomplished a lot already.' I didn't necessarily think I needed the program at first, but it teaches you things you didn't know you needed and makes you even better at what you do know." 
KEN:
"I had done great things in my career already, but Neeley gave me the tools and foundation to do new things. I've bought and sold several companies since. I never thought I could do that before. Now I only have to work 15 hours a week. Life is great."
ON BEING CONNECTED
KEN:
"I visited other programs in the North and Central Texas region , and they talked about 100 students versus 30 students in the Neeley program. But there, you're in one group of five or six people the whole time, so you only get good networking with those five or six. At TCU, they move you around so you get to know all 30 really well. [I even] got to know spouses, too, so really closer to 60 people."
JESUS:
"I have a new best friend because of this program, as well as 25 to 30 other friends I can call any time and they'll respond. Even people from other classes." 
KIM:
"You have three different teams throughout the program. And they are great about balancing the teams. My background was journalism and marketing, so I was apprehensive about accounting and finance, but I was paired with Matt Smilor and others who helped me through, and that built up my skills at same time. And it goes beyond your class to other classes and their spouses: I ended up hiring Matt's wife. So those connections continue strong even after the program."
ON REAL ROI
KIM:
"I had been at agencies for 20 years, and I felt like I had been there, done that. But through the program I was able to look at reorganizing and efficiency at our agency, and it showed us an unexpected way to grow the agency. We've started to handle change management and culture development for our clients, which is very different from typical agency services … On a personal level, the international trip was huge for me. I had assumptions about all these countries, but the trip took the blinders off; I got to see all the sides of these companies. And I wanted to do this for my kids, so I took them to Ecuador to visit my sister for spring break. I never would have done that without this program." 
KEN:
"We'd be studying in class Friday and Saturday, then show up to work Monday and find out 'I just talked about that.' It's amazing how often that really happened. My goal with this program was to make a big change in my life, and it did change. I started my own company; now I work 15 hours a week making more money than I ever made, and my biggest stress is coaching my 5-year-old's baseball team. My older son is about to get out of the military, and now he can join me and start his own company. All five of my sons will be able to do the same."
JESUS:
"I proposed a strategy to my organization, and they're implementing much of it over 3,200 people in the organization. I wouldn't have been able to do that without the program … I sit in meetings with controllers, accounting, finance, and I hold my own and even ask better questions than they do sometimes." 
ON PRACTICAL APPLICATIONS FOR PEER LEARNING 
JESUS:
"A couple of people in class are in real estate. There was no real estate class, but because of those classmates, I better understand both the front end and the back end of real estate. Since then, I sold two houses and bought another, and I'm confident I negotiated the best deal." 
KIM:
"You walk away with a trusted team of advisors. You come across an issue at work, trying to think it through until you realize you can call your classmates or go to the happy hour and talk it out. Everybody weighs in, offers support, even across industries, so you learn other ways of dealing with things. I learned how to approach things outside of the advertising and marketing box." 
KEN:
"I'm a VC, so everything is about money. When you're investing, you want to know what it looks like to invest in a particular industry. So knowing professionals in all these industries positions me to invest more wisely. It's also shown me how I can plug my kids into different industries."
ON MAKING THE TIME
KIM:
"I had been out of school for 20 years, and it was daunting to get back into studying. And my team thought I was crazy, but I got up from 3 a.m. to 6 a.m. to study and write papers. I didn't want to take time away from my kids. Of course it's different for everyone. You'll be amazed how you'll find time, and make it work." 
KEN:
"I was in your seat. I already worked 60 to 70 hours a week. So I set aside time slots from 6 to 10 p.m., Monday through Thursday, like punching a clock on a second job. My wife and friends knew I wasn't available then, but that I was available Friday nights." 
JESUS:
"I wasn't as organized as they were. Everybody's different. I spent 10 hours straight on Sundays. Just remember that not one person in any class has failed to figure it out. You can, too. You just have to want it."
--
The panel shared much more insight that we didn't list here. Join us for the next preview luncheon and don't miss a word.
This panel discussion followed an engaging talk by Dr. Erekson on understanding economics in a "fake news" world. Read that recap here.