Every preview luncheon features a panel of alumni who offer their personal insight into the benefits, challenges and experience of the TCU Neeley Executive MBA program. Here are some of our favorite soundbites from the March 7 luncheon.
March 27, 2018
Every preview luncheon features a panel of alumni who offer their personal insight into the benefits, challenges and experience of the TCU Neeley Executive MBA program. Here are some of our favorite soundbites from the March 7 luncheon.
The Panel
Kathy Novak-Johnson, '12
Director of Customer Experience, BNSF
Kathy was an aerospace engineering undergrad who understood the technical side of her work at BNSF, but wanted a better grasp of the financial and business sides.
Jamie Timmins, CPA, '14
Vice President, First Command Financial Systems
Jamie always wanted to get her MBA after her undergrad. Once her kids were either in college or learning to drive, she took advantage of the opportunity to round out her skills.
Rodney Shrader, '15
Vice President of Sales and Marketing, Mustang Energy Services
Rodney jumped into the EMBA program when he realized he was tired of pretending to understand what his peers were talking about in board meetings.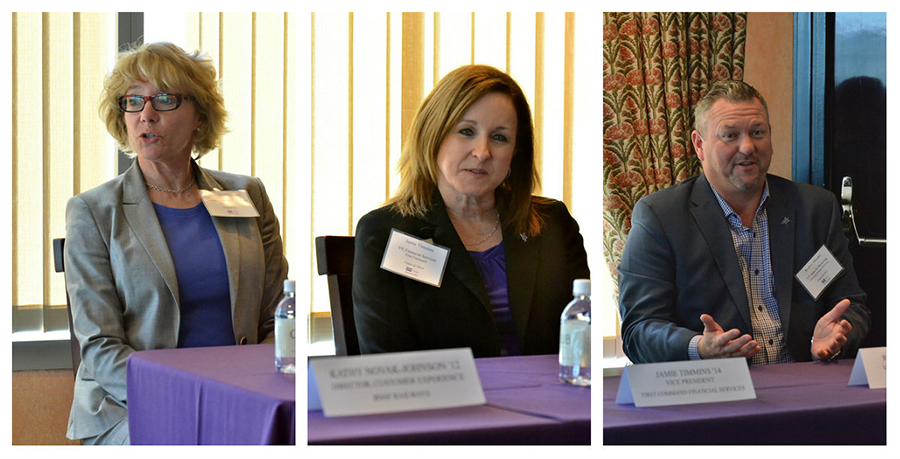 ON GROWING AS A LEADER
KATHY
One cool thing is that every other Monday after class, you're bringing stuff back to your team. It made my team stronger and helped me work with our business partners, because I understood the costs, I could share our vision, I could set expectations with the team. I was able to bring something to them as a leader, and then apply that to our customers. 
JAMIE
When you spend so long in your regular role, you tend to get stuck down in the weeds. This program teaches you how to be strategic, look at something from all the angles, ask the right questions.
RODNEY
I always thought I was doing what I needed to do. But the program helped me understand strategic thought, how to roll out a product. It built a foundation I didn't have before. Before, I would just run. Now I step back, look at things, ask questions. 
ON TEAM-BASED LEARNING
JAMIE
There's probably more teamwork than individual work, and you're all Type A's, trying to be the best. But you get close to the whole class. You learn from them. You learn to use everyone's strengths. Then you take that back to your career and apply it to your teams at work.
RODNEY
I wouldn't have survived without teams. Linda and Suzanne put me with really smart people. That part was so much fun, because you need to lean on other people sometimes. Around the start of the program, I doubled the size of my business – and I needed help! So it was great to be able to work alongside these leaders who could give me insight.
KATHY
When you work on the job day in, day out, you hear and see the same things all the time. But when you're in a diverse group like this class, you start craving that diversity, seeing different things, learning someone else's perspective. That was the exciting part.
ON RETURN ON INVESTMENT
KATHY
Coming from the engineering side, I didn't understand the financial decisions BNSF made. After the first finance class, I was able to talk to the budget directors, asking all these questions. You should have seen their faces. Like, "This stuff doesn't usually come out of her mouth." I may not know everything, but I understand now.
JAMIE
After the program, you'll miss it on Fridays. Because you're getting ROI throughout. My boss said "Wow, you're touching a lot of projects on a strategic level." And it's great for your kids to see how hard you work. It's the best thing you will ever do.
RODNEY
Every Monday you go back to your job, you take something relevant from class. I was in the middle of negotiating with another company to double mine. I had just got out of finance class two months before, and now I understood it. Everything was so relevant. Now I can make change. Now I have a voice. 
Audience Questions
DO YOU STILL RELY ON YOUR NETWORK?
RODNEY
The network you build in the program is 28-30 other professionals in different backgrounds, different businesses, and you get to know those businesses intimately. [Beyond your class,] the program does really well with tailgates, other events. I've met everybody who's been an EMBA grad. I didn't go to school with Jamie, but I know I can call her anytime. The other day, I met with Casey Gourley at BNSF [about a project I had], and this morning I walked in to find a three-and-a-half-page email from him.
HOW DID YOU BALANCE WORK/FAMILY?
JAMIE
Find your stride. The first step is the hardest. My best friend in the program was an early bird, so she'd get up at 4 a.m. to study, whereas I'd be up until 2 or 3. You figure it out. It's a lot of work, and you will have to turn down some fun things. But get commitment from your work, your family. It's worth it. And in the end, it really goes by fast.
WAS THE CURRICULUM MORE PRACTICAL OR THEORETICAL?
KATHY
I felt like everything was practical. The very first Monday after class, I took things back to my team.
The panel shared much more insight that we didn't list here. Join us for the next preview luncheon and don't miss a word.
This panel discussion followed an engaging talk by Dr. Robert Rhodes on international business law. Read the recap from his previous talk here.