TCU Neeley Finance Professor receives special honor for his outstanding achievement in real estate research, education and practice.
June 02, 2021
By Erin Smutz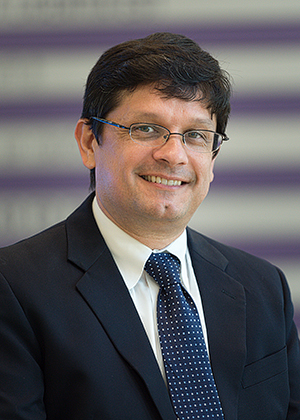 Mauricio (Mo) Rodriguez, professor of finance and real estate at the TCU Neeley School of Business, is the recipient of the 2021 International Real Estate Society (IRES) Achievement Award. The prestigious award is given to an individual whose work has contributed to the field of real estate on an international level.
The IRES is a federation of regional real estate societies that encourages global cooperation on research and education. Nominations for IRES awards come from members of real estate societies throughout the world.
Dr. Rodriguez is the Director of the LKCM Center for Financial Studies, the Theodore and Beulah Beasley Faculty Fellow and has served as Chair of the TCU Department of Finance during the past two decades. During that time, he has won multiple research, teaching and service awards.
His real estate research includes work on spatial statistics, corporate  real estate, REITs, capital markets and commercial real estate, and has appeared in journals such as Real Estate Economics, Journal of Real Estate Research, and Journal of Real Estate Finance and Economics. He serves on the editorial boards of several academic journals and is also a co-editor for the Journal of Real Estate Literature.
Dr. Rodriguez has served as President of the American Real Estate Society (ARES) and as President of the Real Estate Research Institute. He has been a member of the IRES and ARES Board of Directors, Executive Director of the James R. Webb ARES Foundation and ARES Director of Finance. In the latter capacity, he continues to champion support for doctoral students and faculty from emerging countries.