Beginning as a pitch competition for seed money, Shaddock's vision for hands-on entrepreneurial experience at TCU Neeley evolved into a campus-wide incubator program.
March 25, 2022
By Rachel Stowe Master
Hailing from Orange, Texas, William C. "Bill" Shaddock '73 followed his older brother and sister to TCU with ambitions to become a doctor like his father. But he soon discovered a passion for entrepreneurship at the TCU Neeley School of Business.
"What I learned at the Neeley School has been the foundation of my success because that's where I became acquainted and fell in love with business and entrepreneurship," said Shaddock, owner and CEO of the Bill Shaddock Family of Companies. "TCU gave me a solid educational foundation in business for everything that followed."
After completing his BBA in finance at TCU, Shaddock earned an MBA in real estate from SMU and a JD from Baylor University School of Law. He joined a downtown Dallas law firm in 1977 but left in 1983 to join his brother, Peter Shaddock '64, in real estate development.
"I loved the practice of law, but I learned something fundamental about myself: I would rather make a deal than document someone else's deal. In law, I was always answering the phone. In my business career, I am the one making the phone calls," he said.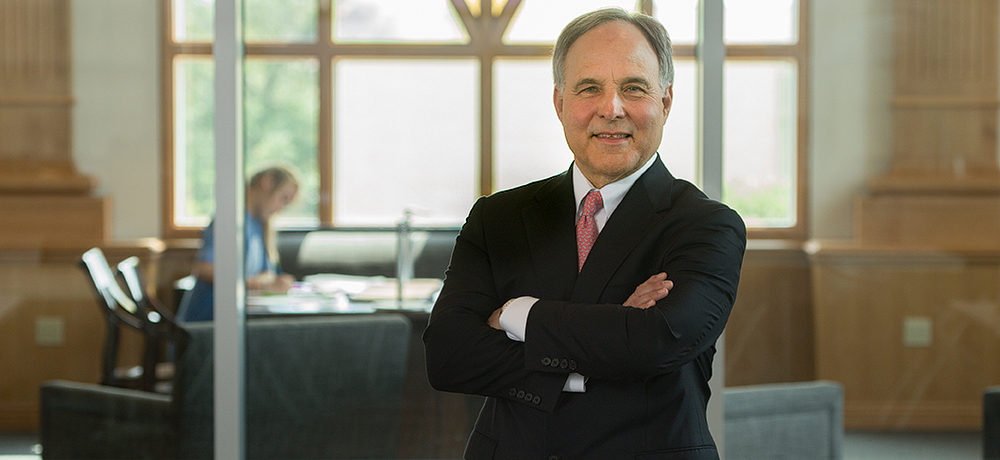 Shaddock is still a partner in the Shaddock Development Co., which grew to be one of the largest residential real estate developers in North Texas. He also is owner and CEO of Capital Title of Texas, the largest independent title company in the U.S., and Shaddock National Title Holdings, a collection of leading title companies across the country. Additionally, he is owner and board chairman of First National Title Insurance Co., the ninth-largest title insurance underwriter in the U.S., and Willow Bend Mortgage Co.
Looking back, Shaddock has no regrets about leaving law to pursue entrepreneurial endeavors.
"Through these companies, I've been able to take risks and build companies. I love competition and the challenges of creating something lasting and successful, and these businesses have given me an opportunity to do that," he said.
Shaddock is most proud of the fact that he and his team built from scratch companies that now compete on a national basis against Fortune 500 companies.
"Our companies are climb companies, not summit companies — and that's true of myself," he said. "I love the journey more than the summit. I'm not looking for summits to rest. I'm looking for opportunities to climb. Let's go!"
Shaddock's entrepreneurial enthusiasm includes a passion for equipping and empowering the next generation of entrepreneurs and innovators — especially Horned Frogs.
"I received a great educational experience at the Neeley School and believe based on my success that I should show my appreciation to TCU in a tangible way. It's not the Neeley School per se that I'm giving to — it's the present and future students of the Neeley School. I've thought about experiences I would have liked to have had as a student and have tried to provide those now to TCU students," he said.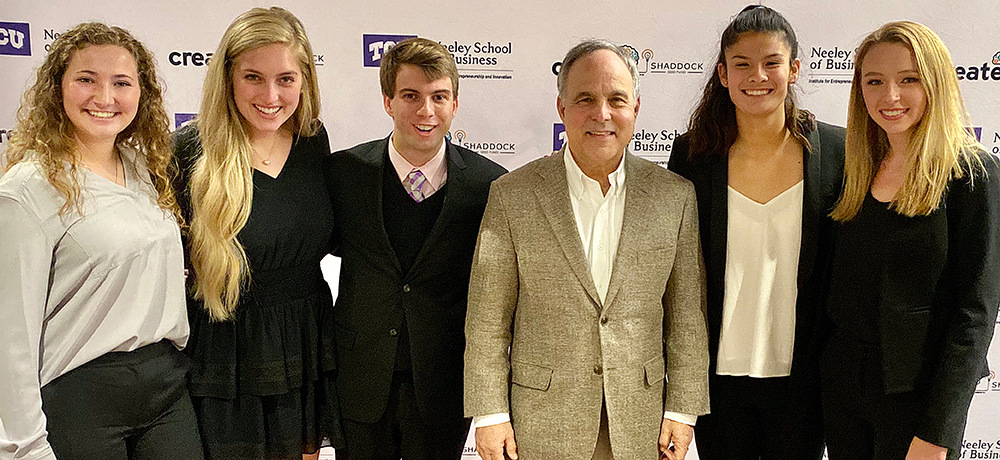 In 2015, he helped launch the Shaddock Venture Capital Pitch Competition, a Shark Tank­-style contest for cash prizes to support student entrepreneurial ventures. That initiative was the catalyst for today's CREATE — powered by the Shaddock Seed Fund, a cross-campus incubator that helps aspiring entrepreneurs from all majors turn their ideas into marketable products. Ranked among the nation's top 20 entrepreneurship competitions, CREATE gives students access to targeted mentorship, workshops, legal assistance and seed funding.
"The beauty of this program is that it also serves as the sandbox for our MBA venture fellows training," said Rodney D'Souza, managing director of the Neeley School's Institute for Entrepreneurship and Innovation. "In the past two years, 188 teams comprising 343 students — from every single college at TCU, including the Medical School — have participated in this program. More than 50% of these come from outside the business school, and 40% of these students identify as minority."
Shaddock describes entrepreneurship as an empowerment tool.
"It empowers students with knowledge and experience to make a positive difference in their own life and the lives of others," he explained. "I want TCU students to go beyond studying the academics of entrepreneurship and actually experience it for themselves — and not have to wait until 20 years into their career. I ultimately hoped all the colleges at TCU would become involved in this program, and they have." 
Shaddock, who also serves on the Institute for Entrepreneurship and Innovation Advisory Board and the Neeley Board of Advisors, recently provided funding for the Shaddock Auditorium at the TCU Neeley School of Business.
"I'm excited about the Shaddock Auditorium. Hopefully it will bring good ideas and interesting speakers to the Neeley School to interact with the students and give them insight and knowledge," he said.
In addition to donations, Shaddock is generous with his time as a Neeley School student mentor. When asked about his advice for next-gen entrepreneurs, he didn't hesitate: "You must be passionate. There is no substitute for hard work. Be confident in yourself and overcome your fear of failure. Be bold and seize opportunity. But most importantly, build and maintain personal relationships — your ability to do that will determine your ultimate personal and business success."