TCU Neeley Executive Education introduces a comprehensive, robust, 16-week business program for experienced professionals, delivered by top-rated faculty.
October 27, 2020
By Elaine Cole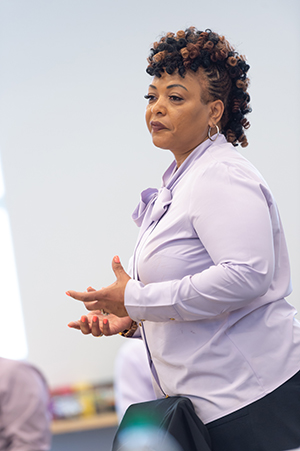 In just a few months, you can change the course of your leadership and career.
The new Advanced Leadership Certificate offered through TCU Neeley Executive Education is a premium, comprehensive experience for leaders of all industries seeking a refresh of critical business fundamentals and innovative, applicable strategies.
The curriculum is a unique hybrid of in-person, on-campus, deeply immersive classes and short virtual sessions that combine to cover today's more pressing business and leadership challenges.
"Trends such as AI, digitization, business model innovation and other technology shifts are disrupting the way leadership gets done and challenging previous paradigms, causing organizations to seek leadership based upon adaptability, critical and creative thinking, and communication skills," said Jim Roach, executive director of the TCU Neeley Executive Education. "The Advanced Leadership Certificate provides a unique opportunity for leaders to address the implications of the changing world for work, leadership and organizations, and learn new ways of leading."
The new Advanced Leadership Certificate is led by TCU Neeley's top-ranked MBA-level faculty, plus experienced business professionals from companies such as Amazon and Capital One with experience on a variety of topics. Business leaders who sign up for the program can share their unique business challenges in class and participate in live leadership workshops designed to help them apply the ideas, approaches and strategies from the program to their own job challenges and business priorities.
"We created the TCU Advanced Leadership Certificate specifically for business leaders challenged with leading their teams and organizations in a world of continuous transformation, to give them leading-edge approaches and strategies to further their own success and that of their company," Said Daniel Pullin, the John V. Roach Dean of the TCU Neeley School of Business.
Classes run January through May, 2021. For specific information on courses, topics, instructors and to register, visit TCU Executive Education, TCU Advanced Leadership Certificate.