TCU Neeley is taking the lead to assure that every student, undergraduate and graduate, from every major, can make analytics part of their future success.
August 14, 2020
By Elaine Cole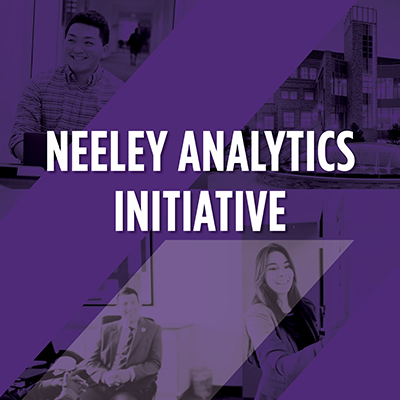 It's the most in-demand skill in today's economy. Businesses of all industries are looking for innovative, tech-savvy employees who know how to use analytics to deliver actionable insights to capitalize on market opportunities.
The Neeley Analytics Initiative meets that demand by aligning TCU faculty expertise, student interest and marketplace needs through a uniquely coordinated and strategically targeted initiative across all of TCU.
"We brought together the best minds in analytics to create a strategic plan, and then share and implement it across all of TCU to enhance every undergraduate and graduate degree, and strengthen the academic profile and reputation of TCU," said Daniel Pullin, the John V. Roach Dean of the TCU Neeley School of Business.
The Neeley Analytics Initiative is chaired by Minakshi Trivedi, the J. Vaughn and Evelyn H. Wilson Professor of Marketing. Trivedi was instrumental in developing the Master of Science in Business Analytics, which launched in June 2020 with a record 54 students, and the Graduate Certificate in Business Analytics. She is a Fulbright Research Scholar whose research is widely published and has won prestigious awards. She most recently was chair of the Department of Marketing, where she led the rise in research productivity rankings into the Global Top 30, the recruitment of two outstanding assistant professors, the successful mentoring of junior faculty, the launch of the Sales and Customer Insights Center, and the re-establishment of a board of advisors.
"The Neeley Analytics Initiative advances TCU's research, teaching and outreach in the arena of analytics to further shape the global practice of business. We are developing curricular and extracurricular programs for TCU students, high school students and the business community, including a new TCU Analytics Club, conferences, workshops, student competitions, and a summer analytics program for high school students," Trivedi said. 
Trivedi leads a team of faculty members from multiple fields to implement the main facets of the strategic plan:
Inventory existing efforts in research, teaching and outreach across TCU.
Conduct a market/gap analysis of analytics programs at peer and aspirational schools to determine strengths and opportunities.
Share the strategic plan to reach all students, faculty and professionals across a variety of fields.
Promote excellence in analytics to employers.
Implement additional university-wide curricular and program innovation at the undergraduate, graduate and executive education levels.
Secure support for high-impact analytics research.
Host national/global research and industry conferences, doctoral symposia and workshops.
For more information: https://neeley.tcu.edu/nai