Peggy Conway joined TCU Neeley in 1987 to coordinate undergraduate academic success and served as director of graduate recruitment for many years. 
November 13, 2020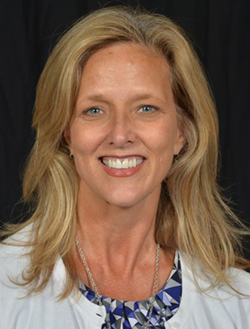 Many TCU Neeley alumni and constituents already know her, especially those from graduate programs. Now, as director of alumni and constituent engagement for the TCU Neeley School of Business, Peggy Conway turns her experience and expertise—plus her love of all things TCU—to all TCU Neeley alumni, parents, business contacts and supporters.
Conway's focus is to develop highly meaningful connections among all TCU Neeley alumni, parents, supporters and students through special networking events and initiatives.
Conway joined TCU Neeley in 1987 as coordinator of undergraduate academic success, then assistant dean of administration, and then director of MBA Admissions from 1993 to 2020 before being named director of graduate student and alumni engagement earlier in 2020. A proud Horned Frog, she holds a BS in advertising and PR (1985) and MBA (1987) from TCU and is the parent of two TCU grads.
"Our alumni and our partners are our greatest asset. Their experience, loyalty and mentorship are vital to the success of our students, our enrollment, our rankings, and the continued worth of a TCU Neeley degree. My goal is to bring them together with opportunities and experiences that create connections among themselves and with current students," Conway said.
Conway recently introduced the Alumni Advantage Series, free events for alumni to access cutting-edge business knowledge provided by TCU Neeley faculty. The first event, "The Innovation Experience," presented by TCU Neeley Executive Education, featured Michael Sherrod, the William M. Dickey Entrepreneur-in-Residence, and Rodney D'Souza, the Davis Family Entrepreneur-in-Residence and managing director of the TCU Neeley Institute for Entrepreneurship and Innovation.