For 10 years, the TCU Neeley Institute for Entrepreneurship and Innovation has celebrated trailblazing college students who leverage their business skills to solve the world's problems.
April 14, 2021
By Elaine Cole
In 2011, six teams competed in the first TCU Values and Ventures® Competition, for a chance at $17,000 in cash awards. In 2021, 64 teams pitched ideas for socially conscious businesses for a chance to win $100,000 in total cash awards.
Inspiring doesn't begin to cover it. Ten years ago, the TCU Neeley Institute for Entrepreneurship and Innovation had a dream: to reward college students who came up with innovative business ideas that make a profit while also making a real impact on our community. The tremendous international growth of the TCU Values and Ventures® Competition has proven that today's entrepreneurs lead with their hearts as well as their heads.
For the 2021 competition, teams from 64 universities around the world sent in 90-second video pitches and summaries. From those, 32 advanced with a five-page business plan and Q&A with judges. Then, eight Powerhouse Finalists – representing four countries and three continents – made the cut and presented virtually to judges to determine the winners.
New this year, students from all 64 teams also participated in the Investor Challenge to choose which of the 64 teams they thought should move on in the competition. Those whose choices were the same as the judges won cash prizes for their skills in determining what investors look for in startups.
In a close competition, the 2021 winners showed just how innovative, meaningful and profitable socially conscious business can be.
2021 TCU Values and Ventures® Competition Winners
Grand Prize, $40,000: Clarkson University
KLAW Industries is developing a sustainable concrete pozzolan made from recycled glass called Pantheon™, a partial replacement for cement in concrete. It provides a lower-cost alternative to cement while reducing the concrete manufacturer's carbon footprint, giving them access to LEED projects, and making their concrete stronger and more chemically resistant.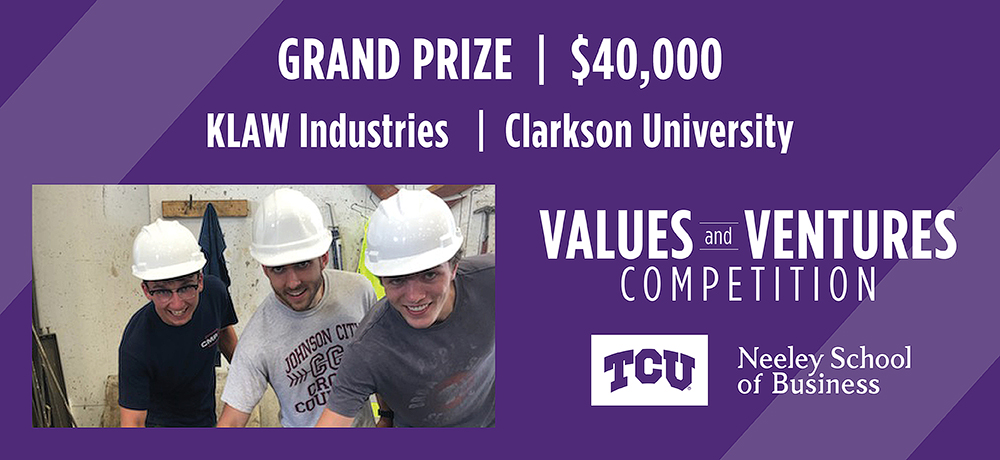 Second Place, $25,000: The George Washington University
Ichosia Biotechnology is developing a scalable method of an enhanced red blood cell product, ErythrosynTM, created by leveraging proprietary genetic engineering and stem cell techniques. Ichosia is addressing the global blood crisis by making blood safer, less expensive and more reliable.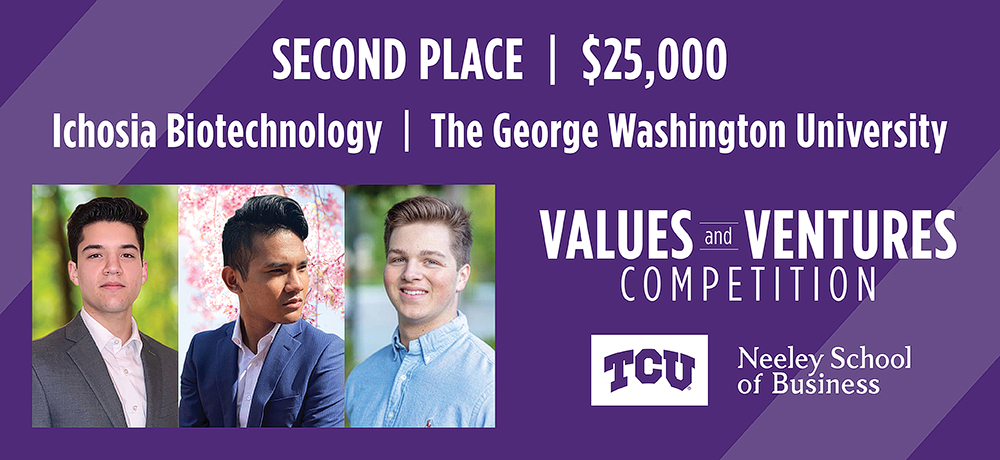 Third Place, $15,000: Georgetown University
Project Olas employs moms in the community surrounding the Guatemala City Garbage Dump as online Spanish tutors. Students gain the speaking and listening practice they can't get in the classroom, and moms can earn in one hour what they would typically make in one day of dangerous labor.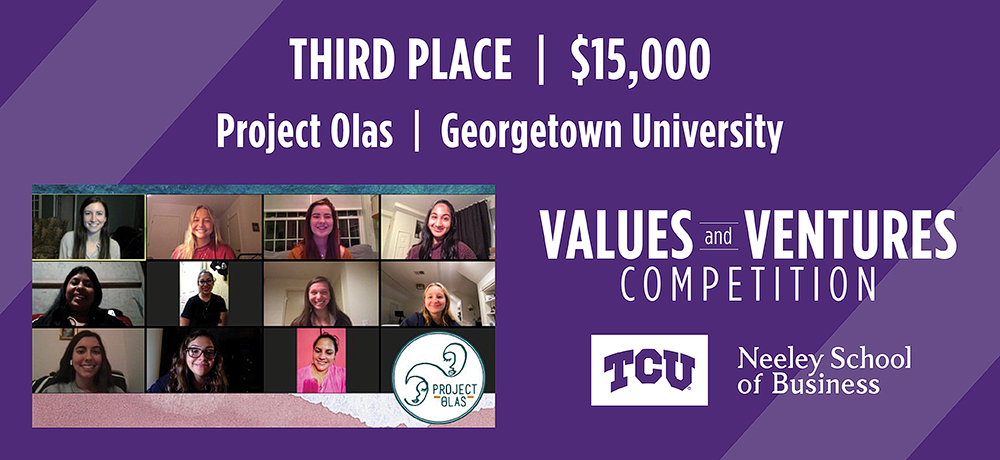 Honorable Mention, $2,500: Grand Valley State University
Instrumental Medical Design (IMD) is a medical device company that provides a safer environment for patients and physicians alike. Sponge management devices are distributed to operating rooms. These devices are designed to reduce annual counts, average or turnover time, and overall hospital costs.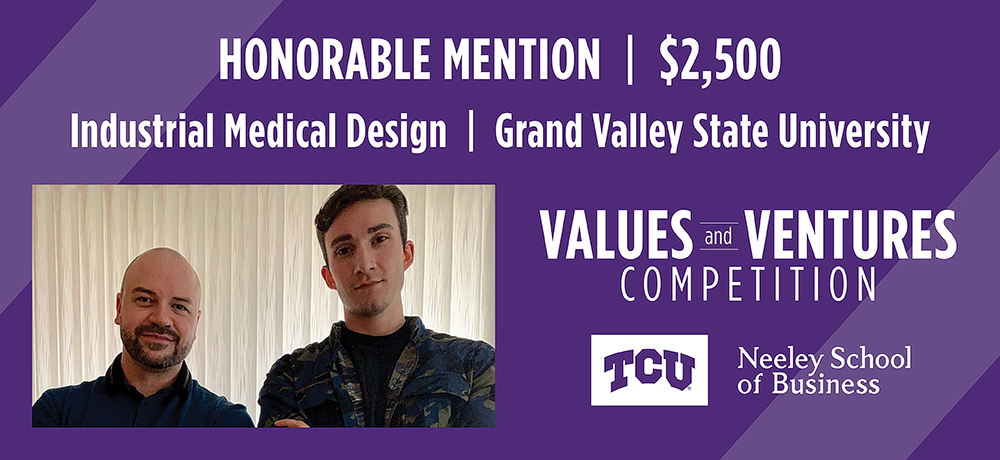 Honorable Mention, $2,500: University of the Incarnate Word – Mexico City
IKÚ is an affordable, healthy and traditional fermented-corn-based drink that provides additional health benefits through the addition of probiotics strains. It is a low-calorie drink suitable for the innovative urban population who desire a healthier life.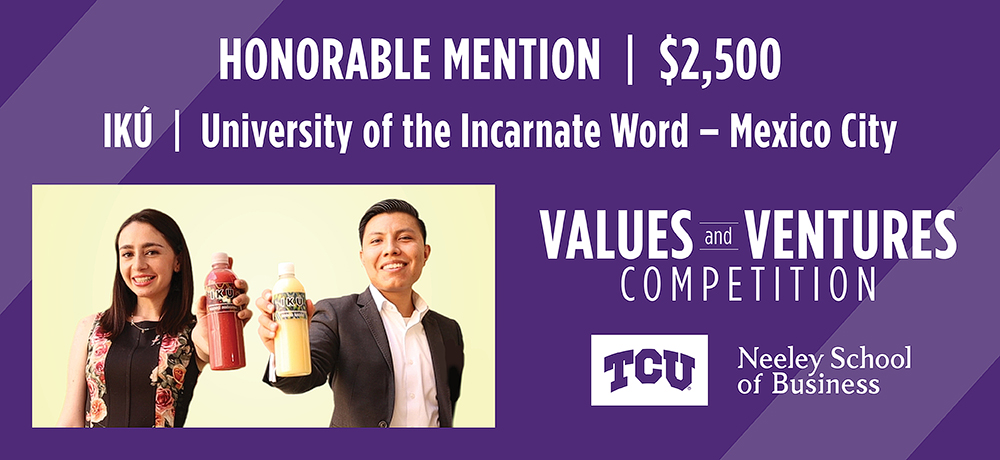 Honorable Mention, $2,500: Drexel University
WOLF Financial makes research social, simple, clear and actionable for the modern investor. The platform allows users to examine the stock market from a new perspective, and collaborate with a growing community as they grow their money and financial literacy.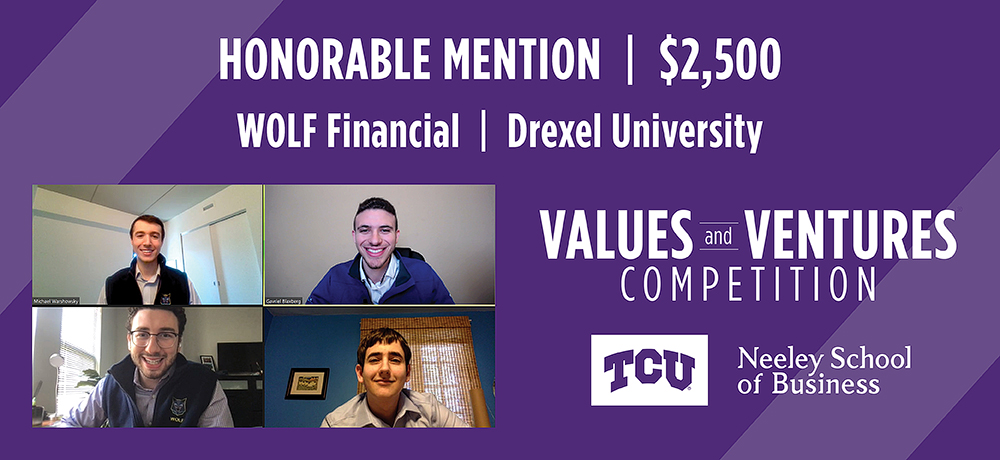 Honorable Mention, $2,500: University of Dhaka
Jibon is an affordable, efficient, ecofriendly, sustainable water disinfectant solution aimed toward poor households to solve the dream disparity to potable water, making water scarcity a lost story by eliminating 200 hours daily wasted in collecting water and reducing diarrhea by 11% among infants.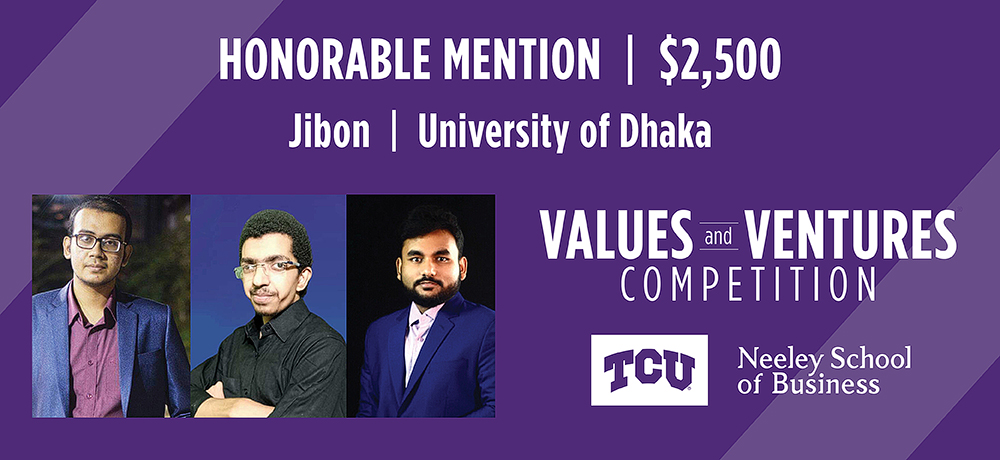 Honorable Mention, $2,500: National University of Science and Technology
eAgro uses data analytics and machine learning to create insurance premiums and financial products tailored for unbanked farmers' needs. eAgro is a pioneering financial inclusion for unbanked smallholder farmers through the proprietary algorithm depicting farmers financial health.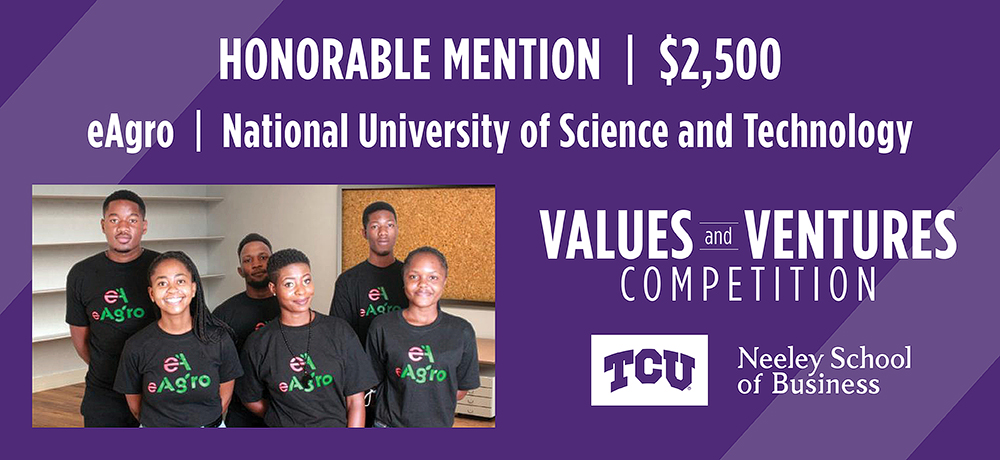 Sly Innovation Award, $2,500: Augustana University
Water hyacinth is a highly invasive aquatic weed that has overrun Lake Victoria, Africa's largest lake. SuperMoto transforms that weed into household ethanol fuel that cooks food and lights homes in rural Kenya.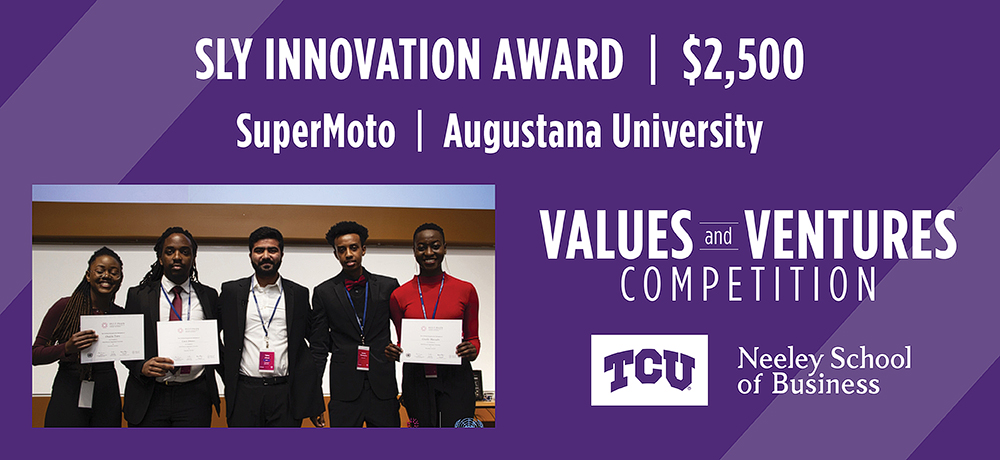 Investor Challenge First Place, $2,500: Sergio Alejandro Villanueva-Munoz, University of the Incarnate Word – Mexico City
Investor Challenge Second Place, $1,500: Lucas Vining, The George Washington University
Investor Challenge Third Place, $1,000: Szymon Witkowski, Poznan University of Economics and Business
TCU Values and Ventures® Competition is presented by the TCU Neeley Institute for Entrepreneurship and Innovation, and made possible by generous support from the Richards Barrentine Donor Advised Fund of the Texas Women's Foundation.
For more information: neeley.tcu.edu/vandv.
2021 TCU Values and Ventures Competition Winners
Watch our awards celebration to see all the 2021 winners.