The North Texas Bitcoin Mining Summit offered an open discussion forum on energy transformation and bitcoin mining in Texas. Among the 165 attendees throughout the all-day event were lending institutions, private equity offices, and energy company executives. Offices of elected officials around the Fort Worth area were also present.
April 19, 2023
By Miya Hillesland
Energy executives, civic leaders, and forward-thinking technologists gathered at the TCU Neeley School of Business to discuss the impact of bitcoin mining and energy transformation. The North Texas Bitcoin Mining Summit also provided attendees with an opportunity to learn about Fort Worth's upcoming mining-related projects, while gaining access points to capital groups, civic offices, and policy experts.
TCU Neeley professors Brandon Chicotsky and Kelly T. Slaughter hosted the summit, which was held in collaboration with the Texas Blockchain Council and the City of Fort Worth. The summit was co-sponsored by the university's Ralph Lowe Energy Institute, Center for Supply Chain Innovation, and the Marketing Department, as well as Gavin Feary and the team at Winstead PC.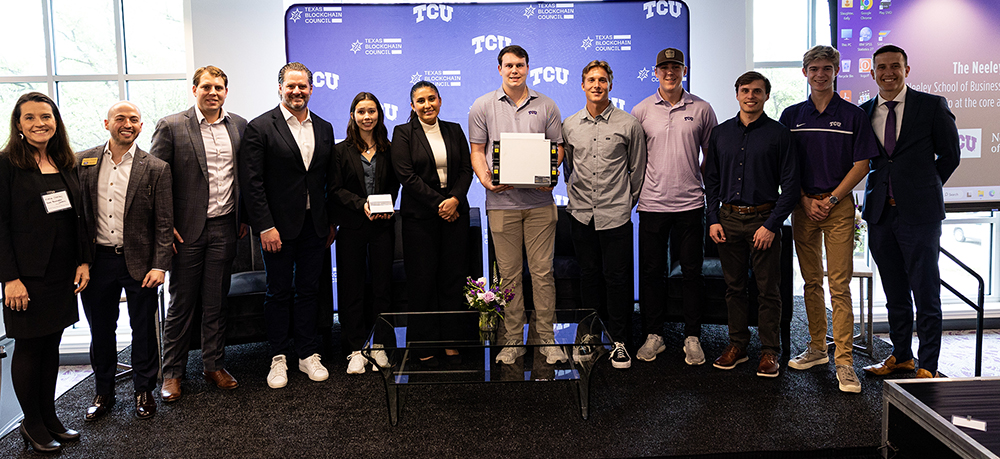 Some key leaders who made the summit possible included: Lee Bratcher, Steve Kinard Jr., and Kristine Cranley from the Texas Blockchain Council, and Carlo Capua, Chief of Strategy and Innovation for The City of Fort Worth.
"Innovation is just at its beginning in Texas," said Bratcher. "North Texas is an energy abundance state, and we need to utilize that."
The event included a variety of speakers, many of whom explained pathways to enter a growing sector of Texas energy transformation related to bitcoin mining and blockchain technology. Speakers included representatives of publicly traded firms, mid-market firms, and founders of innovative technology solutions.
The audience got a glimpse into Fort Worth's plans to embrace innovation and technology from Carlo Capua, Chief of Innovation in the City Manager's Office of Fort Worth.
The day's events inspired a full bitcoin gift to the TCU FinTech Club by TCU alum, Trent Stout, which received two matching gifts at an estimated total value of $100,000. Mining equipment was also dedicated to the group. The FinTech Club is advised by Slaughter. The donation was made as a way to introduce bitcoin to TCU Neeley students and empower the younger generation to actively participate in cutting-edge technology.
To start the summit, Kristine Cranley from the Texas Blockchain Council began with an explanation of bitcoin and how it operates in the context of capital markets, trading markets, and energy markets.
Fort Worth has become a trailblazer as the first city government in the United States to engage in bitcoin mining. Thanks to Capua's bitcoin mining project, supported by the Texas Blockchain Council President, Lee Bratcher, and city of Fort Worth leaders, the city has garnered global attention, with press coverage from prominent media outlets.
Executive greeters for the event were made up of students in the Neeley Leadership Program, one of Neeley's Pathway of Distinction organizations. The gathering provided a generative and inspirational launch point for Fort Worth to host a statewide gathering on November 15 – 17, the Texas Blockchain Summit, which will feature a TCU fin-tech booth. Learn more and register here.