A unique book study involving TCU faculty and staff from the TCU Neeley School of Business and the AddRan College of Liberal Arts explores discrimination through the law in caste.
March 10, 2022
By Collin Yoxall, TCU AddRan College of Liberal Arts
Faculty from liberal arts and business institutions are not the most obvious pair to work together. A new collaboration between the TCU Neeley School of Business and the AddRan College of Liberal Arts aims to bring together faculty and staff across the TCU campus to discuss issues of race and social justice.
The Neeley Courageous Conversations Book Study Series for 2022 involves AddRan and Neeley faculty and staff coming together to read "Caste: The Origins of Our Discontent" by Isabel Wilkerson. The book explores how legal means of discrimination can be seen in societies throughout history, from the pre-Civil War U.S. to Nazi Germany, India and modern-day American society. We sat down with TCU Neeley Office of Inclusive Excellence Director Ann Tasby, AddRan College DEI Advocate Dawn Elliott and facilitator Mona Narain to discuss the Book Series and what they hope to accomplish.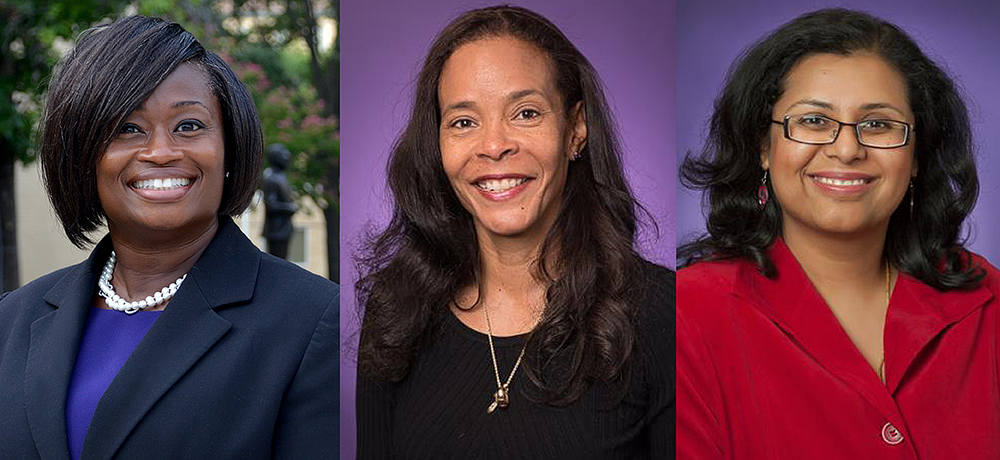 Can you provide some history on the Courageous Conversations Book Study series?
Elliott: As AddRan College diversity advocate, I was interested in building something that would bring people together: students, faculty and staff. After talking with colleagues, I arrived on the idea of a book club. With Dean Sonja Watson's support and funding from TCU, myself and colleagues created a DEI committee to choose and books for the faculty and staff book series and the equivalent student series.
Tasby: We launched the Neeley Courageous Conversations Book Study in spring 2021 and it's a key component of the overall inclusive excellence strategy at the business school. The book study is designed to bring together faculty, staff and students to build community across differences by increasing awareness of diverse lived experiences and our own blind spots to help align our behavior with intentions.
How did you arrive at the choice of "Caste: The Origins of Our Discontents" for faculty and staff?
Elliott: Myself, the committee and the facilitators were interested in having discussions over books that dealt with how law can be used to set up racist barriers. This led us to "Caste: The Origins of Our Discontents" because of its focus on how racism reflected in law can be seen in early American history and how that example inspired similar such systems in other places in the world, whether that be the Indian caste system or the anti-Semitic laws of Nazi-era Germany.
With the book study series, what different perspectives do AddRan faculty and staff bring to the conversation with their Neeley School counterparts, and vice versa?
Narain: With AddRan faculty last spring, group members were deeply interested in the book's comparative aspect across location and time to demonstrate how and why systems of oppression exist, why they thrive and in the last case, how they draw upon other successful examples in the world. Social justice, how people resist such exploitation and oppression, was a major topic of interest as was economics and religion's appropriation by oppressors and those in power. Group members sought to read more about the present moment through the lens of the book's case studies.
Tasby: I think both will offer deeply personal and academic perspectives. Additionally, I think Neeley School participants will contribute an industry perspective.
What do you personally find most interesting about the arguments made in this book?
Narain: I find the book's efforts to draw a broad picture by comparing very different countries and histories to find similarities quite courageous. Yet, at the same time, it also seeks to give us individual stories, faces/persons and experiences to demonstrate its arguments. It's a book written for a general audience. I think it is important that academics engage in dialogue with the interested public. The book draws on scholarship but speaks to its readers in a general parlance about subjects we find very difficult to discuss; I think this is one of its courageous strengths.
Tasby: I personally find the documented relationship between the atrocities of Nazi-era Germany and the U.S. slave trade and domestic terrorism targeted against Black people most gripping.
Learn more about the Office of Inclusive Excellence's Courageous Conversations Book Study here.