The Neeley Fellows, a top-tier undergraduate business honors program, has graduated 15 classes with approximately 450 alumni. To celebrate the milestone, leaders hosted special events including recognition for Bill Moncrief, the academic director for the Neeley Fellows who helped launch the program.
May 04, 2023
By Tiara Ellis Richard
In recognition of 15 years of TCU Neeley Fellows graduating classes, the program hosted a Celebration Weekend in April welcoming hundreds of alumni to campus to commemorate their achievements and their impact on businesses and TCU over the years. The Neeley Fellows is a highly regarded undergraduate business honors program that walks each cohort of students through a rigorous, three-year experience. With 15 cohorts so far and approximately 450 alumni, the program prepares participants for competitive internships and career opportunities across the nation.
The Neeley Fellows Celebration Weekend included small group gatherings among the individual class cohorts and large group gatherings for all of the Neeley Fellows alumni. From pickleball to a celebration dinner at Amon G. Carter Stadium, the alumni shared consistent experiences and stories from the first graduating class in 2009 to the current class as they talked about studying abroad, their professors and a mutual admiration for completing the competitive program.
"From the first big assignment, you realize you cannot achieve alone and that we will always be stronger together. Community matters in college, in work and, most importantly, in life," said Catherine McSweeney '18, a TCU Neeley Fellows alumna, who served as one of the speakers during the dinner.
At the celebration, TCU President Daniel Pullin congratulated the faculty and alumni who have built the Neeley Fellows into a program where business recruiters are seeking them out by name.
"Thank you for engaging. Thank you for continuing to come back to campus," Pullin said. "Thank you for mentoring our current generation of students. Thank you for sending inspiring minds to our classrooms and cohorts. Thank you for hiring our graduates. Many of you are in a position now to be able to hire a Horned Frog, and that has a lot to do with our collective success."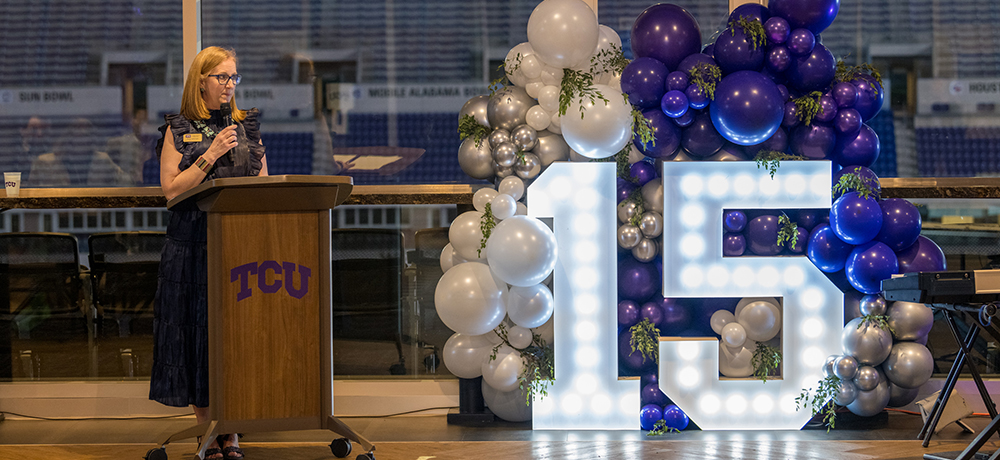 Meg Lehman, the Program Director for the Neeley Fellows, credited faculty and alumni support for the longevity of the program and sustained success. One of the faculty who has been involved in the Neeley Fellows since the start was Professor Bill Moncrief, academic director for the Neeley Fellows and the Charles F. and Alann P. Bedford Professor of International Business. Moncrief, who is preparing to retire, is also the longest-serving faculty member currently working in TCU Neeley. To acknowledge his tremendous impact on Neeley Fellows, the celebration also included festivities honoring Moncrief.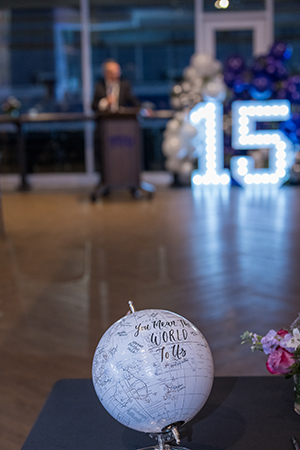 During the dinner, Moncrief shared stories about the launch of the Neeley Fellows and the challenges they faced building an honors program from scratch. For the first few classes, there were no alumni to lean on and no one to guide students through the program expectations.
"Who would have thought? I can tell you at the start, I wouldn't dream that we would have a program like this. I had no idea that it could be this strong. We taught you to think critically, to develop skills," Moncrief said, speaking to the room filled with Neeley Fellows alumni. "You did the work. You learned the skills. You excelled."
Many of the Neeley Fellows openly acknowledged the special impact that Moncrief had on their education, their current lives and their futures.
"I don't' think it's facetious to say my life was changed by this program," McSweeney said. "I can stand here and say that was because of Dr. Moncrief. Thank you for paving the way for us to be great. The legacy you created will not fade. It will live on in each of us and through the communities and through all the alumni in this room tonight."
TJ Sheppard '11 described Moncrief's gift for supporting the development of students using various methods.
"After dusting off the history books, talking to friends, and reflecting on my own experiences with Dr. Moncrief, the largest theme that I was left with is that he has a unique ability to be a disciplinarian and a mentor, while at the same time being a friend and a colleague," Sheppard said. "That is an exceptional gift to apply to building, inspiring, advocating for, and educating future leaders."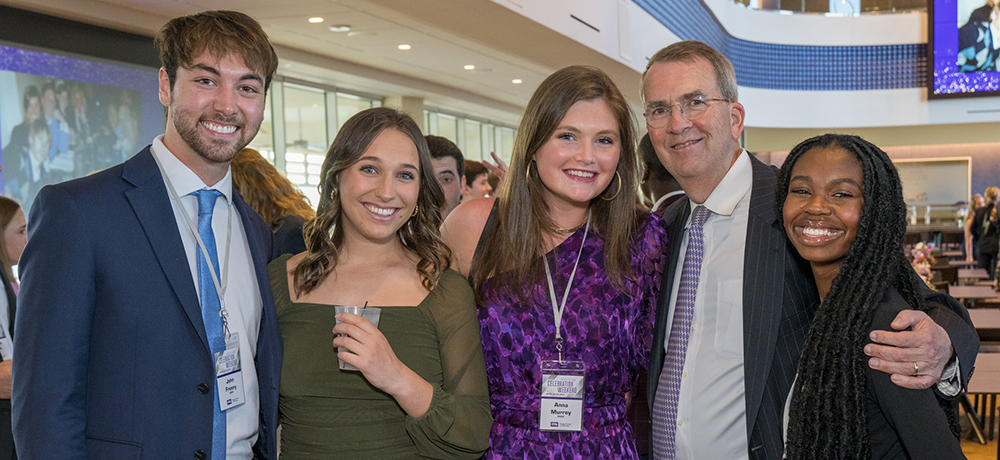 Kristen Schropp Stieg '09 agreed, and said, "It's hard to imagine what the Neeley Fellows will look like without him, but I know that the legend of Dr. Moncrief will live on for many years to come."
After Moncrief retires, Professor Stephen Lusch will become the newest Academic Director for the Neeley Fellows. View photos from the Neeley Fellows Celebration Weekend.