As part of the eighth annual PepsiCo MBA Case Competition, students from 14 top business programs pitched innovative ideas to PepsiCo, a global leader in convenient foods and beverages. The virtual event was presented by TCU Neeley School of Business' MBA program.
November 15, 2022
By Tiara Ellis Richard 
MBA students enrolled in highly regarded business programs from across the country brought their creativity and innovation to the eighth annual PepsiCo Case Competition presented by TCU Neeley's MBA program.
The competition, which took place virtually October 13 - 15, placed MBA students into random teams with each group consisting of four people from different schools. The students were tasked with collaborating to develop solutions to a current business challenge posed by PepsiCo. 
The student teams then presented their solutions to PepsiCo senior executives and talent acquisition team members, and winners were selected by the judges. 
"This annual partnership with PepsiCo provides a unique opportunity to showcase MBA students from 14 different MBA programs from across the nation as they work together to address a current business challenge," said Ed Riefenstahl, director of MBA Experiential Learning at TCU Neeley. 
He continued, "In addition to identifying and discussing a potential business solution with different executives from marketing, finance, and procurement at PepsiCo, we also empower first-year, full-time MBAs to collaborate in conditions that mirror today's global, connected environment, engaging with new team members at a moment's notice under time pressure for results."
The teams were comprised of students attending business schools at top universities and colleges across the nation:
Cornell University
Duke University
Indiana University
Iowa State
Rice University
Southern Methodist University
Texas Christian University
University of Michigan
University of North Carolina at Chapel Hill
University of Pennsylvania
University of Texas
Vanderbilt University
Washington University in St. Louis
Yale University
First Place of $7,000 was awarded to the team of (L to R): Ahmed Aldubaisi (Cornell University), Macaela Seward Schumacher (University of Pennsylvania), Damien Henry (Iowa State University), and Emily Donald (Texas Christian University).
Second Place of $5,000 was awarded to the team of (L-R): Nicki Conforti (Rice University), Rachel Morrison (Indiana University), Chris Nguyen (Washington University in St. Louis) and Adam Bowling (Texas Christian University).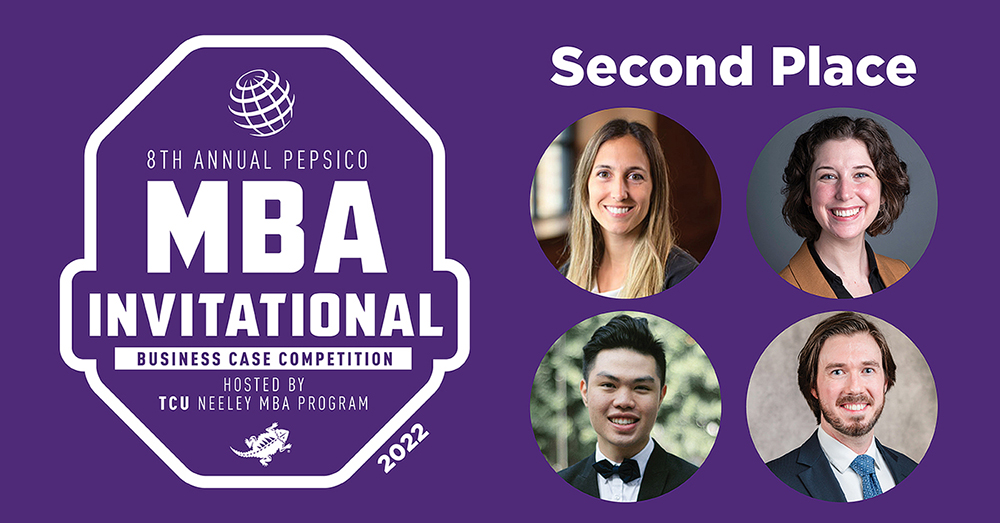 Third Place of $3,000 was awarded to the team of (L-R): Melissa Cunningham (Southern Methodist University), Julia Liu (Duke University), Nate Koenig (Texas Christian University) and Dushyant Khanduja (University of Michigan).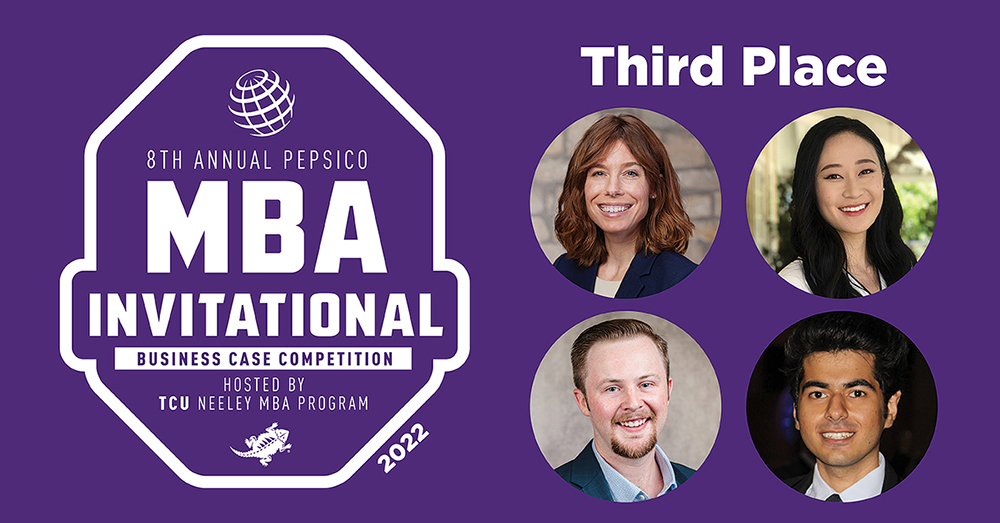 This is the eighth year the TCU MBA program has hosted the PepsiCo MBA Invitational Case Competition, made possible by a partnership between the TCU Neeley School of Business and PepsiCo, one of the world's leading food and beverage companies with brands including Pepsi, Lay's, Tropicana, Quaker and Gatorade, and products sold in more than 200 countries and territories around the world.
To learn more about the PepsiCo MBA Invitational Case Competition, visit our web page.