Marshall, CEO for the Dallas Mavericks, inspires through her personal story of resilience, and inclusiveness as a leader and pioneer who has been the first Black woman in multiple roles throughout her life.
February 22, 2023
By Miya Hillesland
Values are not just posters on the wall. They must also operate in the halls, said Cynt Marshall, CEO of the Dallas Mavericks while speaking to a packed crowd on TCU's campus. Marshall's mindset represents the way purpose is incorporated into her own day-to-day operations.
Marshall was the featured guest for the TCU Neeley School of Business of School's most recent Tandy Executive Speaker Series (TESS), where members of the North Texas business community regularly come together for thought leadership and networking.  Marshall has a proven history of transforming the culture of an organization using transparency and trust.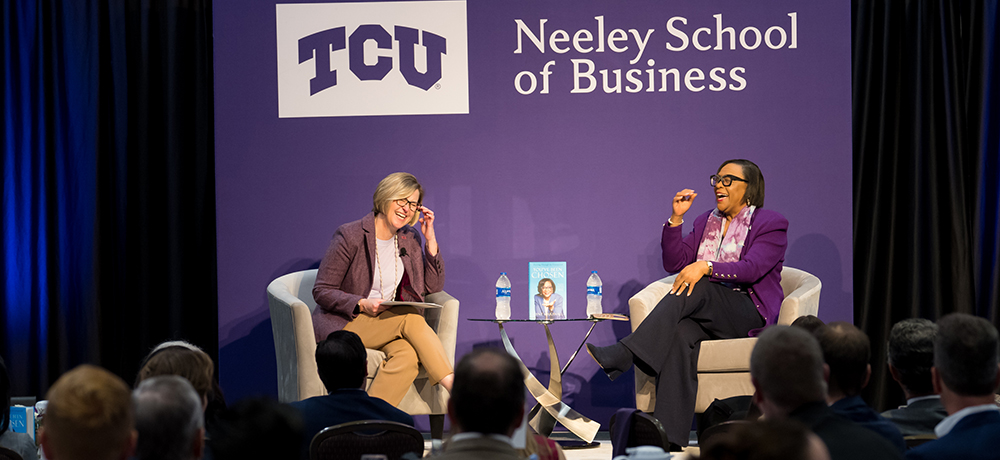 Hettie Richardson, TCU Neeley's interim dean, led the energetic one-hour event by guiding Marshall through the discussion of lessons learned through failures, personal triumphs and the importance of putting people first. 
"As we recognize Black History Month, I think it's important to look to leaders like Cynt Marshall who continue breaking down new barriers and continue to make history," said Richardson. "Her personal story of overcoming adversity and her own determination to be the change she wants to see are inspirations to all of us."
Marshall has been a pioneer at multiple points in her life. In her current role, she became the first black female CEO in the National Basketball Association (NBA) and turned the Dallas Mavericks into the standard setter when it comes to diversity, equity and inclusion. 
Marshall was also the first black cheerleader at the University of California at Berkeley. 
"I just know I can't be the last. I can be the first, but not the last," Marshall said. "I have to do a great job so people think it's not strange to be first. They will know that black women are capable of being great leaders and doing the job that I'm doing."
She emphasized the importance of establishing a positive culture in the workforce and Marshall stressed that it starts with treating people well. But the emphasis can't be so focused on relationship-building, that the essential responsibilities of the job are neglected.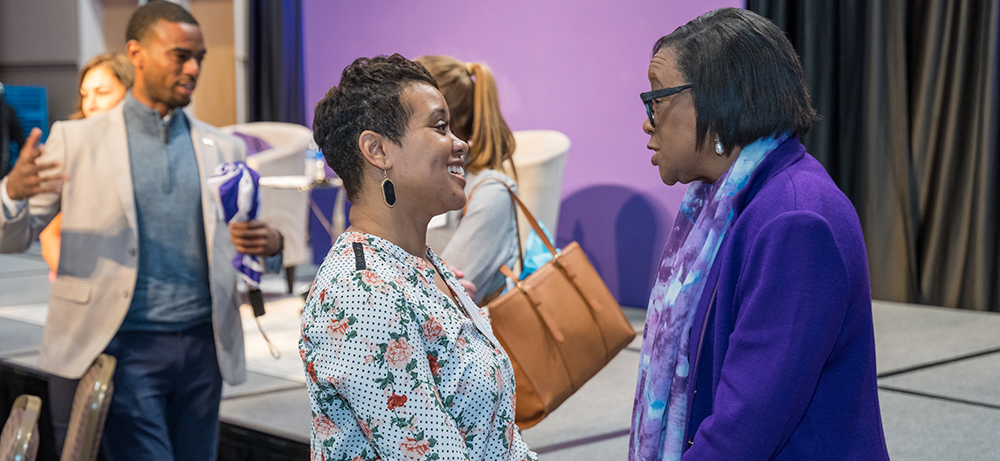 "As a leader or CEO there's a whole job that needs to get done, you can't just pick the parts you like or the parts you're good at," Marshall said.
Andrew Holden, a TCU Neeley first-year studying finance and accounting, was deeply motivated and inspired by Marshall's words.
"As a finance and accounting major you really get held up in the numbers, so to come here and hear the holistic side of the leadership experience knowing the three pillars of leadership, listening, learning and loving, is so refreshing," Holden said.
Marshall encouraged the TESS attendees to remember that we all have a role to play, and it can be as simple as picking one task each day that is focused on helping someone or choosing to stand up for a person who needs support. 
"Be a part of someone's village. We truly do all of this together," said Marshall. "Every piece of adversity I have ever faced in my life, there was some hand that pulled me up and got me through it. I ask you to be that hand."