Dean Daniel Pullin and TCU Athletics Director Jeremiah Donati shared their insights into Scaled to Succeed: Neeley NIL, a new comprehensive program and partnership designed to give student-athletes a competitive advantage in the world of Name, Image and Likeness.
November 23, 2021
By Nicholas Ferrandino
On November 17, the TCU Neeley School of Business hosted a Tandy Executive Speaker Series breakfast event featuring TCU Athletics Director Jeremiah Donati and the John V. Roach Dean of the Neeley School of Business Daniel Pullin as speakers, and TCU Senior Associate Athletics Director for Compliance Ike Ukaegbu as moderator for the event.
Donati and Pullin discussed how the evolving guidelines from the NCAA on Name, Image and Likeness (NIL) rights for student-athletes will impact the world of college sports and student rights in the years to come, along with the innovative new curriculum, programs and resources the TCU Neeley School has led creation for in a cross-disciplinary response to this ever-changing student-athlete landscape.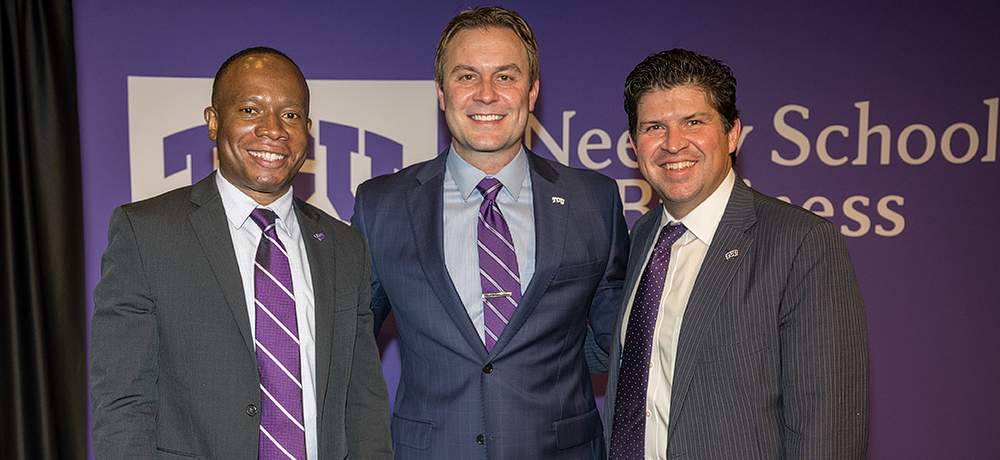 Earlier this year, the Supreme Court of the United States voted unanimously that the NCAA's (National Collegiate Athletics Association) denial of benefits, both monetary and educational, for college athletes violated federal antitrust laws. Due to this ruling, student-athletes have more freedom over how they use their NIL rights. Beyond the federal level, more and more states are also passing legislation ensuring and protecting the NIL and branding rights of student-athletes.
"For decades the NCAA prohibited students from earning money in this manner because of the concept of amateurism. But as we have seen over these past few years, that concept is evolving," Ukaegbu said.
These new legal assurances have led to the emergence of a new era of entrepreneurs on college campuses nationwide. For many student-athletes, this ruling opens them to a whole new world of opportunity never available before.
In the U.S., fewer than two percent of all student-athletes will go on to play professional sports. Before the lifting of the NCAA's restrictions on student NIL rights, a vast majority of students never before had the opportunity to monetize their name and likeness.
"When the ruling was passed, we essentially created 525 new entrepreneurs on campus," Donati said. "Now for the first time, they can monetize and capitalize on their brand."
To help this emerging demographic learn about and capitalize on the new possibilities these laws open for them, TCU Athletics and the Institute for Entrepreneurship and Innovation at the Neeley School of Business partnered to create the Neeley NIL curriculum as part of the overall Scaled to Succeed program for student-athletes.
The Scaled to Succeed program is the TCU's newest resource center with the goal of providing the educational and legal assistance necessary for student-athletes to take full advantage of their NIL rights.
The program includes two main elements. The first is a set of online educational material made available through TCU's partnership with Opendorse, a sports technology company headquartered in Lincoln, Nebraska. The second component of this program is Neeley NIL.
Hosted at the Moncrief Club at the south end of the Amon G. Carter Stadium, Neeley NIL offers athlete-centered tools and resources, including workshops, mentoring sessions, certification and credit-earning classes. Here, vetted experts from the Neeley School and TCU Athletics, along with established entrepreneurs and thought leaders across campus and throughout Fort Worth, help teach these up-and-coming entrepreneurs all the legal and economic aspects of NIL rights which they can use to develop and grow their own businesses.
This new program is not only available to student-athletes, but to all current TCU students interested in sports careers.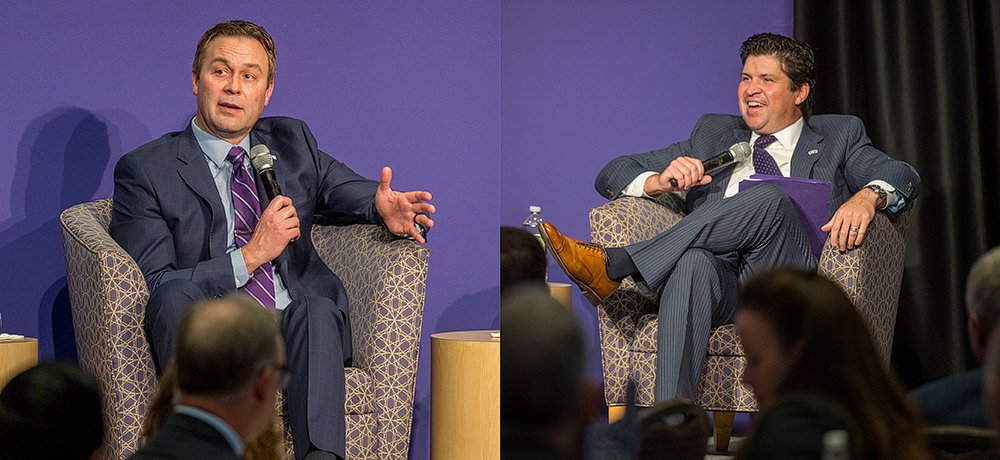 "We have a comprehensive set of topics that students can prepare themselves to not only take advantage of in the near-term, fast-moving opportunities, but something they can take with them for the rest of their lives and be the business leaders that the world needs," Pullin said.
"Going through this process, we were shocked how many student-athletes already have their own company," Donati added. "So now we're providing more resources to make sure they're maximizing their brand."
When Scaled to Succeed launched earlier this year, it immediately drew in members from sports and business teams all across campus, far surpassing the program's original expectations.
"These were opportunities which we thought were only going to be captured by this 'elite' one-percent athlete," Donati said. "In fact, more than fifty percent of our student-athletes at TCU are taking advantage of this program."
With Scaled to Succeed's growing success, and with the nation securing more rights for its student-athletes, Donati and Pullin believe it's imperative to work proactively in preparing TCU for this revolution in state and federal legislature.
Recruiting and hiring practices are being reshaped to include NIL as a more integral component of college sports. Both the Neeley School and TCU Athletics plan on further expanding the Scaled to Succeed program. And the university will be introducing a credited NIL course which will begin in the spring semester.
"We didn't know when change was coming, but we did know that we needed to get going," Pullin said. "This has been a byproduct of the right culture, great leadership and the willingness to roll up our sleeves and get it done."
Dean Daniel Pullin and TCU Athletics Director Jeremiah Donati share insights into the world of Name, Image and Likeness.