Dean Daniel Pullin and BNSF Railway President and CEO Katie Farmer '92, MBA '96 discussed the evolving landscape of global supply chains, and how today's organizations can become more agile, responsive and resilient.
February 21, 2022
By Nicholas Ferrandino
On February 10, 2022, the TCU Neeley School of Business hosted a Tandy Executive Speaker Series event featuring Katie Farmer, President and CEO of BNSF Railway, and Daniel Pullin, the John V. Roach Dean of the TCU Neeley School of Business.
Farmer shared her insight into the current issues impacting the supply chain, as well as what BNSF Railway is doing to address them. She also outlined the company's strategic framework for how the railway aims to improve in order to become more resilient and adaptable to external pressures in the future.
For BNSF Railway, these plans include improving fuel efficiency for locomotives, advocating for permitting process reform for new infrastructure, and investing in developing and promoting diverse talent from TCU and beyond to help lead BNSF Railway.
A key topic the supply chain needs to address moving forward is labor shortages, according to Farmer. From the local to global scale, supply chains rely on an interwoven network of transportation and distribution centers. If there are not enough people working at each stage of the process, things can very quickly become backlogged.
This is what happened during the COVID-19 pandemic; labor shortages caused a backup of trains full of consumer goods.
"At the worst part of the supply chain crisis, we had 30 trains holding on our line across our Southern Transcon from Chicago to Los Angeles," Farmer said. At that point, we had 6,000 units of 53-foot containers waiting to unload in our facility."
To alleviate pressure, the railway is investing in their intermodal business with an example being logistics parks to make more efficient use of the truck drivers responsible for distributing these goods and make the job more appealing for prospective workers. They are also aiming to address work scheduling in a 24/7 industry.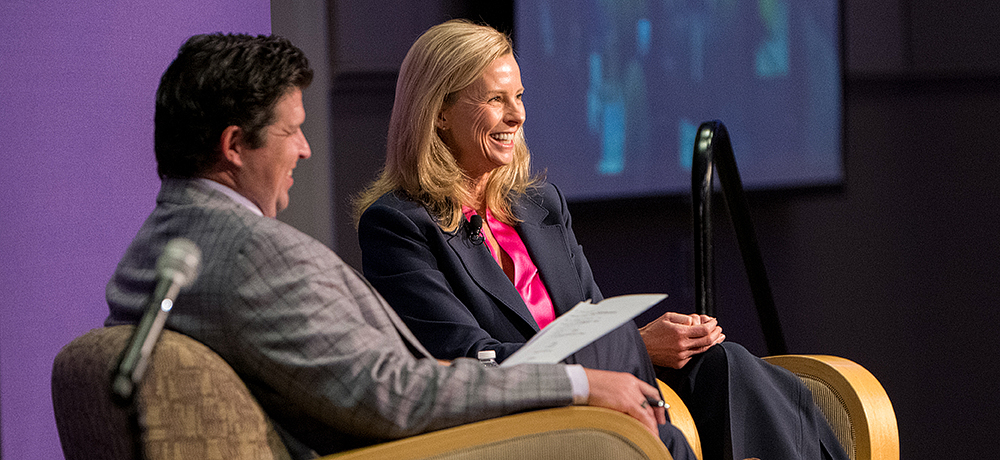 "When you can tell a truck driver that he or she can be home at night, have a regular schedule, not have to drive across the country, and have a regular income, that makes a difference," Farmer said.
BNSF Railway is also committed to building a more supportive network for its workers as well as workers from other businesses they work with to keep the supply chain running. Farmer explained the company plans to continue to develop more business leaders who can reach out to their workers and let them know their voices are heard.
As a close partner with the Neeley School and with many of their leadership positions held by TCU Neeley graduates, BNSF Railway has a vested interest in seeing all TCU Neeley students succeed.
Famer concluded with sentiments about her time at TCU and how the school has impacted her career at many stages along her journey.
"Take advantage of the alumni network here," Farmer advised. "We care about each other, we take care of each other, so take advantage of that… then take care of the next group [of TCU students] coming out."