Robert Kaplan, CEO of the Federal Reserve Bank of Dallas, spoke to TCU students and DFW business professionals to kick off the 2020-21 Tandy Executive Speaker Series.
October 27, 2020
By Elaine Cole
Robert Kaplan took time out formulating monetary policy and overseeing 1,200 employees to speak with Dean Daniel Pullin for the Tandy Executive Speaker Series.
Kaplan represents the 11th Federal Reserve District on the Federal Open Market Committee in the formulation of U.S. monetary policy and oversees Dallas Federal Reserve Bank.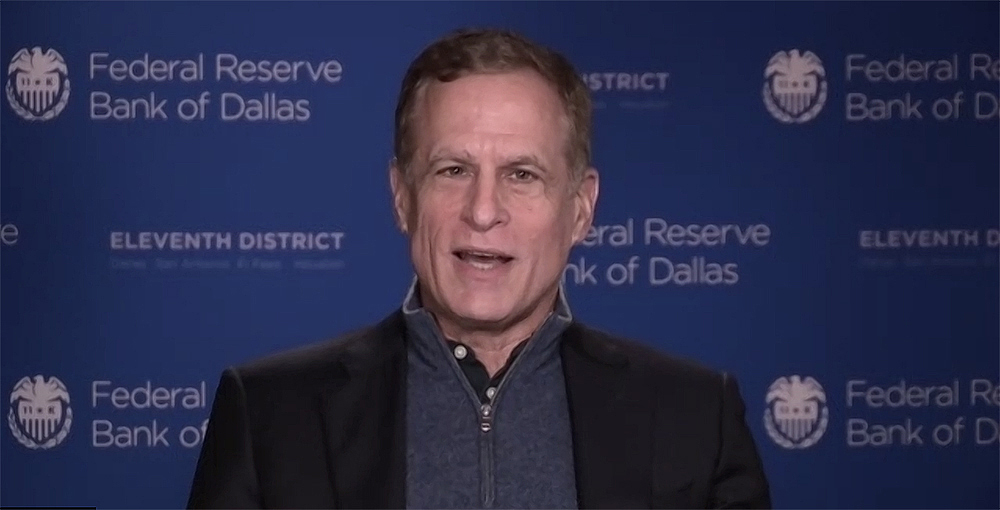 "I've had a chance to get to know Rob through my membership of the Federal Advisory Council, and he is thoughtful and knowledgeable about the issues facing Texas and the overall economy," said Phillip Green, chairman and chief executive officer for Cullen/Frost Bankers. "His accessibility and willingness to speak at forums like this one have helped people understand the influence of an institution like the Federal Reserve."
Kaplan spoke about the economy and GDP, and then chatted with Pullin about monetary policy, fiscal policy, human behavior, career management, the importance of being adaptable, culture in the role of leaders, talent attraction and more. He also answered questions from TCU Neeley finance students and business professionals watching the virtual session.
Kaplan began by saying that he has a positive outlook for the GDP and that it will continue to grow, and that the Texas economy has stayed on par with the country and at times outperforming it. The caveat is not knowing what will happen with the virus.
"In those forecasts we are not assuming a vaccine will be available, but we are assuming that we do a good job of following public health protocols and continue to do a good job managing this virus," he said. "Monetary is critical, fiscal policy is important, but the most powerful economic tool we have right now is to follow those protocols."
Kaplan said "we will have to do extraordinary things to get out of the woods of this pandemic. My view is that it will be 2023 before we start approaching the levels of employment we saw before the pandemic."
Kaplan also stated things monetary policy can do.
"We can run the labor force tighter, bring in underrepresented groups, also invest in education and early childhood literacy, and make a substantial ramp up in skills training. If we make those investments we can narrow the gap," he said.
Pullin asked him the most important lesson he has learned from the pandemic.
"People are much more adaptable than we think they are, and maybe than they think they are," Kaplan replied. "At the Dallas Fed, we thought the year was going one way and now we're going another way. We've been able to move large groups of people basically on a dime, and move fast. This reinforced to me that [a person's] level of education and basic skills make you more adaptable."
Pullin agreed. "At TCU Neeley we teach critical thinking and growth mindset. We make sure our students understand that questioning is a good thing, not just memorizing answers but understanding context, challenging the status quo. It is inculcated in our curriculum and I am proud that our students will be those adaptive students the business world needs."
Watch the full interview here on the Neeley YouTube channel.
The Tandy Executive Speaker Series is presented by the TCU Neeley School of Business with Frost as platinum sponsor. Additional sponsors are Fort Worth Business Press (gold), Linbeck (silver), Balcom Agency (silver), Acme Brick (bronze), Byrne Construction (bronze), McDonald Sanders (bronze), Dunaway (bronze), and Gensler (bronze).