Taylor spoke to North Texas thought leaders about her personal experiences and proven best practices for organizations to succeed at the intersection of profitability and benefit to society. The speaker series was the final event for the second TCU Neeley School of Business Innovation Week.
May 01, 2023
By Miya Hillesland
Innovation Week at the TCU Neeley School of Business focused on "Demystifying Sustainability," and included an illuminating Tandy Executive Speaker Series featuring Sandra Taylor, CEO of Sustainable Business International and former SVP of Corporate Responsibility at Starbucks.
For the second consecutive year, the TCU Neeley School of Business welcomed creative leaders, alumni, corporate executives and students to campus for Innovation Week.
The spring 2023 Tandy Executive Speaker Series brought a mix of North Texas business professionals together for networking and thought leadership and was the final event for the showcase week. Taylor tackled the challenge of transforming business sustainability by decoding risks, opportunities and management priorities. She provided valuable insights on how organizations can navigate at the intersection of profitability and societal well-being, and how sustainable practices must consider not only the impact on the planet but also the impact on people and communities.
"Businesses must be accountable to their employees, communities, and customers, who can hold them responsible through social media and other means," said Taylor.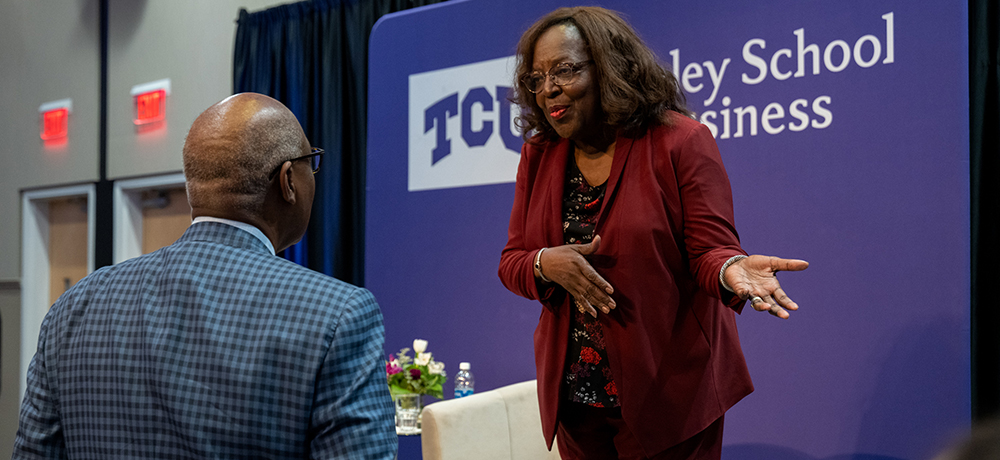 Hettie Richardson, interim dean for TCU Neeley, hosted the conversation with Taylor through a lens of what sustainability means to Taylor and her partner and client business organizations. The topics included advice for future generations.
Taylor emphasized the importance of businesses being socially responsible for both the people and the natural environment.
"I think sustainability should be viewed as both natural and human capital," said Taylor. "We have come to expect sustainability means 'environmentally and socially responsible'."
Taylor also discussed the evolution of sustainability with corporations over the years and the reason behind that change. A major factor is the younger employees who come into the company with the expectation that their business will be more considerate towards sustainability and willing to take a social stance.
"I am so hopeful about the future of our planet and businesses because young employees are truly expecting companies to do better," said Taylor.
Another driving force is linking profit with purpose, also known as stakeholder capitalism. This means delivering value not just to shareholders, but to many stakeholders including the natural environment, employees, investors, and communities.
"Climate change is a major motivator for this shift towards stakeholder capitalism because investors are becoming more aware of the risks associated with climate change and are demanding that companies manage these risks," said Taylor.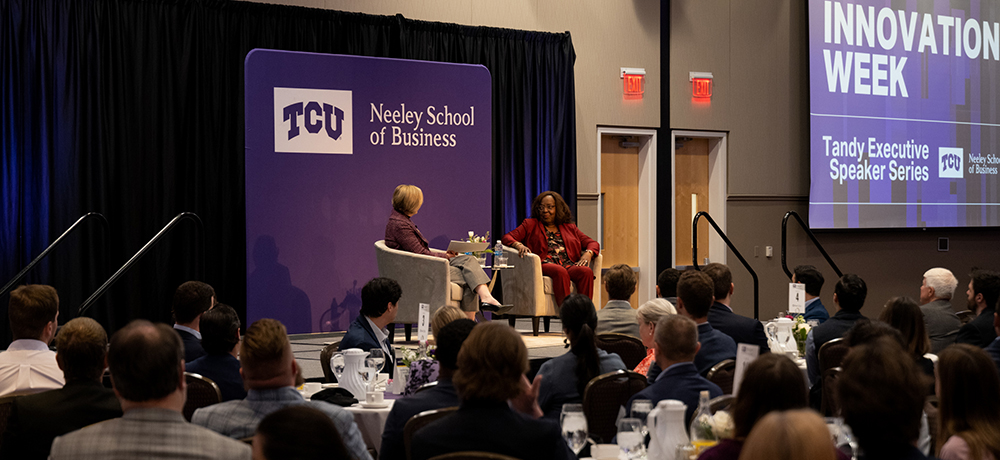 The importance of not just being 'green,' but being environmentally and socially responsible was the main theme of her discussion. Taylor encouraged businesses to figure out what climate change genuinely means for their lives and to identify the environmental issues in the value chain.
"Society, in general, has become savvier in deciphering what is genuine and real," said Taylor, adding that people recognize the difference between businesses "greenwashing" or photo opportunities, as opposed to actual engagement, philanthropy and impact.
As she concluded, Taylor offered advice to students, emphasizing the importance of being flexible, seeking mentors, and always being willing to learn and work hard. Richardson agreed and provided additional emphasis for students to remain open-minded and ready to make innovative choices.
"Your career is a journey, and you don't know where it will take you so be open to what comes your way and willing to seek out those new avenues," said Richardson.