For 2022, 1,250 students from 28 states, 11 countries and 4 continents, took part in the values-centered competition hosted by the TCU Neeley Institute for Entrepreneurship and Innovation, pitching their trailblazing business ideas to solve the world's problems.
April 07, 2022
By Erin Smutz
Twelve years ago, the Institute for Entrepreneurship and Innovation at the Neeley School of Business had a dream: to highlight, exemplify and reward college students who come up with innovative business ideas that make a profit while also making a real impact in a community, country or the world. Today, that dream is thriving as we continue to empower tomorrow's entrepreneurs with the TCU Values and Ventures® Competition.
For the 2022 competition, 42 out of 235 teams from across the globe were invited to campus and pitched their ideas for social conscious businesses for a chance to win more than $120,000 in cash awards. From micromobility safety to wildfire detection to accessible learning applications, the winners showed just how compassionate, pioneering and profitable values-centered business can be.
2022 TCU Values and Ventures Competition Winners
Grand Prize, $40,000: Pointz Mobility, Brown University
Pointz is a safer navigation app for micromobility riders. Their proprietary road rating script gives each road a 1-5 bike-friendliness scale by taking into account a variety of factors and datasets to determine the rating. The Pointz proprietary routing algorithm favors more bike-friendly routes.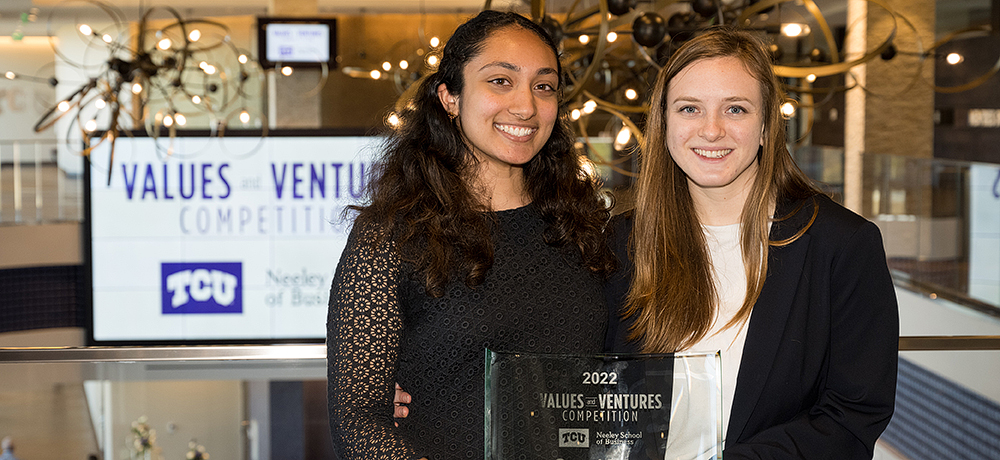 Second Place, $25,000: InfernoGuard, Northwestern University
InfernoGuard provides customized wildfire assessment and detection services to large scale, revenue-generating landowners. They deploy a network of hardware devices placed on trees in remote environments to continuously monitor and report wildfire threats.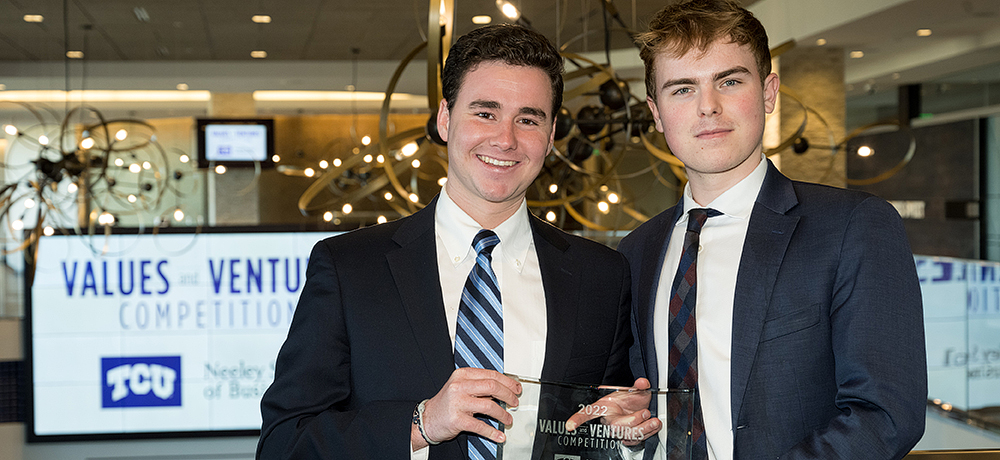 Third Place, $15,000: AI+Learners, Cornell University
AI+Learners makes learning math accessible and engaging for students with cognitive, physical and behavioral disabilities through personalized computer games and analytics. They help students succeed academically, and ensure their parents and educators can understand their abilities and progress.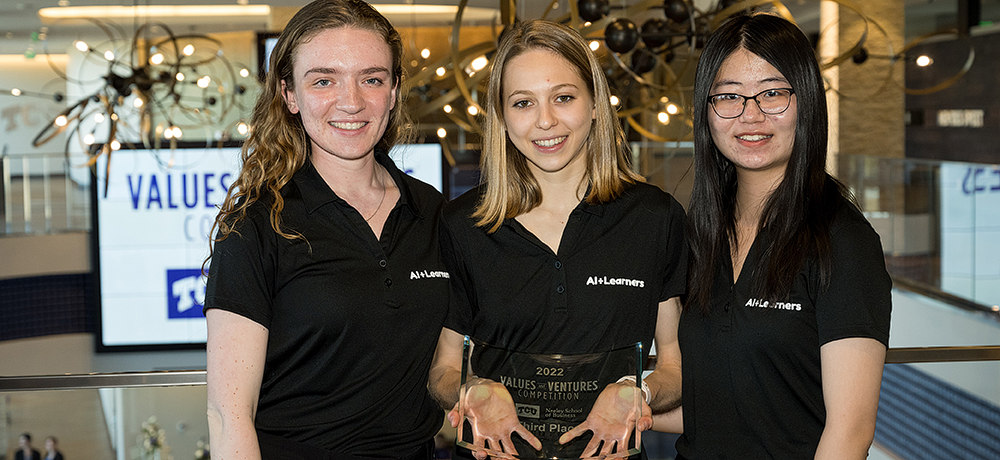 Mittelsteadt/Waste Connections Innovation Award, $10,000; Honorable Mention, $2,500: GarboCarbo, University of Illinois Chicago
GarboCarbo is engineering a large-scale, carbon scrubber capable of removing over 98% of CO2 from coal-fired power plant emissions. Their carbon scrubber can capture and utilize millions of tons of CO2 per year at high efficiencies while also producing a profitable byproduct.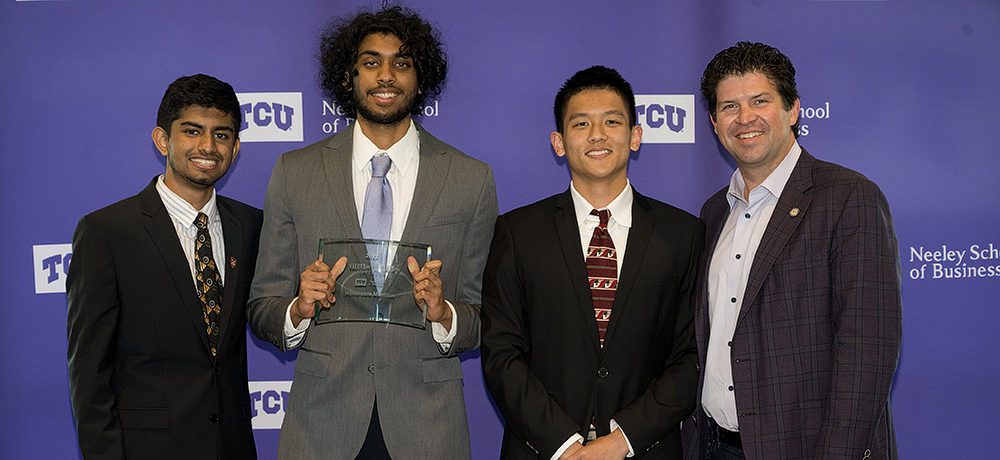 Founders' Award, $5,000; Honorable Mention, $2,500: SteadiSpoon, Southern Methodist University
The SteadiSpoon is an affordable, self-stabilizing eating utensil designed to help those with Parkinson's and Essential Tremors regain agency, autonomy and dignity in their lives.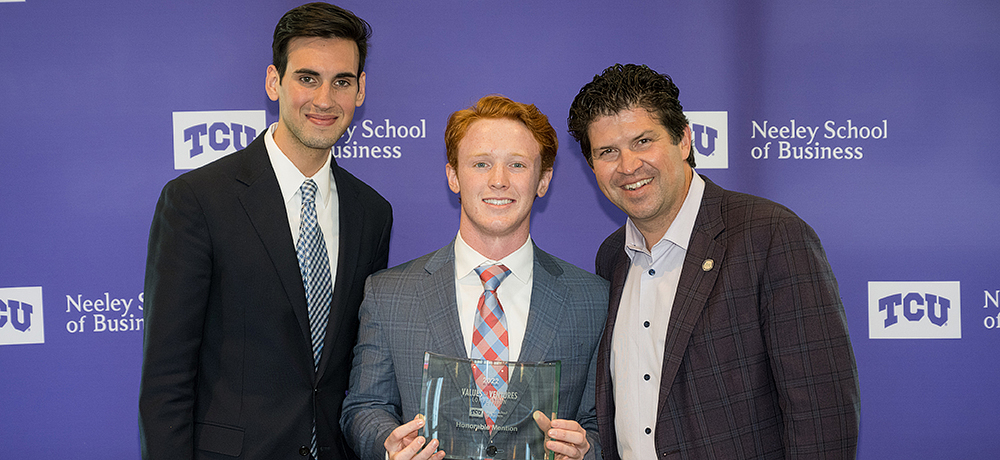 Sly Innovation Award, $2,500; Honorable Mention, $2,500: Compost'd, Georgetown University
Compost'd creates a product and service in tandem to provide households with a convenient, accessible composting solution. Their patent-pending, silicone receptacle is stored in the freezer to eliminate bugs, odor, mold and consumer error. Meanwhile, our site allows users to connect to disposal locations such as farmers markets and residential pickup services, providing a seamless user experience.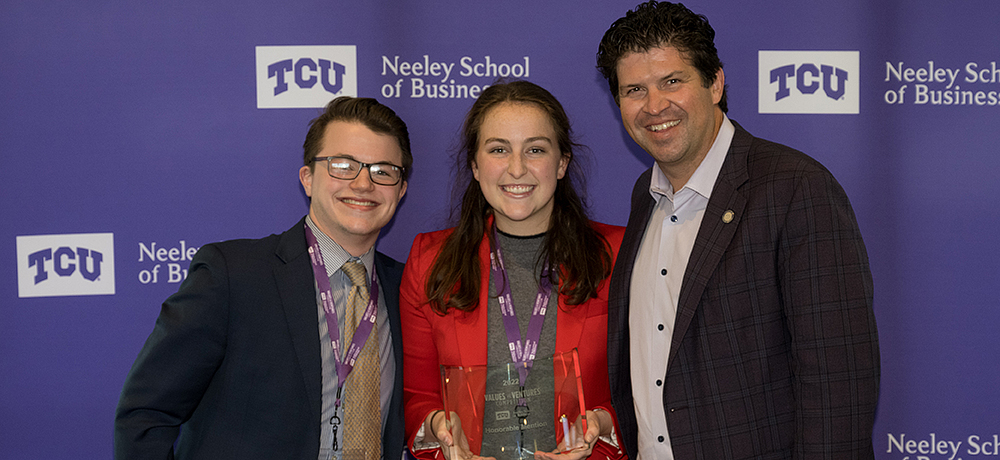 Honorable Mention, $2,500: Neram, Trinity University
Neram is a sustainable fashion label which utilizes textile waste to produce high-end fashion products.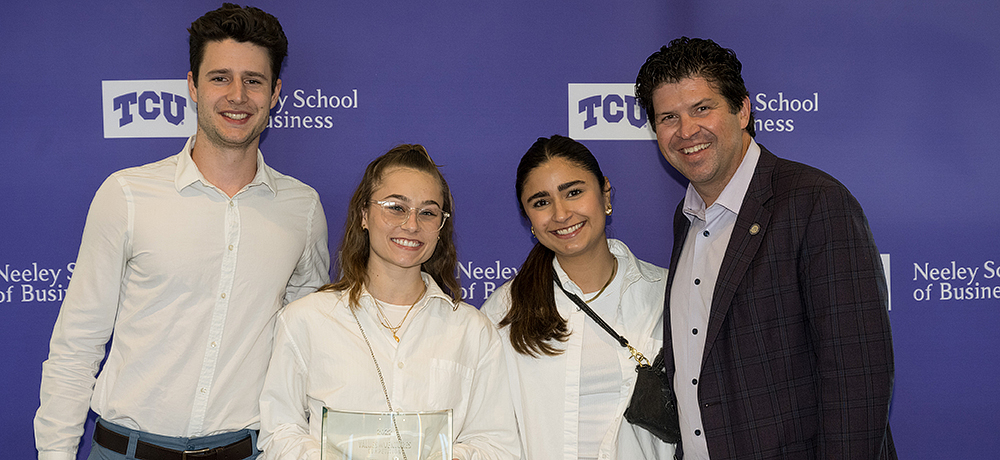 Honorable Mention, $2,500: Kwizera Coffee from Lipscomb University
Kwizera Coffee is a specialty coffee company that believes in a better way to source and serve coffee on a global scale. Through the use of blockchain technology, they aim to provide consumers with a retail experience that offers data and transparency of how coffee is sourced, and the impact it has on farming communities in East Africa.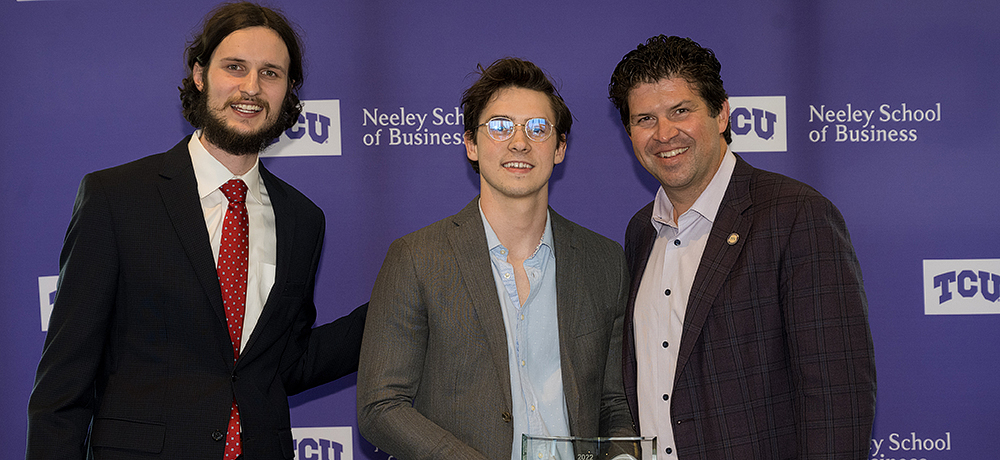 Investor Challenge
First Place, $2,500: Indiana University
Second Place, $1,500: Georgetown University
Third Place, $1,000: Brown University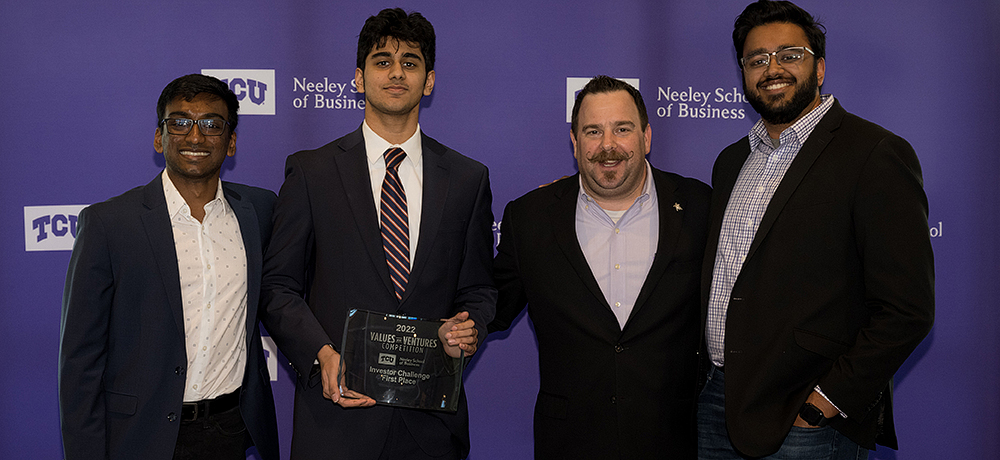 Ripple Awards, $1,000 each:
March, TCU
Sava, Brigham Young University
Sheeza, San Diego State University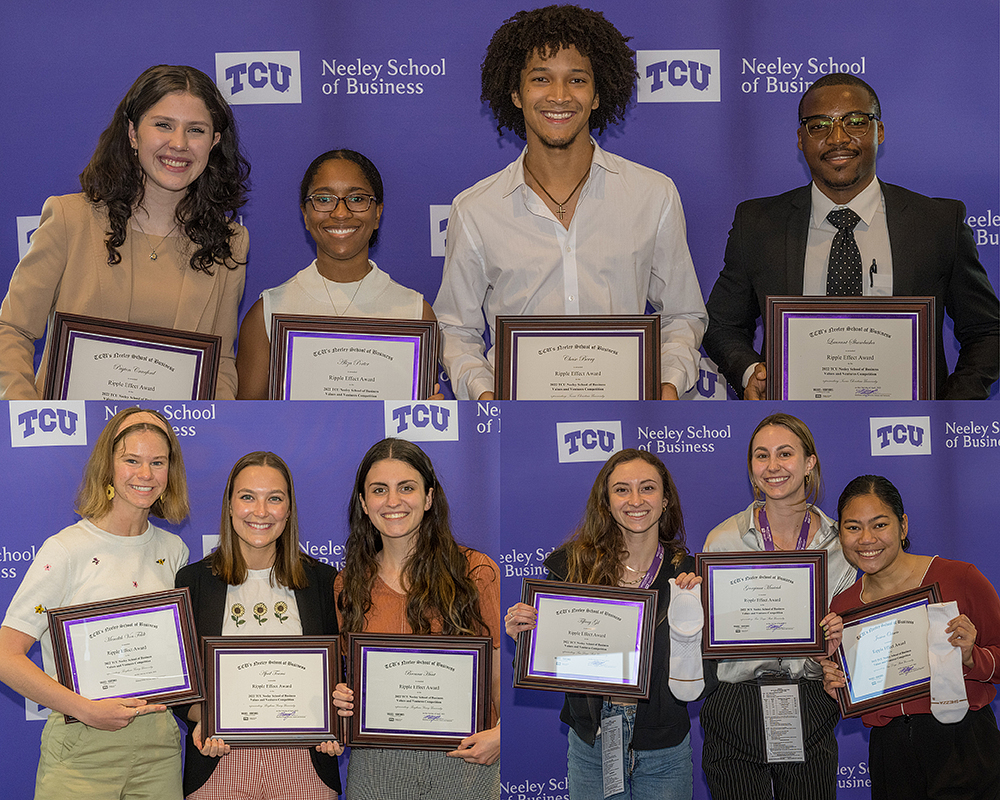 Market Simulation Competition
First Place, $1,000: Bradley University
Second Place, $750: Fairfield University
Third Place, $500: LeTourneau University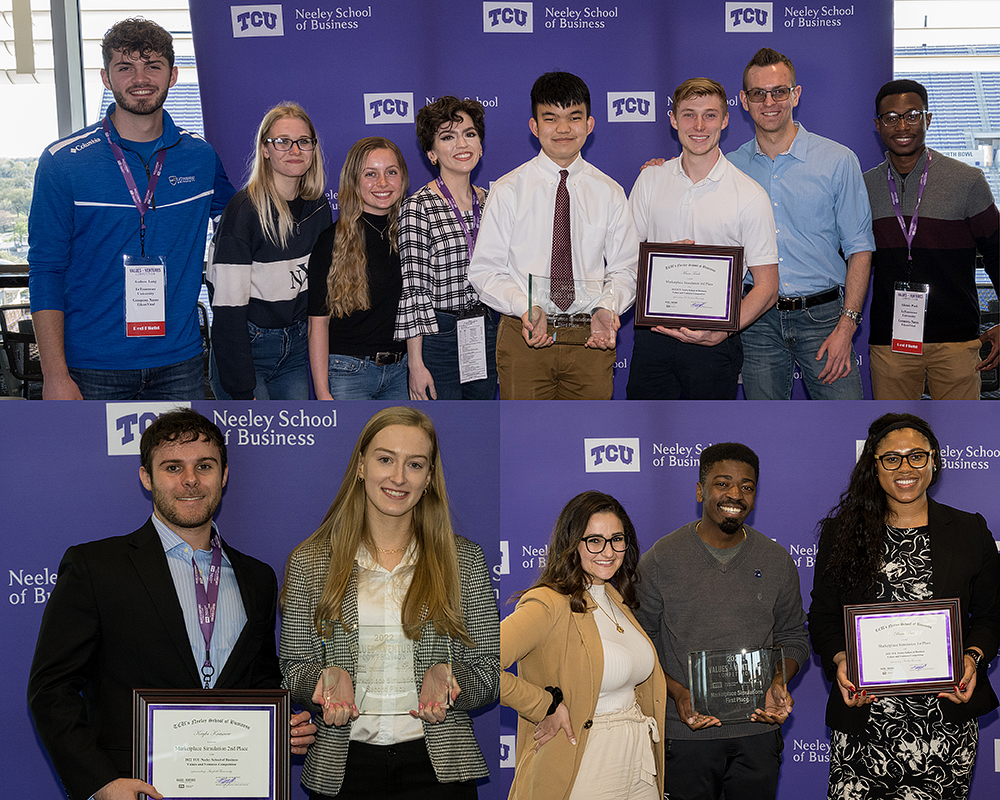 The TCU Values and Ventures Competition is made possible by generous support from the Richards Barrentine Donor Advised Fund of the Texas Women's Foundation.
Learn more about Values and Ventures here.