The Institute for Entrepreneurship and Innovation hosts the TCU Richards Barrentine Values and Ventures Competition annually and welcomes undergraduate teams from around the world to campus. This year, teams traveled from as far as Bangladesh, South Korea and Canada.
March 29, 2023
By Miya Hillesland
The 13th annual TCU Richards Barrentine Values and Ventures® Competition invites undergraduate students from around the world to develop business ideas for capital ventures that also add value to society, and pitch those concepts to business executives for the opportunity to win up to a $40,000 prize.
Values and Ventures has been described as "Shark Tank with heart" and is the No. 3 ranked Entrepreneurship Competition in the nation, according to Times of Entrepreneurship. Rodney D'Souza, executive director for TCU Neeley's Institute for Entrepreneurship and Innovation, said the unique combination of financial gain, social conscience, problem solving and community sets Values and Ventures apart from others.
"It is one of the largest competitions in the world, as far as the number of teams participating and the amount of money we give out with more than $110,000," said D'Souza said.
"But what's really cool about what we do, is it's not just a business competition. Teams invited to TCU also have mentors assigned to them," D'Souza said. "These mentors help the teams in addition to the faculty advisors from their university."
A mentor was assigned to each of the 42 semi-finalist teams on March 24 and 25 as the undergraduate students proposed their business ideas to judges with the opportunity to advance and become one of the top eight finalists. Their innovative, problem-solving ideas included clean energy solutions, a robot that searches structure fires, odorless socks and an inclusive haircare product line for hotels.
The competition's ongoing success and growth is a credit to the faculty and staff volunteers, devoted corporate partners and sponsors, like Michael Soper, and the vision of event co-founders – Nancy Tartaglino Richards and Lisa Barrentine.
Before announcing the winning teams, TCU President Daniel Pullin publicly acknowledged the ongoing dedication and support provided by Richards, who participated in the award ceremony.
"Nancy Richards is a remarkable woman, a remarkable business leader," Pullin said. "Maybe more importantly in that she has practiced what the power of generating wealth, generating sustainable businesses can mean to people. I know she's touched every one of our lives here today and for well over a decade she's impacted literally thousands of next generation entrepreneurs."
2023 TCU Values and Ventures Competition Winners
Grand Prize, $40,000; Investor Challenge Third Place, $1,000: Rowan University, 4U Medical Design
4U Medical Design's 3rd Party tested Medical Device Stickers are a quick and easy way to decorate medical devices. Brighten up these intimidating devices with colorful child friendly images that have proven benefits.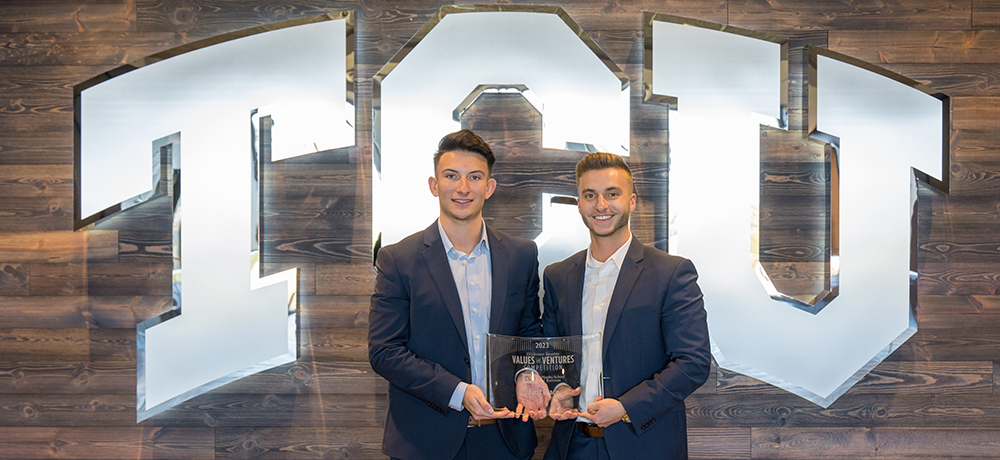 Second Place, $25,000; Investor Challenge First Place, $2,500: University of Georgia, OX SOX
OX SOX is an odorless sock. Our patent-pending technology eliminates odor-causing bacteria at the source, providing long lasting and effective protection. Targeted towards those who suffer from foot odor and want an effective, sustainable solution.
Third Place, $15,000: TCU, March
March is a hair care brand that makes all natural, organic products that suit ethnic hair for hotels and resorts. Individuals with ethnic hair types, specifically people of color, have no access to complementary shampoo and conditioner products at hotels and resorts. March's mission is to make the hair-washing experience, while away from home, accessible for all people.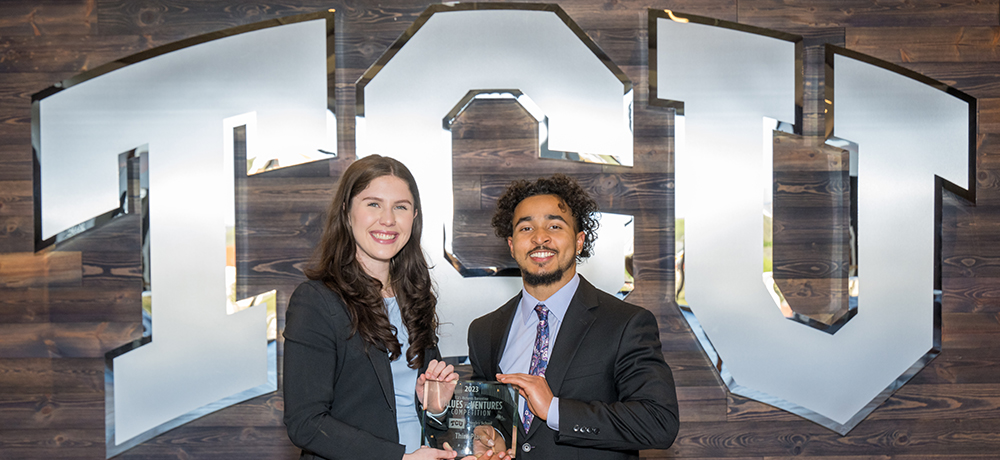 Honorable Mention, $2,500: Colgate University, Everlasting Technology
Everlasting Technology is a social enterprise working on innovations to transform waste to clean energy. Our product is a smart portable biogas system that converts household waste into cooking gas. It uses IoT technology and sensors to enable users to pay only for the gas they consume, enabling last-mile communities' access to clean energy.
Honorable Mention, $2,500: Grove City College, Resense LLC
Resense has the mission to bring comfort and joy to those living with Dementia. In the US over 6 million individuals are currently living with Alzheimer's. Our product is the Connect + Comfort Kit, an activity toolkit designed to increase brain health, exercise the senses, and elicit long term memory.
Honorable Mention, $2,500; James and Marjorie Sly Entrepreneurship Award, $2,500: Bangladesh University of Professionals, Eurus
Eurus is a renewable energy solution company that manufactures "ONUVA" which is a vertical blade wind turbine. It can adapt to changing wind directions and operates 24 hours a day, even at very minimum wind speed. Our product will be an energy solution in urban residential areas, remote areas and industries during this energy crisis.
Honorable Mention, $2,500; James and Marjorie Sly Innovation Award, $2,500: California State University – Dominguez Hills, Planit Ponics
Planit Ponics offers urban farming kits that include organic liquid nutrients, sustainable growing mediums, hydroponic systems as well as a project-based Learning guidebook: an interactive social and emotional learning tool to implement in various educational settings scaffolded by next-generation science standards and designed for ages 10-13.
Honorable Mention, $2,500: University of Texas at Austin, Paradigm Robotics
Paradigm Robotics has developed FireBot, the world's first, high temperature resistant, wirelessly controlled, obstacle-climbing robot that can be deployed into burning buildings to efficiently search for human life and identify any hazardous situation, without necessitating firefighters to physically enter structural fires and risk their lives.
Investor Challenge Second Place, $1,500: The George Washington University, POP! LLC
POP! (Power of the Purse) is a student-run thrift store that hosts pop-ups and releases monthly drops and core collections through eCommerce. We extend the life cycle by reselling 2,522 pieces in 2022. Our target segment is urban-based, undergraduate students who are fashionable, socially conscious and social media users.
Founders' Award, $5,000: University of Pennsylvania, Sonura
The Sonura Beanie was designed to protect newborns from high frequency and intensity noise exposure in the NICU while promoting neurodevelopment through transmission of parental audio messages. It consists of three main components: frequency dependent filter, mobile application and microcontroller.
Founders' Award, $5,000: University of New Hampshire, HydroPhos Solutions
HydroPhos Solutions is a circular economy social venture that utilizes phosphorus filtration technology to extract phosphorus from wastewater processed by municipal wastewater treatment plants, subsequently reselling this phosphorus to phosphate fertilizer manufacturers.
Mittelsteadt/Waste Connections Innovation Award, $10,000: United States Airforce Academy, YourSide
YourSide is a mobile application that empowers sexual violence victims by lowering the barriers to support, healing, and justice. This is achieved by providing victims with immediate, anonymous, and effective access to resources that enable an informed decision path.
TCU Neeley Communications Writing Intern Allie Salinas contributed to this news story.