Artificial intelligence (AI) has been around for some time and its impact continues to expand, including the way we shop. Elijah Clark, a TCU Neeley School of Business marketing instructor, joined KTBC-FOX Austin for an in-depth discussion on the ways AI can make shopping more efficient and the potential concerns.
May 31, 2023
By Amber Billops
In the rapidly advancing world of technology, artificial intelligence (AI) is revolutionizing daily activities, including how we shop. Elijah Clark, a marketing instructor in the TCU Neeley School of Business, sheds light on the impact of AI in retail in an interview with KTBC-FOX7 Austin.
"Artificial Intelligence is currently being used by businesses and consumers through websites with clicks, visits, and analytics. The goal is to provide better service and more efficient marketing to these customers," Clark said.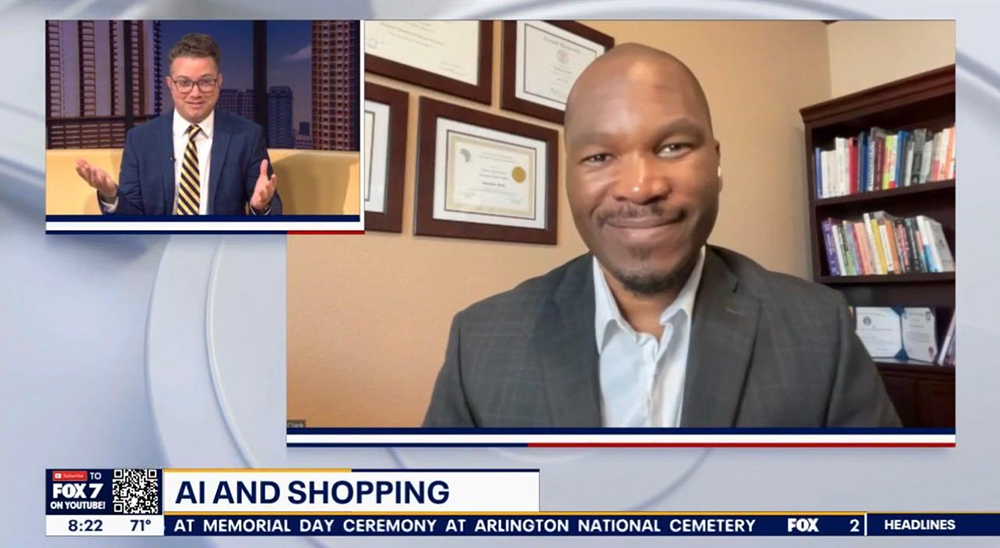 AI technology enables online retailers to enhance customer experiences by leveraging data-driven insights and delivering personalized recommendations. Although chatbots have been used for some time, they are becoming more sophisticated as advancements are made in AI technology.
"Chatbots are human-like conversations that consumers are having with businesses through their websites, messaging platforms, and mobile apps. They use natural language processing and can be built based on predefined rules or through machine learning techniques."
The evolution in chatbot capabilities provides a more seamless and interactive consumer experience.
"With AI, consumers can expect personalized recommendations and relevant product offers and promotions," Clark said, adding that the integration of AI in online retail helps shoppers find the best prices, save time through quicker searches, and receive efficient product deliveries.
Clark also pointed out the concerns about privacy. The biggest issue would be the privacy concern, said Clark. There is a chance of data leak, data breaches, unauthorized use, or misuse of consumer information by businesses or third parties. It is important for both retailers and consumers to prioritize data security and ensure responsible handling of personal information.
For more about the impact of AI on retail, watch the full interview with Clark on FOX7 Austin.