More than 25 Energy MBA students traveled to Europe in May for an information-packed study abroad opportunity, where they navigated four countries and 16 companies over 12 days, including a visit to the European leadership organization.
June 02, 2023
By Ralph Lowe Energy Institute
An important facet of the Energy MBA curriculum, and many of the TCU Neeley School of Business programs, is experiencing firsthand how business is done in other countries. The MBA class of 2024 spent nearly two weeks on a study abroad trip in Europe with leaders of the Ralph Lowe Energy Institute to learn from global leaders in finance, energy, and politics.
The group met with innovative institutions including TotalEnergies in Paris, Lazard in London, Glavbolgarstroy in Sofia, Bulgaria, and the European Union in Brussels.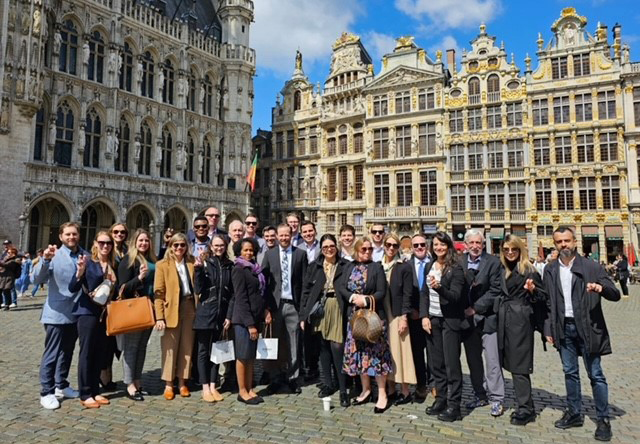 Tom Bates, a TCU Neeley adjunct professor and Ralph Lowe Energy Institute board advisor, shared his takeaways from a meeting with Roger Waite, a spokesperson with the European Union (EU) Energy Directorate, at their headquarters in Brussels.
"There was a lot to like in the recently revamped energy policy that was discussed, aptly named REPowerEU," said Bates.
The new policy is based on three pillars:
Energy saving and energy efficiency
Massive acceleration of investment in renewables
Diversification of energy supplies
"Improving energy efficiency and saving energy wherever possible is an almost universally agreed upon goal. This is common sense and good business. Who doesn't like saving energy, lowering our carbon dioxide (CO2) and reducing costs? Europe already performs extremely well on this pillar," Bates said.
Diversification of energy supplies is absolutely necessary after the recent power crisis in Europe fueled by over-dependence on intrinsically intermittent renewable power supplies, according to Bates. Six months before the invasion of Ukraine (September 2021), power prices skyrocketed in Europe because renewables weren't able to meet demand. LNG cargos were turned around in mid-voyage and redirected to Europe at astronomical prices because renewables, especially wind, failed to provide power to the European grid.
"The loss of Russian gas supplies has made the situation worse. The plan to bring gas from different sources, like the United States, is wise," said Bates, adding that it does seem likely that gas will be needed long after the supposed 2030 turn down date.
Bates believes it is similarly wise to re-initiate the building of nuclear plants and France will take the lead in that process. He said Europe is catching up on diversifying their energy supplies but their resistance to nuclear energy, even going so far as re-starting coal plants while shutting down nukes, stymied their progress; and that they also ignored the potential for natural gas as a bridge to a sustainable future.
"Mild weather the last two years reduced the impact of the power crisis. This won't always be the case and industrial output and GDP will go into a tailspin when gas supplies have to be diverted to residential use in the next cold winter." he said.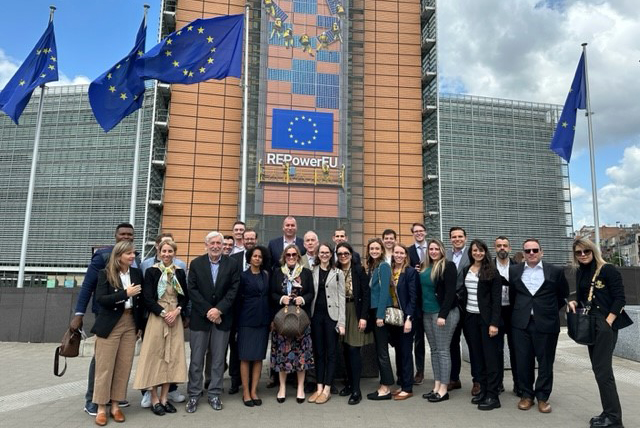 Bates's biggest concern with REPowerEU is the timing of a massive acceleration of investment in renewables before there is a technological and economic solution to storage. None exists today and over-reliance on renewables is likely to lead to more power crises, not fewer, as well as higher energy costs, not lower, according to Bates.
"European energy prices today are significantly higher than in the United States because of this energy policy," Bates said. "The inconvenient truth is: Some days the wind doesn't blow and the sun doesn't shine."
Europe needs to invest more in technology, and solve the storage problem, according to Bates. "Whether the solution is batteries or hydrogen or pumping water up a hill, does not matter. The storage problem must be solved or else the grid will become more unstable. The ability to store energy cost effectively allows Europe to build more wind and solar capacity, and rely on it."
"The energetic approach to REPowerEU is admirable," said Bates, "But some of the goals of the new energy policy clearly are aspirational. The path to NetZero must be paved by a technology roadmap with economic substance. That does not exist today."