The Institute for Entrepreneurship and Innovation created the Innovative Teachers Guild as a collaborative way for professors to incorporate entrepreneurial thinking, build creative curriculum and embed innovative strategies into their teaching.
January 31, 2023
By Tori Couch
Patty Zamarripa never viewed innovation and entrepreneurship as personal strengths.
That was until she joined TCU Neeley's Innovative Teachers Guild. Zamarripa, an assistant professor of professional practice in the journalism school found ways to infuse entrepreneurial ideas into her current classes and even created a new class, Mobile Journalism.
"Somehow an entrepreneurial thing happened to me," Zamarripa said of creating her new class.
Zamarripa is offering Mobile Journalism as an elective for the second consecutive semester in spring 2023 and the interest has already reached across campus with non-majors registering for the course. Those students heard about it because of connections she made in the Innovative Teachers Guild, or the Guild, as it is commonly called.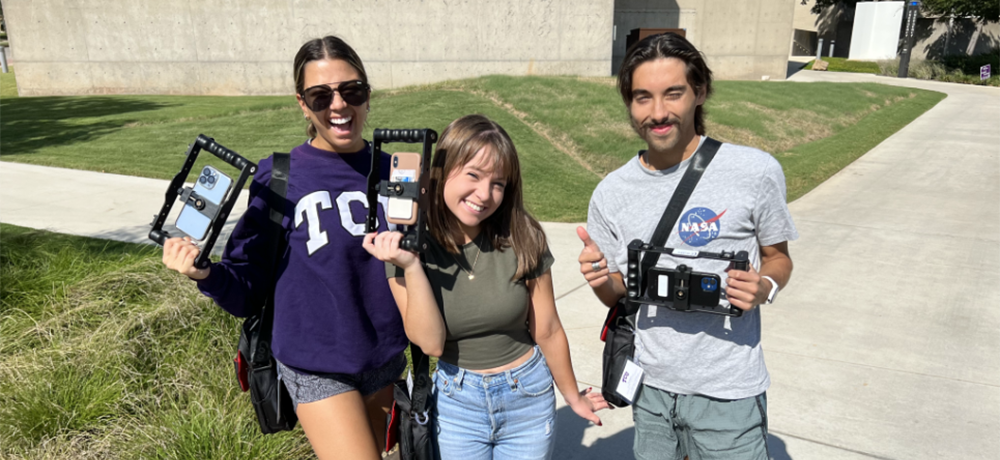 The Guild was created by leaders in TCU Neeley's Institute for Entrepreneurship and Innovation. Rodney D'Souza, managing director of the Institute for Entrepreneurship and Innovation, Ray Smilor, Professor Emeritus at TCU, and Michael Sherrod, the William M. Dickey Entrepreneur in Residence, established the program that now connects professors from across campus and encourages entrepreneurial thinking, collaboration, and discussion of innovative teaching strategies.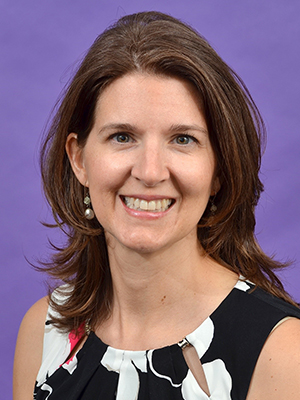 One of Professor Smilor's favorite teaching strategies that has quickly gained traction across multiple disciplines is the brown bag resume. 
Associate Professor of Nursing Gina Alexander in the Harris College of Nursing & Health Sciences uses the brown bag resume in an upper-level nursing clinical course as an introduction tool. Instead of just stating her name and a few facts about herself, Alexander pulls items out of a bag and explains how each one describes her. 
Students do the same thing in class a few days later. 
"I've gotten to know my students in a different way than I had known them before that," Alexander said. "It's a simple strategy, but one that I found very powerful. And the students seem to enjoy it, too."
Zamarripa, who teaches in the Bob Schieffer College of Communications, used the brown bag resume in her Advanced Video Production course last semester. As a result, Zamarripa said the students cared more about one another and were more connected. That led to them working as a more cohesive team.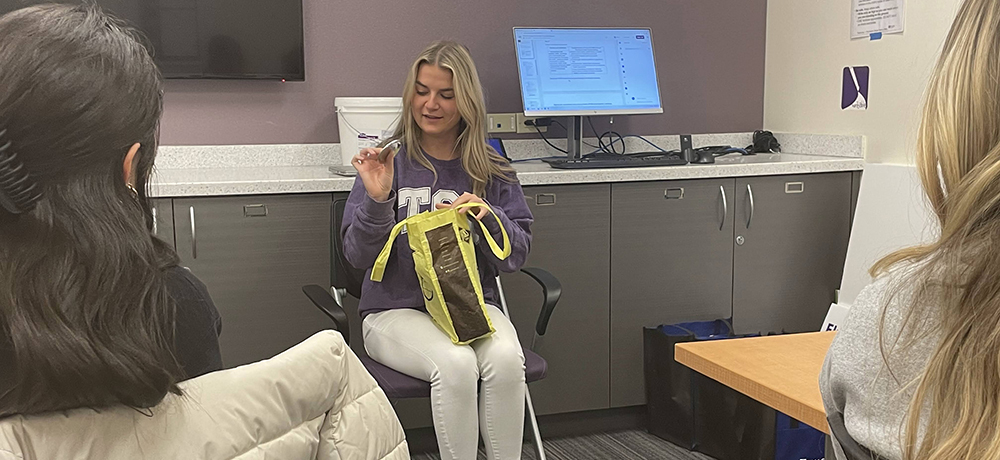 For David Minor '80, the founding director of the TCU Neeley Entrepreneurship Center that evolved into today's Institute for Entrepreneurship and Innovation, incorporating an innovative mindset into classrooms is essential. As a TCU alumnus, former TCU faculty member and successful entrepreneur, Minor provided funding that supported the creation of the Guild.
"Just in the past few years, we've seen technology advancements change our daily lives. Innovation is about taking those readily-available tools and using them to inspire students so they identify ways to solve problems," said Minor. "I am excited to see what more professors can do when they learn from one another and are empowered to incorporate out-of-the-box thinking in their classrooms."
Zamarripa, Alexander, and seven other professors make up the Guild's initial, one-year cohort, which started in Fall 2021. Another cohort started the program this past August.
Members meet once a month during the fall semester and then shadow each other's classes in the spring. After finishing the formal program, participants receive a stipend and a certificate.
The ideas cultivated in the Guild are aimed at creating an innovative mindset for professor to help students prepare for a constantly changing world. 
"It's working just as Ray, Rodney and I hoped it would. Guild members from many disciplines working together to inform professors and students in any TCU college about the value and benefits of entrepreneurial innovation and creativity though the lens of their particular discipline," Sherrod said. "I think every single person below the age of 50 is going to have to be entrepreneurial at some point in their career in the 21st century," Sherrod said. 
Alexander has worked in hospital and community health settings and she said she has recently seen dramatic changes in the health care industry, such as more nurses becoming independent contractors. She wants students to have the knowledge and tools to market themselves in this environment. 
Alexander has tried several new assignments in her classes, including unfolding case studies and blogs, with these goals in mind. She discovered a smaller class size makes implementing the innovative strategies easier. 
For the past two semesters, students in her clinical class have created a vision board, or a living resume, in a medium of their choosing. Alexander said this assignment helps students, and herself, remember why they chose this profession.
"In many ways it was kind of a mindful experience for them," she said. "It's a way to give pause and not feel like they were on as much of a treadmill, as we tend to feel when we're in a professional program."
Alexander also learned about the Institute for Entrepreneurship and Innovation's CREATE program, which lets students develop business ideas by providing them with workshops, mentorship and funding. She shared it with her department and hopes nursing students will be encouraged to participate.
"We're a central role on the healthcare team so we need to have a strong business sense," she said. "As much as we can do to improve that, I think that's worth it for us to consider."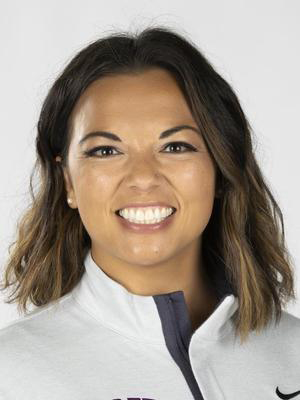 Angela Gonzaga, assistant athletic director for women's basketball operations, joined the Guild in Fall 2022 along with five professors. 
Gonzaga met Sherrod while hosting graduate transfer recruits on official visits. Several recruits expressed interest in pursuing Neeley's Master of Business Analytics and met with Sherrod to learn more about the program. 
Gonzaga has already identified new potential ideas for faculty to learn more about the student-athlete experience, which includes student-athlete development programming and community service opportunities on top of classes, practice and matches. 
"Some professors really understand the basics of it, but they don't necessarily know about the extra expectations that come with being a student-athlete," she said.
Sherrod hopes collaborations between professors and departments become more common as the Guild grows, opening the door for innovation, creativity and an interdisciplinary mindset. 
"We're all working on this together in a way that we can help professors in any college understand the goals of The Guild through the lens of their particular discipline," Sherrod said. "It's been absolutely wonderful for me because I've been able to get insights into other parts of the university."
Learn more about the Innovative Teachers Guild here.