TCU Neeley Entrepreneurship Professor shares his findings on if entrepreneurs lead happier lives and the variables involved in answering such a question.
November 30, 2021
By Nicholas Ferrandino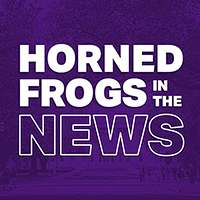 Keith Hmieleski, academic director of the Institute for Entrepreneurship and Innovation at TCU, was recently featured in an article published by The Wall Street Journal that asks the question: Are entrepreneurs happier than other people?
Despite working longer hours, earning less money than the average worker, and reporting higher levels of stress associated with their jobs, independent entrepreneurs still claim they are happier with the work they do than wage-earning employees.
To understand this paradoxical phenomenon, the article compiles the findings of several studies conducted by professors across Eastern Europe and the United States.
Through interviewing thousands of people from more than a dozen countries, industry specialists found that independent entrepreneurs were on average happier than wage workers due to their higher level of autonomy – being able to make their own decisions about how and when they work.
Another significant variable contributing to these higher levels of contentment is an independent entrepreneur's greater sense of meaning and impact through their work, as they have a more direct relationship with their enterprise's final product.
Delving deeper into the nuances of this topic, Hmieleski interviewed 303 small business owners in the United States with a focus on evaluating the differences, if any, between men and women when it comes to the appeal of running your own business.
Hmieleski's study determined that independent male CEOs who valued teamwork tended to be happier with their job, while female CEOs showed more interest in creativity and inventiveness.
"In entrepreneurship, there's a common stereotype of the 'great man' engaging in a lone risk-taking exercise," Hmieleski said. "But in reality, entrepreneurship is more like raising a family. And communal and empathetic characteristics are just as important."
Read the full article featuring Hmieleski here.