Daniel Pullin, new dean at the TCU Neeley School of Business, saw great success as dean of the business school at the University of Oklahoma, and himself earned an MBA at Harvard. But he says there's something special about TCU Neeley.
May 01, 2020
"Neeley, more so than any other business school I've seen, is operating at the individual student level. All of our students get customized professional development, career coaching and placement services, which allows us to be on the critical path between where our students are today and how they reach their dreams tomorrow. It's also very invigorating and exciting to be a faculty member in the Neeley school because we get to create this personal and connected bond with our students."
In particular, Dean Pullin loves teaching his Executive MBA course, where he makes innovation personal for each student.
Innovation is a core competency every organization needs today; you have to constantly earn your right to compete in a changing global economy, whether you're a multi-hundred-year-old corporation or the hottest new startup. That need may be more obvious during a pandemic – with auto makers manufacturing ventilators and liquor distilleries churning out hand sanitizer – but it's always been true.
Dean Pullin's course uses case studies to show the breadth and depth of innovation done well or done poorly, from a successful new startup in the food industry to a Swedish warship sinking 400 years ago. Students not only come to terms with what innovation is, but also see how they can put it into practice, with the skills to build an ecosystem and culture that encourages prudent risk taking. 
"It becomes real to them. I love to see their eyes light up when they see innovation isn't just a buzzword – it's something they can deliberately put into practice."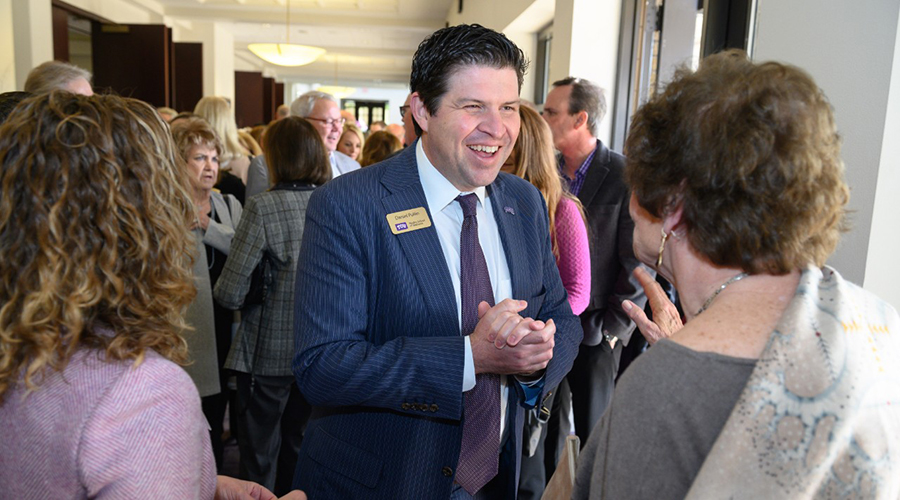 Making innovation personal
Dean Pullin's favorite part of the class is an innovation challenge he calls "Three Hours for the Rest of Your Life." Students have to take time out of their life to just think. For the first hour, they think about what their personal purpose statement is, and how they can make a difference in the world, whether that's providing for their family or driving change in their community. From that hour of thinking, they craft their impact statement.
For the second hour, Pullin pairs them with a partner. It's usually a fellow student from their cohort, but it could also be a coworker or a close friend – someone who shares similar goals or interests. They take the hour to talk through their rationales and passion for their impact statement. Then for the third hour, they go somewhere that's not work, home or the classroom, such as a baseball game or a local park, to come up with three different business ideas that allow them to live their impact statement.
"It's really powerful, because it shows the students that we can all be innovators if we just focus on it. It shows them the linkage between purpose and impact. That being a business leader doesn't have to be just about wealth creation; it can be an opportunity to make meaning in business and society, using the power of commerce to make a difference in the world."
Finally, the students present their impact statements and business ideas to their classmates, where they not only receive feedback that helps them strengthen their ideas, but also discover similar interests with their classmates, or even business connections to help their ideas flourish.
"Of all the light bulb moments in this program, I love watching them discover that innovation is in all of us and there are tools to unleash it."
Real innovation during COVID-19
This same commitment to innovation is a real part of the fabric of TCU Neeley. COVID-19 and the resulting shutdowns meant that a number of our undergrads were set to graduate without the internships and career opportunities we expected for them just a few weeks earlier. TCU Neeley needed a way to help them make the most of their time. So, the business school put together a one-year master's program in business analytics.
"We work hard to practice what we preach. This allows those students to come back to campus for a one-year master's program, to continue to progress without regards to the economic circumstances they were otherwise graduating in. And it fills a real talent need that our employers keep telling us is in short supply, with personnel who are comfortable accessing, analyzing and deploying data to make better decisions."
The kicker? From concept to opening for applications, TCU Neeley put the program together in three weeks, instead of the usual year and a half.
"The Neeley promise is all about unleashing human potential, and sometimes that's our students, and sometimes that's our faculty and staff. If we didn't have the commitment to the human, the capacity to lead and the recognition that innovation is a must – it's not a 'nice to have' – there's no way we could have responded so quickly to help so many. Innovation is fundamentally bound up in who we are and why we exist."
This global upheaval as well as Neeley's commitment to innovation are good reasons to start the Executive MBA program sooner rather than later. To professionals who aren't sure it's the right time, Dean Pullin says to think about what drove you to consider an Executive MBA program in the first place:
"Was it a desire to advance, to be a high achiever? Was it intellectual renewal and continued professional development? Was it because you were stagnating in your career, or because you want to pursue business ownership? Are those things still unresolved? One of the points of the program is to help you resolve what was heretofore unresolvable in your current situation."
As to the mechanics of taking on school on top of work and family:
"We're talking about a very powerful but also efficiently delivered 18-month program. You can do anything for 18 months in your life. Why not invest in yourself as a strategic leader – and eliminate whatever is holding you back?"
Invest in yourself now: