The CNBC news show host invited Uhl-Bien to speak about Elon Musk's ability to lead his previous businesses and his ability to manage free speech debates on the social media platform.
December 15, 2022
By Tiara Ellis Richard
Mary Uhl-Bien, the BNSF Endowed Professor of Leadership at the TCU Neeley School of Business, was a featured guest on CNBC's 'Squawk Box' to provide her insight on Twitter, and owner Elon Musk.
The CNBC news show posed the question of whether Elon Musk is stretching himself too thin with respect to Twitter, Tesla and his other companies.
"I think the biggest issue with Musk is he's an entrepreneurial leader," Uhl-Bien said. "He's getting out of his range here. He's an engineer and now he's with Twitter. You can't run Twitter the same way you run an engineering company."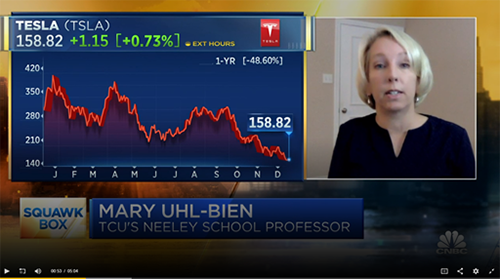 With a new announcement that Twitter had banned several high-profile journalists, the CNBC morning news and talk program invited guests to provide their insight on free speech on the global social media platform.
Uhl-Bien said the conversation is a bigger one regarding political and moral issues, which are prominent on social media platforms. The challenge is finding a way to have dialogue on the very emotional and personal topics.
"It's pendulum swings, and we're in a real societal debate," Uhl-Bien said. "But because we can't really engage together and have conversations, we just keep swinging it one way or the other."
View the news story here.