Houston's kindness, wisdom and guidance made him the clear choice for this award.
March 24, 2021
By Mariana Rivas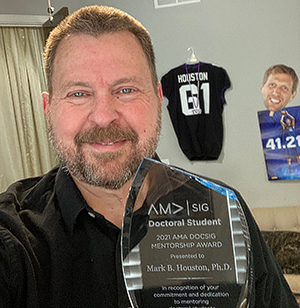 For Eunice and James L. West Chair in Marketing Mark Houston, a passion turned into recognition when the American Marketing Association's Doctoral Student Special Interest Group (DocSIG) announced he won the Mentorship Award.
"It's nice getting recognized for something that means a lot to you, and the mentorship side of things is just part of who I am," Houston said. "I don't do it for recognition, but it's kind of cool when the people who you enjoy helping recognize that contribution."
DocSIG was established by and for marketing doctoral students. It offers students professional networking opportunities, research and teaching guidance, and job placement help among other resources. The Mentorship Award, established in 2019, is a relatively new addition to DocSIG's programming.
"There is so much that doctoral students want to learn from and contribute to the community, but they don't always know the best ways to achieve that," said Divya Ramachandran, DocSIG chair and marketing PhD candidate at Georgia State University. "That's where the mentor plays an important role, in helping doctoral students to channel their energy and enthusiasm."
Houston has been involved with DocSIG for years, attending informal mentor's breakfast events to get to know students and more formal events that prepare students for the job market.
"I enjoy getting the chance to work with people when they're at a critical point in their life of deciding what they're going to do next," Houston said. "It's also fun to have the chance to coach them, mentor them on managing this career path because it's very different than a normal corporate job track."
The award recognizes all the time and effort Houston has put forward to guiding doctoral students on their path, said Ramachandran.
"His kindness, wisdom and guidance made him the clear choice for this award," she said.
Current and past DocSIG chairs each nominate three faculty members that they feel have supported them.
"This award is a thank you from the doctoral students to him, for all his guidance, help and mentorship over all these years," said Ramachandran.