The TCU Neeley School of Business is providing professional space for summer interns serving remote internships across industries. In this second story of our multi-part series, business student Anna Murrey shares her remote internship experience.
August 11, 2021
By TCU News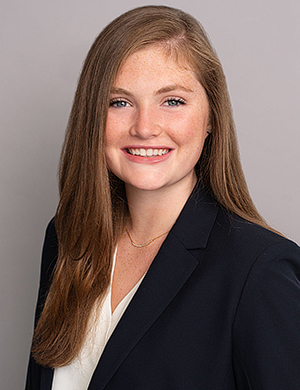 Horned Frogs serving internships that — pre-pandemic — would have been in New York, California, Houston or Dallas are working remotely from interview and team coaching rooms at the TCU Neeley School of Business for such companies as BMO, Citi, McCann, CrowdStrike and Epsilon.
"Last summer when campus was closed but there was a need for students to have professional spaces for internships, alumni offered commercial office space for students. Now that campus is open, we were able to use spaces in the Neeley School for students. It has been so fantastic having the activity in the building this summer and students seem to be energized having others around," said Jessica Cates, director of the Alcon Career Center at the TCU Neeley School.
Using a Neeley School interview room, Anna Murrey, a senior finance and accounting major in the John V. Roach Honors College who hails from Memphis, Tennessee, has been working remotely for Credit Suisse's Investment Banking and Capital Markets Division in New York. (Murrey started working in person at the New York office on July 26).
As a summer analyst in the Ultra High Net Worth and Family Office group, she gets to sit in on virtual client calls and work on projects involving creating pitches for new deals, updating loan agreements and researching clients.
"I am learning a lot. I knew very little about loans coming into the internship besides the simple mechanics, and I can confidently say I know much more now. It's hard to sum it all up, but I would say I am learning a lot of technical information and professional skills tied to networking and to presenting information in whatever medium is required," Murrey said.
The highlight has been the people.
"The opportunity to talk and to work directly with the VPs and directors of the group has been a unique experience. I have loved hearing their backgrounds and experiences that have led them to the roles they hold. I have learned a lot about possibilities for my future career on top of technical and analytical skills. I am very thankful to the Neeley School for giving me a space to work," Murrey added.