Horned Frogs now have their own eBay thanks to a cross-campus collaboration and direct input from TCU interns.
April 19, 2021
By Rachel Master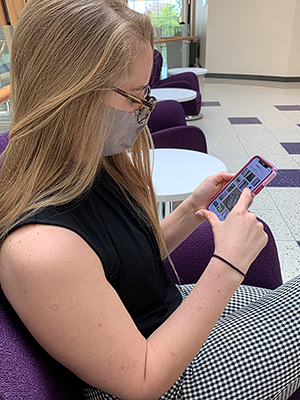 TCU is the pilot campus for the beta version of eBay On Campus, a college-specific marketplace where Horned Frogs can buy and sell exclusively with other TCU community members. Available through an app, the marketplace was created and designed with input from TCU students interning at eBay.
Derek Isensee, a senior computer science major from Arlington, did programming work for the back-end of the app.
"I'm excited that I got to help create something genuinely useful that many of my peers are using — especially something so well designed," said Isensee, who will continue to be involved with the project in his new role as an eBay software engineer following graduation in May.
Mitch Thompson, a sophomore entrepreneurship and innovation major from Los Gatos, California, helped with marketing as part of his remote internship with eBay.
"I worked to come up with our plans and ideas for how we were going to market this new product to TCU. Along with that, I provided help about the product itself and gave insight about our target audience — Gen Z — and how to design a marketplace suited for us college students," he said.
"The thing I am most excited about in this new app is the ability to find things from fellow students that I may want or need. Being in college, we need and use things that eventually we don't need anymore, such as textbooks, so being able to find a textbook on the marketplace for a cheaper price will save me time and money, or help me make money if I am selling. In addition, it will be a great way to get rid of certain items when I move out of on-campus housing or search for items when moving in," Thompson added.
Backed by the full power of the eBay app, eBay on Campus is free to use for current TCU students, faculty and staff — no buying or selling fees. To list items for sale, Horned Frogs simply take photos or videos and upload them directly from their smartphones. Direct chat and messaging functionality with other members is also available.
"EBay On Campus is in the beginning stages of being everything I have ever wanted eBay to be," said Christian Schenkel, a sophomore finance major from Los Gatos, California, who is a project management intern on the eBay On Campus team. "Before now, if I wanted to sell anything, I would either have to go through sketchy marketplaces or deal with shipping. Now all I have to do is list my item and meet up with the buyer somewhere safe on campus. Also I have the freedom to get paid however I want. Venmo? Cash? Trade? Doesn't matter as long the other person accepts it. The flexibility is so great and it easily fits in with my busy schedule as a TCU student."
Emphasizing safety, the app provides designated meetup locations specifically selected in high-traffic, well-lit areas of campus.
"The more we researched local marketplaces, the more we realized how important safety is to these types of transactions. I ended up consulting with many of my female friends on how to make something safe and easy to use," Schenkel said. "By limiting eBay On Campus to TCU students only, we have the unique ability to take action if something goes wrong during the transaction process."
In addition to Horned Frog undergrads, a team of grad students in TCU's Master of Science in Business Analytics capstone course also is working with eBay on data analytics.
Currently, eBay On Campus is available to iOS users only. To get started:
Install the eBay app from the Apple App Store (version 6.12.1 or later).
Open the eBay app.
Create an account (or) sign in to your existing eBay account.
Open your iOS camera and scan the following QR code below.
Verify your TCU email address.
Click the link in the verification email on your mobile device.
eBay On Campus opens instantly.