Ashley Servais is part of an exclusive list that honors 100 of the most accomplished seniors majoring in business in the United States.
May 04, 2021
By Nicholas Ferrandino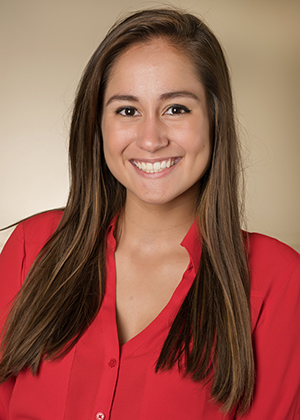 Ashley Servais, a double major in marketing and supply and value chain management at the TCU Neeley School of Business, has been selected by Poets&Quants as one of the 2021 Best & Brightest Business Majors.
Poets&Quants is a renowned news website providing worldwide coverage of business schools and the students who excel in them. Being selected by Poets&Quants for Best & Brightest is a prestigious honor and is reserved for exactly the caliber of students that name entails. This recognition has been awarded to Servais for her many achievements that this article alone cannot begin to encompass.
"What makes TCU different is that you can get involved in so much outside of the classroom," Servais said. "There are so many opportunities to apply what you've learned in class."
During her time at TCU, Servais held several advisory and VP positions in Gamma Phi Beta and Delta Sigma Pi. Greek life gave her the opportunity to exercise her leadership skills outside of the classroom. She has been named by the 2020 AWESOME scholar program as one of the top five female supply chain nationwide.
On top of all the other programs and internships Servais took part in, there is one organization she found the most integral to her TCU experience.
"If I had to contribute my success to one organization on campus, it is one hundred percent Neeley Fellows," Servais said.
Being part of the highly selective Neeley Fellows program where she felt less like a number and more like an individual, Servais had the opportunity to personally speak with professors, advisors and alumni at Neeley to help her find which majors she wanted to pursue, and which internships would benefit her most.
It is with their assistance that she excelled at TCU and landed a job in the supply chain development program at Dell Technologies in Austin, Texas, after her graduation.
She first came across the company after the COVID-19 pandemic sent her original internship plans up in smoke. Starting from scratch, Servais reached out to several different locations for new internship opportunities. During her search Servais began a mentorship program with TCU Alumnus Hien Tran, today the Supply Diversity & Innovation Program Manager at Dell Technologies.
"Hien, to me, was the best mentor I could have asked for," Servais said. "He is basically the founding father of the TCU Dell pipeline of talent that we have now."
With Tran's assistance, Servais signed on to a three-year program with Dell Technologies where she will be working with different global operations teams at Dell (i.e., logistics, planning, procurement). The position is a perfect fit for Servais' interest in the growing role of technology in the corporate world, and she hopes to learn even more about the industry while with Dell.
As a parting mention, Servais would like to give special thanks to TCU Neeley Professor Robert T. Rhodes. Rhodes passed away last fall, but Servais will forever cherish his undying support through the most trying times of her undergraduate career.
"Robert is truly an incredible professor. He understood that teaching the materials was part of his job. But caring about his students was his number one priority," said Servais.
Read Servais' full article here.