Shannon Fletcher EMBA '15 is a walking, talking advertisement for TCU Neeley. Four months after graduating she became the first chief of staff for the Tarrant County Criminal District Attorney's Office.
February 15, 2019
By Elaine Cole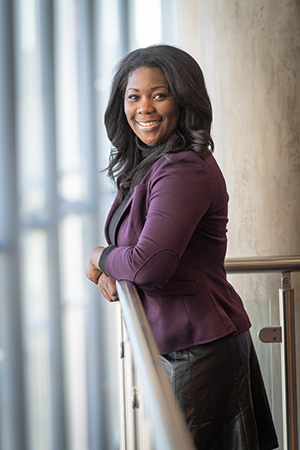 "I am intentional about introducing people who meet the TCU brand and mission into the Horned Frog family," said Shannon Fletcher EMBA '15.  
Fletcher has referred at least a dozen people to the TCU EMBA program, three who have graduated, and she has partnered with TCU Neeley Executive Education to help her colleagues in the District Attorney's Office hone their leadership skills. 
Fletcher's Horned Frog pride is so palpable that people constantly ask her about the TCU EMBA program. People trust her recommendation, and she is happy to refer those she thinks fit. 
What does she look? "The ability and desire to be part of something larger than themselves," she said. "Someone who wants a family-friendly culture with executive-level outcomes from an optimally rated program. Someone I feel can establish roots in the Fort Worth community and make a difference."
The TCU EMBA had everything Fletcher wanted: smaller classes, a world-class education, the opportunity to make real connections, versatile courses, an emphasis on leadership and innovation, and exceptional people.
"I wanted to not only be taught by the world's greatest professors, but also by the world's greatest peers," Fletcher said. "They are exceptional and elite in their professions. These are people I will be forever connected to, colleagues, friends, mentors."
It's not just the EMBA program she champions, but every part of TCU Neeley. She worked with TCU Neeley Executive Education to design classes for attorneys in the DA's office to learn some of the leadership skills she honed in the EMBA program.
"Shannon saw firsthand how talented TCU Neeley professors are, so she knew we could deliver her office's leadership development training," said Jim Roach, executive director of TCU Neeley Executive Education. 
Tarrant County District Attorney Sharen Wilson said she knew she could rely on the TCU Neeley School of Business. "Shannon is our go-to person for all matters in supervision, management and leadership in our office, so we knew we could trust TCU to train our lawyers who are called upon to supervise others."