The TCU Neeley Institute for Entrepreneurship and Innovation was honored for the Cowtown Angels Fellows program by the Global Consortium of Entrepreneurship Centers.
October 14, 2019
By Elaine Cole
When you put TCU MBAs in the room where it happens, it's a win all around. 
The Cowtown Angels Fellows program, which puts select TCU MBA students into the thick of angel investing, won the 2019 Excellence in Entrepreneurship Teaching and Pedagogical Innovation Award among a field of applications from business schools around the world.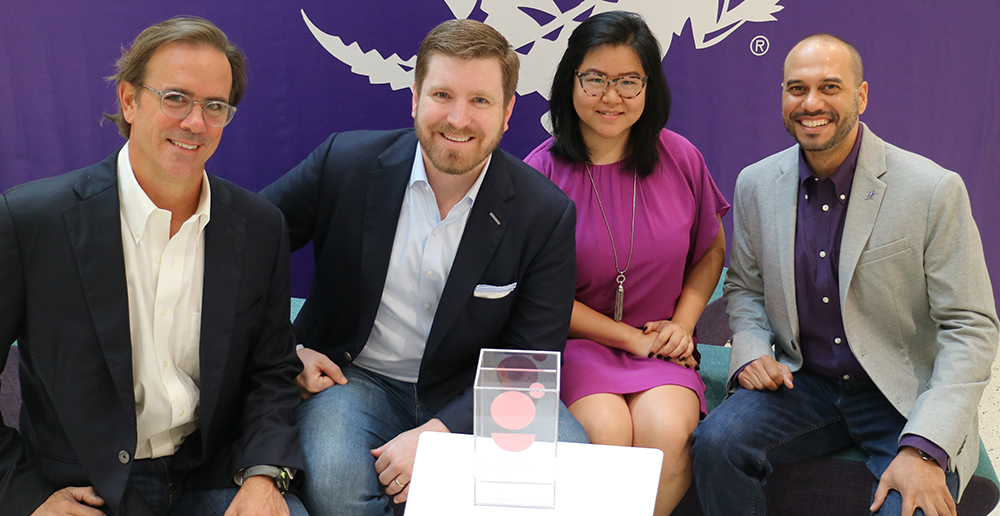 As Cowtown Angels Fellows, select TCU MBAs provide due diligence of entrepreneurial startups and analytical support for Cowtown Angels, which connects entrepreneurs seeking early-stage funding with local investors in an environment that accelerates growth and rewards strategic risk-taking
What sets Cowtown Angels Fellows apart is the integrated, two-tiered approach that combines academic rigor and experiential learning to fully prepare TCU MBA students to become Cowtown Angels Fellows.
The first tier is pre-training and conditioning through an MBA co-curricular course titled "Entrepreneurial Capital." This course incorporates the nuts and bolts of venture capital and how it operates for both the entrepreneur and the investor, and why due diligence is critical. Students examine the basics of both sides of entrepreneurial capital: raising startup capital and investing in startups.
For the second tier, they put their classroom knowledge to the test with real money for real startups, as they act as angel investors for the Bill Shaddock Seed Fund, an endowed fund at TCU Neeley that invests in student ventures. They hone their skills in deal sourcing, due diligence, investing, mentoring, follow-on metrics tracking, and more as they make all the decisions on whether or not to invest in a student startup and how much. 
With those two tiers of academics and experiential learning, they are then ready to apply to be Cowtown Angels Fellows. Acceptance is competitive; only a few are selected each semester, determined by a committee of Cowtown Angels and current Fellows. 
"This is an exclusive opportunity for TCU MBAs to become deeply engaged with a diverse group of experienced investors as they evaluate early stage ventures for possible investment," said Rodney D'Souza, director of the Institute for Entrepreneurship and Innovation and the Davis Family Entrepreneur-in-Residence at TCU Neeley. 
Fellows participate in every aspect of the decision making, including reviewing applications, attending and participating in Pitch Days, assisting with all due diligence, and term sheet negotiation and funding for the startups that make the cut. 
"Many times, Fellows uncover critical information about the prospective deal that proves invaluable to the team and the angel network when deciding whether or not to invest and the terms under which they will invest," D'Souza said. 
To date, 16 TCU MBAs have participated a Cowtown Angels Fellows since 2013. 
The success of the program shows. Fellows average a 24 percent higher placement rate than their peers. Four former Fellows have joined firms owned by members of Cowtown Angels, and two are now active members of Cowtown Angels. 
"It's rigorous yet rewarding," said Joe Dickerson, TCU MBA chosen as a Fellow for Fall 2019. "Being a Fellow has given me the opportunity to work alongside active investors who empower students to make meaningful contributions in all phases of the investment process." 
"The exposure to the entrepreneurial landscape in Fort Worth has shaped my goal of starting my venture in data-focused education technology," added Lianne Yang, also a Fall 2019 Fellow. 
Les Kreis BBA '94, managing principal at Steelhead Capital Management, is a founding member of Cowtown Angels and helped found the Fellows. He calls the program a win-win. 
"MBAs want to be in the room, doing the deep dives, making recommendations and getting their voices heard as they learn. The investors welcome their meticulous assistance, interest and insights. It's a powerful partnership that benefits everyone, including the entrepreneurs," he said.
The award was announced and presented to D'Souza at the GCEC conference in Stockholm. GCEC is the premier organization for 250 entrepreneurship centers globally. It encourages centers to share best practices, develop programs and initiatives, and assist each other in advancing, strengthening and celebrating the role of universities in teaching the entrepreneurs of tomorrow.
"The GCEC Awards honor the top entrepreneurship centers and programs in the world. Those who win have proven to the judges through their thorough submission that they are the most innovative in the particular category," said Holly DeArmond, Dingman Center for Entrepreneurship, University of Maryland, chair and judge for the GCEC Awards.