Dominguez guided his company through one of its toughest challenges – the pandemic. Fueled by innovation, he adapted his leadership approach to overcome adversity, making him the clear choice for the 2022 Brett Wiggs Innovative Leadership Award.
July 18, 2022
By Tori Couch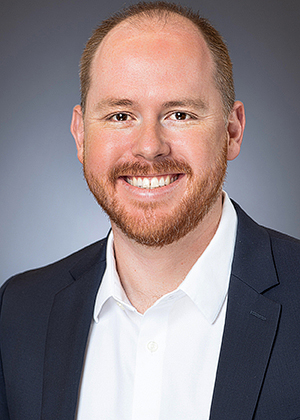 TCU alumnus Jesus Dominguez TCU '08 EMBA '22 received the 2022 Brett Wiggs Innovative Leadership Award from the Texas Business Hall of Fame (TBHF). Dominguez earned this award for his innovative leadership approach during challenging times. He will also receive $15,000 as part of the award and officially join the TBHF at an induction banquet in November.
Dominguez co-owns a metal finishing company, Infinity Finishing Services (IFS), in Fort Worth. Like other small business owners, Dominguez encountered unprecedented hardships over the last two years.
The COVID-19 pandemic closed the business' doors for several months starting in March 2020 and soon after a fire destroyed the company's offices. As a result, Dominguez and his business partner re-evaluated their approach.
"We're both raising families, we're both trying to run a business," Dominguez said. "I was trying to navigate school at this time and there were hard conversations. We asked ourselves, 'do we need to even continue with this business?'"
IFS opened in 2014, relying heavily on products from the oil and gas industry. Fluctuations in that industry forced the company to diversify its market and products. The expansion opened doors for innovation, which became a key ingredient for survival a few years later.
Dominguez enrolled in the Executive MBA program at the Neeley School of Business shortly after the pandemic started to understand how a business can operate effectively in an uncertain and rapidly changing environment.
The lessons Dominguez learned in school helped IFS stay open. Not only did the business survive the shutdown, every employee kept their job and the company started focusing on diverse product use.
Dominguez's efforts over the last two years caught the eye of the TBHF selection committee, leading Dominguez to apply for the Brett Wiggs Innovative Leadership Award.
Dominguez successfully led IFS through its toughest trials so far, and he's prepared to remain flexible while identifying innovative solutions.
The fire forced the entire company into a small, makeshift office next to the original location. Work space is tight with Dominguez, his business partner, an administrative assistant, information technology personnel, and quality control staff all in the same room. Dominguez saw this as an opportunity. He formed stronger personal relationships with the staff and learned how to better support them professionally.
As increasing supply and demand issues weigh on IFS and other business around the world, collaboration with other companies has become an important part of the business model. Structuring long-term contracts with vendors to stabilize pricing, holding onto more inventory than usual, or helping another company with supply shortages are all ideas inspired by Dominguez's time in the Executive MBA program.
"It teaches you to think and critically process things that you wouldn't necessarily have thought if you were running in that small circle that you tend to run in as a small business owner," he said.
When Dominguez traded a steady job at Sherwin-Williams for this start-up business venture and moved from Nashville to Fort Worth, he knew it was a major risk. Still, becoming an entrepreneur, like his dad and older brother, sounded more exciting than climbing up the corporate ladder. 
Being recognized as an innovative entrepreneur reminded Dominguez that hard work and sacrifices can pay off in unexpected ways. The award also fits with the long-term vision for IFS.
"Innovation is part of that leadership," he said. "That's where I envision our business being, is in that innovative, disruptive space. That's what we're going to concentrate on and that's what we've already started making progress toward."