Three BNSF Neeley Leaders at TCU join forces to render aid to the world's most impoverished nations.
April 20, 2021
By Nicholas Ferrandino
TCU Neeley undergraduate students Brennan Holt, Cassie Trosino and Hayden Hite have joined forces to tackle one of the world's most pressing crises with Liters for Life.
Liters for Life is a fundraising effort to help provide access to clean water for communities across the globe without access to this vital resource.
This movement has in large part been inspired by the team's work in the BNSF Neeley Leadership Program. The BNSF Neeley Leadership Program is a three-year program available to any qualifying Neeley student. One of the most integral assignments in the program is an impact project, where students research and develop solutions to solve real-world issues on either a local or global scale.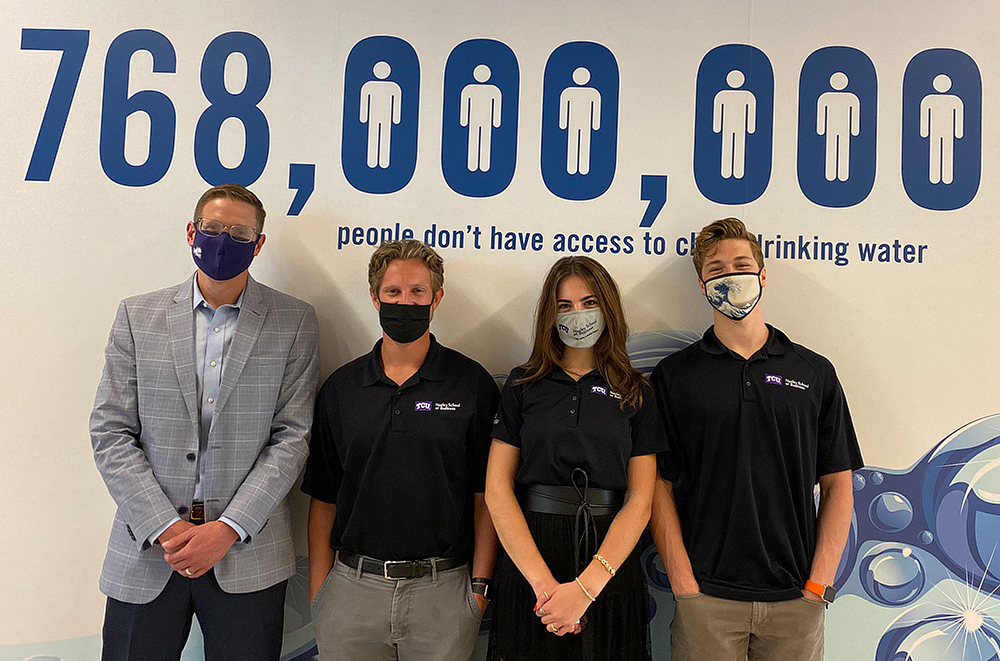 "We don't have to be sitting there writing an epitaph so we can get an A," Trosino said. "Something that this class really wants us to focus on was the idea of 'let's make legitimate, thoughtful impacts'."
As they plan their impact project, Neeley Leaders are encouraged to delve into an issue that truly moves them to action. For Holt, Trosino and Hite, it was the insightful works of Scott Harrison that inspired them to pursue the global water crisis.
"You get incredibly inspired by Scott Harrison, his book and his videos," Hite said. "He provides this long narrative from when he was a kid to where he is now, and how he discovered the water crisis and how important water is."
After prototyping and pitching to potential stakeholders to determine the most productive avenue to tackle the global water crisis, the team chose to develop a fundraising and awareness program in conjunction with charity: water, a non-profit organization that has provided access to clean water to over 12 million people since its founding in 2006.
"We at Liters for Life have started a fundraising campaign on behalf of charity: water," Holt said. "We are in contact with representatives from that organization and they are super excited about what we are doing."
In the first few months of the program alone, the team has already raised more than $28,000 of their $50,000 donation goal. With the money they estimate charity: water will provide another 1,250 people with access to safe potable water.
The team attributes their success not only to their passionate belief in their cause, but also the sheer amount of research and fielding of solutions both conventional and otherwise during their time in the BNSF Neeley Leadership Program.
"They embody what we expect from students in the program," said Brad Harris, academic director of the BNSF Neeley Leadership Program. "As a group, they have embraced one another's differences, wrestled with tough questions, and relentlessly pursued their goal of helping others gain access to such a crucial resource."