Students can't walk in the door and talk with career counselors right now, but the Alcon Career Center is still here to support your job and internship search through a new website.
 
April 30, 2020
By Elaine Cole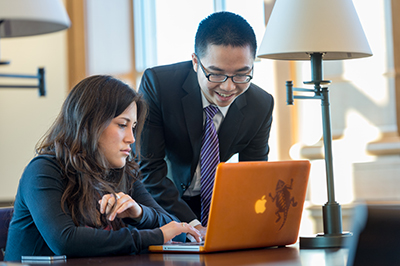 In conjunction with TCU's Center for Career & Professional Development, the Alcon Career Center has launched a website to continue to provide videos, updates, resources, advice, FAQs, success stories and more.
The Alcon Career Center Support Website will be updated weekly, so check back often.
The Alcon Career Center at TCU Neeley is a vital source of up-to-date employment and job market information for undergraduate business students, and this new website continues that support online.
"We understand that these are uncertain and rapidly changing times. We are still providing up-to-date employment and job market information, as well as a place to come for support," said Jessica Cates, director of the Alcon Career Center. "We will be posting videos each week, updating resources and adding new features. We are all here to continue to support the Horned Frog family. We hope to see you all soon."
The website features a portal for students to keep staff updated on their job-search status and whether or not a job or internship has been impacted by COVID-19.
The site also features career resources such as Handshake and Interview Stream, and ways alumni and business partners can support students, from hiring to giving to the Frog Family Crisis Fund.
Visit the Alcon Career Center Support Website at careers.tcu.edu/neeley.