Cowden joins the TCU Neeley School of Business to manage the award-winning student leadership development program for select business students.
July 03, 2020
By Elaine Cole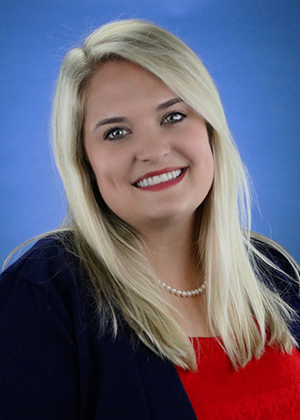 Annie Cowden returns to TCU to lead the BNSF Neeley Leadership program at the TCU Neeley School of Business. As director of BNSF Neeley Leadership, her primary goal is to ensure that the award-winning program's co-curricular activities appropriately compliment coursework and maximize students' learning experience.
BNSF Neeley Leadership is a unique, three-year leadership development program for select TCU Neeley undergraduate students. BNSF Neeley Leaders learn to lead themselves, lead others and lead organizations through focused coursework, self-reflection, leadership coaching, experiential learning and team collaboration. It has been honored as an Innovations That Inspire by the Association for the Advancement of Colleges and Schools of Business.
Cowden served as coordinator of the First Year Experience for TCU from 2015 to 2019, then served as leadership development facilitator and specialist for American Airlines. She has spent the past eight years in a variety of roles including recruiting, leadership development, curriculum development, facilitation and program management. She holds a bachelor's degree in psychology and master of educational leadership, both from SMU, where she served as an undergraduate recruiter.
"It is wonderful to be back at TCU and working with such motivated students and supporting our faculty's world-class coursework. It is the perfect arena to blend my background in leadership development and student affairs," Cowden said. "I look forward to utilizing resources across TCU, Fort Worth and our world-wide alumni to equip BNSF Neeley Leaders with the skills they need to succeed in the corporate world."
For more information about BNSF Neeley Leadership visit http://www.neeley.tcu.edu/leader.