Through scholarship, instruction and real-world experience, Banos supports the entrepreneurial goals of students.
September 12, 2022
By Tiara Ellis Richard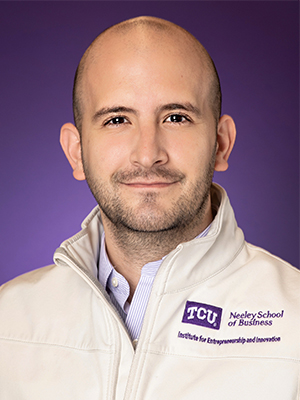 Antonio Banos is the recipient of TCU Neeley's most recently announced endowed professorship. As the Bloxom Foundation Professor of Sports Entrepreneurship, Banos continues his commitment to supporting the entrepreneurial goals of students.
Banos is an instructor and the Associate Director for the Institute for Entrepreneurship and Innovation, as well as an experienced business leader who has been teaching at Texas Christian University for the past six years. Most recently, he co-created and teaches the Neeley NIL course curriculum, designed to educate and empower student athletes in the wake of a landmark U.S. Supreme Court ruling that redefined the concept of amateurism in college athletics.
The Bloxom Foundation Professorship of Sports Entrepreneurship was established through the generosity of the David E. Bloxom, Sr. Foundation, in memory of David E. Bloxom '49. Bloxom lettered in football and track at TCU, became an entrepreneur while still a student, and was a leader in several social, civic and charitable endeavors before his death in 2000. The Bloxom Foundation Professorship honors and provides support for an exemplary teacher and expert in the field of entrepreneurship in the Neeley School of Business who will enhance the creativity and innovation of the university.
Endowed positions like this are made possible through generous philanthropic contributions, including those to Lead On: A Campaign for TCU. The most ambitious fundraising campaign in TCU's almost 150-year history, the campaign aims to raise $1 billion to strengthen TCU's people and programs. To date, it has raised over $845 million from more than 51,900 donors.
Banos is the inaugural Bloxom Foundation Professor. The goal with teaching entrepreneurship, Banos said, is to provide students with valuable business lessons they can apply to real-life opportunities.
This philosophy was put into practice when the NCAA changed the rules preventing student-athletes from making money from their fame. TCU was prepared to support those students interested in the business opportunities newly available to them because they had anticipated the market shift. Banos collaborated with the John V. Roach Dean of the Neeley School, Daniel Pullin, Athletics Director Jeremiah Donati, Davis Family Entrepreneur-in-Residence, Rodney D'Souza, and other Neeley and TCU Athletics leaders to guide student-athletes through profiting off their names, images and likenesses.
"Our main differentiator is that we are approaching this as an entrepreneurial opportunity for students," Banos said. "Overnight TCU inherited more than 500 student athletes that have this opportunity to do brand deals and promotions. But at the end of the day, they are entrepreneurs."
"By putting the power behind the Neeley network, using Neeley resources, and activating TCU as a whole, the ability to leverage NIL opportunities has been good for students," said Banos.  
Providing opportunities for students extends beyond classroom lessons. It's also about access. Banos and D'Souza personally give back to students who are interested in learning more about entrepreneurship through the Antonio Banos and Rodney D'Souza Scholarship.