Allen, associate dean of graduate business programs, has been named the Luther Henderson University Chair in Management and Leadership.
July 17, 2020
By Elaine Cole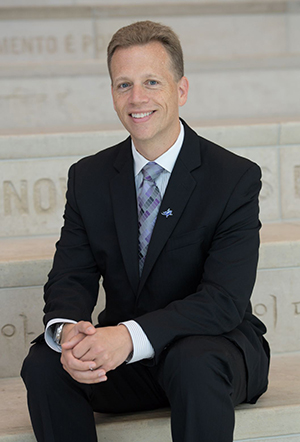 The TCU Neeley School of Business has named David Allen the Luther Henderson University Chair in Management and Leadership. Allen joined TCU Neeley in 2017 as associate dean of graduate programs, and professor in the Department of Management and Leadership. He oversees all TCU Neeley graduate and executive programs: Full-Time MBA, Professional MBA, Energy MBA, Health Care MBA, MS in Business Analytics, MS in Supply Chain Management, Master of Accounting and the Tandy Center for Executive Education.
Allen is one of the world's leading scholars in human capital, talent management, employee turnover, and employment relationships. He has received numerous research and teaching awards and is the immediate past editor-in-chief of the Journal of Management (2017-2020).
He has published three books, Managing Employee Turnover: Dispelling Myths and Fostering Evidence-Based Retention Strategies, Employee Retention and Turnover: Why Employees Stay or Leave, and Global Talent Retention (forthcoming), and more than 70 articles in leading journals, including research in the Academy of Management Journal, Academy of Management Review, Entrepreneurship: Theory & Practice, Journal of Applied Psychology, Journal of Business Venturing, Journal of Management, Organization Science and Personnel Psychology.
Allen previously was professor and department chair at Rutgers' School of Management and Labor Relations, and distinguished professor in the Fogelman College of Business and Economics at the University of Memphis. He has served as distinguished research environment professor at the University of Warwick, UK, visiting professorial fellow at the University of Melbourne, Australia, and visiting professor at IESE Business School University of Navarra, Spain.
Allen holds a PhD from Georgia State University's Beebe Institute of Personal and Employment Relations in the Robinson College of Business, an MBA and BS from Georgia Tech and a Global Business Certificate from Harvard Business School.