For three years in a row, London-based The Economist ranks TCU MBA No. 1 in the world for faculty quality.
January 26, 2021
By Elaine Cole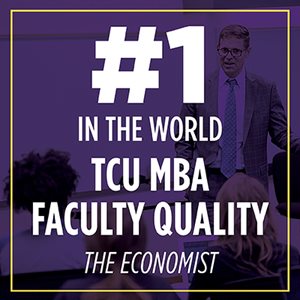 Once again, The Economist has ranked TCU MBA faculty tops in the world, followed by UC Davis, Sun Yat-sen University in China, Penn State and SDA Bocconi.
TCU Neeley also jumped 38 slots overall to No. 49 in the world.
"This good news reflects the growing academic profile of the TCU Neeley School of Business. While rankings performance will never exhaustively define the impact our faculty, staff and students demonstrate each day, this recognition is a source of excitement and encouragement as we continue to prepare leaders for both business and society," said Daniel Pullin, the John V. Roach Dean of the Neeley School of Business.
The rankings also reflect the challenges and changes business schools face during a pandemic.
"Rather than just about hanging on, many schools are positively flourishing. Business schools deserve credit for adapting their business models—as their professors preach others to do," The Economist writes.
Each year The Economist surveys top MBA programs and thousands of MBA students. The rankings are based on quantitative matters including new career opportunities (35%), personal development/educational experience (35%), increasing salary (20%) and the potential to network (10%); plus qualitative surveys filled out by current MBA students and the recent graduating class (20%).
David Allen, associate dean of graduate programs at the TCU Neeley School of Business, credits the rankings to TCU Neeley's small class size, world-class faculty and dedicated staff.
"Our faculty are exceptional, and our intentional faculty-to-student ratio allows them to fully share their knowledge and engage in the academic, professional and personal development of each TCU MBA student," Allen said.
For more information on the TCU MBA program, visit neeley.tcu.edu/gradprograms.