Once again, TCU is the only university with two competitions in the top 20 rankings by Times of Entrepreneurship.
March 07, 2022
By Nicholas Ferrandino
Times of Entrepreneurship, an up-and-coming business news website funded by the Kauffman Foundation, released its second annual rankings for the Top 20 University Entrepreneurship Competitions in the United States.
For the second year in a row, two TCU Neeley entrepreneurship competitions and programs have made it into the top 20 in the nation. The Values and Ventures Competition ranked No. 3 and CREATE, powered by the Shaddock Seed Fund, ranked No. 12. That makes TCU the only university with two competitions in the top 20 rankings. Both are presented by the Institute for Entrepreneurship and Innovation.
The rankings takes competitions from 65 different universities across the country and grades them based on several metrics, including number of applicants, fiscal and non-monetary awards, participant diversity and international involvement.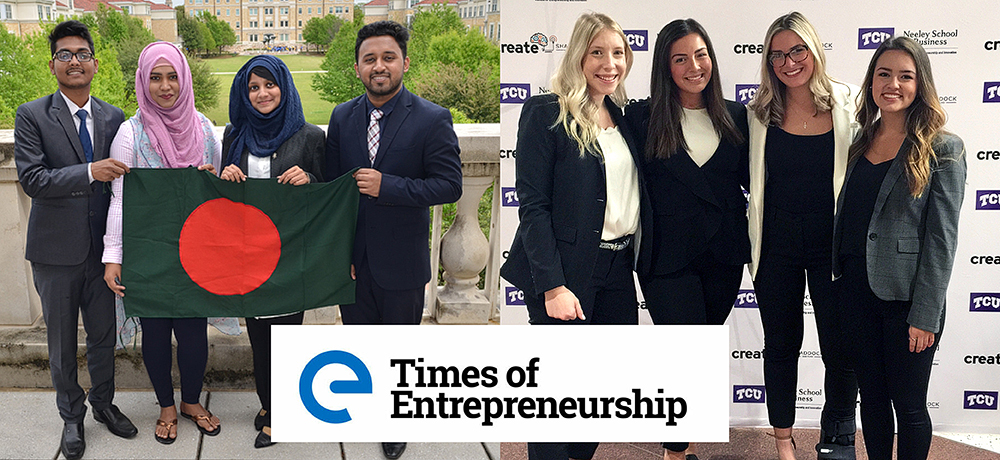 Values and Ventures
The TCU Values and Ventures Competition tied for third in nation this year with the McCloskey New Venture Competition from the University of Notre Dame. Values and Ventures this year drew in 1,250 participants hailing from prestigious universities across 28 states, 11 countries and 4 continents, offering $100,000 in total cash prizes and $400,000 of in-kind awards.
Each year, college students from universities across the globe come to the TCU campus to pitch ideas for businesses that make a difference while making a profit. Students compete at Values and Ventures for cash prizes to make their ideas a reality.
When Values and Ventures first premiered at TCU Neeley in 2011, it had an applicant pool of a few dozen students from six universities within the United States. Today, it has been the host to thousands of aspiring students from hundreds of universities across 43 states and 20 countries, and has awarded close to $2M in cash prizes and awards.
Looking to the future, Values and Ventures intends to engage even more universities around the world and provide additional opportunities to empower the next generation of entrepreneurs.
"It is an incredible honor to be recognized for all of the hard work and dedication that has gone into making the competition what it is," said Matthew Smilor, director of Values and Ventures. "We set an ambitious goal six years ago to become the No. 1 undergraduate competition in the United States, and now that we've reached that milestone we have set our sights on becoming the No. 1 ranked and distinguished competition in the world."
CREATE
CREATE, powered by the Bill Shaddock Seed Fund, ranked No. 12 in nation this year. It drew in 250 new student applicants, offering seed funding totaling $50,000 in cash and $100,000 in in-kind prizes.
Though it is part of the entrepreneurship competition list, CREATE is more of a cross-campus startup engine, designed to help students generate and grow their early-stage ideas. Through this program, students get access to targeted mentorship and workshops, legal assistance, investor assistance, and of course seed funding. In the past two years, 188 teams comprising 343 students, representing every single college at TCU, including the TCU School of Medicine, have participated in this program. More than 50 percent of the teams are from outside of the business school.
"Having not one but two entrepreneurship programs ranked in the top 20 in the nation is a testament to the innovative spirit of our students, the leadership of our team, and the support of individuals such as Lisa Barrentine, Nancy Richards and Bill Shaddock," said Rodney D'Souza, managing director for the Institute of Entrepreneurship and Innovation. "These rankings recognize collaboration, not just across disciplines and with the community at large, but also nationally and internationally."