On February 1, Richardson officially begins leading the TCU Neeley School of Business as the interim dean.
January 27, 2023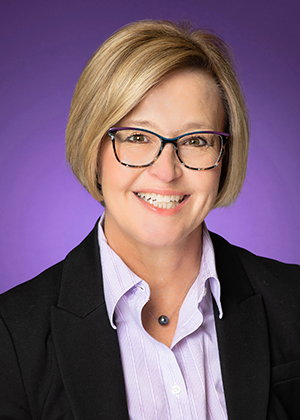 Hettie Richardson has participated in and contributed to the upward trajectory of the TCU Neeley School of Business during her nearly 10 years as a faculty member and administrative leader, holding the role of associate dean for undergraduate programs for three years, and leading as a department chair of the management and leadership department for six years prior. As Richardson steps into the role of Neeley's interim dean on February 1, she plans to apply her experience and skills to continuing the traditions and success of our world-class school.
TCU's Provost and Vice Chancellor of Academic Affairs Teresa Abi-Nader Dahlberg formally announced earlier this month that Richardson would become the interim dean when Daniel Pullin, the John V. Roach Dean of the Neeley School of Business, assumes the TCU presidency on February 1.
Richardson said her goal is to support the current vision for the Neeley School and advance the clearly defined, collaborative mission. To do so, she will continue the deliberate work of the Fulfilling the Promise: Strategic Plan, and identifying touchpoints for conversation and action as Neeley enters a new season.
"It's an honor to be appointed to serve as the interim dean of TCU Neeley. I'm inspired by our remarkable faculty and staff and our innovative students and alumni," Richardson said. "There are no limits to the commitment and achievement showcased by our pre-eminent instruction, research and outreach opportunities."
When North Texas thought leaders come to campus for the next Tandy Executive Speaker Series on February 22, hosting and moderating the discussion with guest speaker Cynt Marshall, CEO of the Dallas Mavericks, will be one of Richardson's first official duties.
Richardson earned her BA from the University of Houston before acquiring an MA in Sociology and PhD in Business Administration from the University of Georgia. Prior to joining the TCU Neeley School of Business, she worked at Louisiana State University for 12 years.