Business leader D'Angalo Jackson is the first recipient of the new Leadership Fort Worth scholarship, valued at more than $115,000, and will join the full-time TCU MBA program this fall.
June 17, 2022
By Nicholas Ferrandino
Leadership Fort Worth and the TCU Neeley School of Business are proud to announce a new annual scholarship available to current participants or graduates of any Leadership Fort Worth program, including LeadershipClass, LeadingEdge and LeaderPrime, to help cultivate innovative leaders for a better Fort Worth. The scholarship includes more than $115,000 in financial assistance for the full-time MBA program.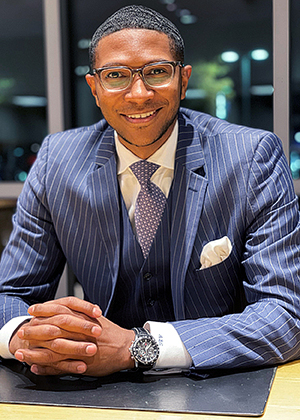 In the 49 years since its inception, Leadership Fort Worth (LFW) has developed joint sponsorships with local businesses, created community forums, developed high-level classes for community leaders, and provided new educational opportunities to those who wish to strengthen their impact on the city. The organization's robust offerings and opportunities are made possible through sponsorship and support from some of the city's largest companies and universities, with TCU being one of its five founders.
The LFW scholarship is the latest in a long list of programs and events made possible by a near half-century partnership between TCU and LFW.
"We have partnered with TCU as one of our founding organizations since the 1970s," said Jennifer Trevino, TCU alumna and LFW executive director. "This scholarship is a brand-new opportunity this year and we were really excited to share it with our LeadingEdge 2022 class."
The first recipient of the LFW scholarship is D'Angalo Jackson. Jackson is a Mississippi Valley State alumnus, retired professional basketball player and sales experience manager for Park Place Dealerships. He joins the incoming fall 2022 class of the full-time MBA program with a special focus on private equity. Jackson is excited to hone the entrepreneurial skills he has acquired over the course of his career and see what new heights he can achieve with the help of TCU Neeley's world-renowned faculty, ranked No. 1 in quality in the U.S. by The Economist.
Most importantly, however, Jackson views his attendance at TCU Neeley as a prime opportunity to expand his business network in the thriving Dallas−Fort Worth Metroplex.
"There is a very strong alumni network here in Fort Worth," Jackson said. "I knew if I could get into TCU, it would allow me to meet new people, expand my network, and potentially have a bigger impact in the community."
With the LFW scholarship, TCU Neeley has another way to give back to Fort Worth by educating and strengthening existing leaders in the community.
"This scholarship deepens our existing bonds with the Forth Worth community and provides  another impactful way to recruit ambitious and incredibly successful candidates to our MBA program," said Stephen Jenkins, senior director of graduate recruitment and admissions for the TCU Neeley School of Business.
"This scholarship is exactly the kind of thing we want to do for our community," Trevino said. "As a LeadershipClass 2009 graduate, I am excited to see where this opportunity takes D'Angalo on his journey."
About Leadership Fort Worth
First established in 1972, LFW is one of the city's oldest non-governmental organizations driven by their stated mission "to educate, empower, and connect diverse leaders who serve as catalysts for a vibrant and sustainable community." Learn more at leadershipfortworth.org.