The organization is dedicated to bridging the opportunity gap for under-represented ethnic groups in accounting, finance and other business professions.
November 04, 2019
By Elaine Cole
The launch of the TCU Student Chapter of the National Association of Black Accountants was commemorated with a reception October 24 attended by TCU Trustees, Neeley Board of Advisors, accounting advisory board members, students, faculty and leadership from the DFW Chapter of NABA.
"The NABA Chapter of TCU brings about another experience that will help shape and guide students to be better global citizens," said Trevon Thomas, TCU NABA president.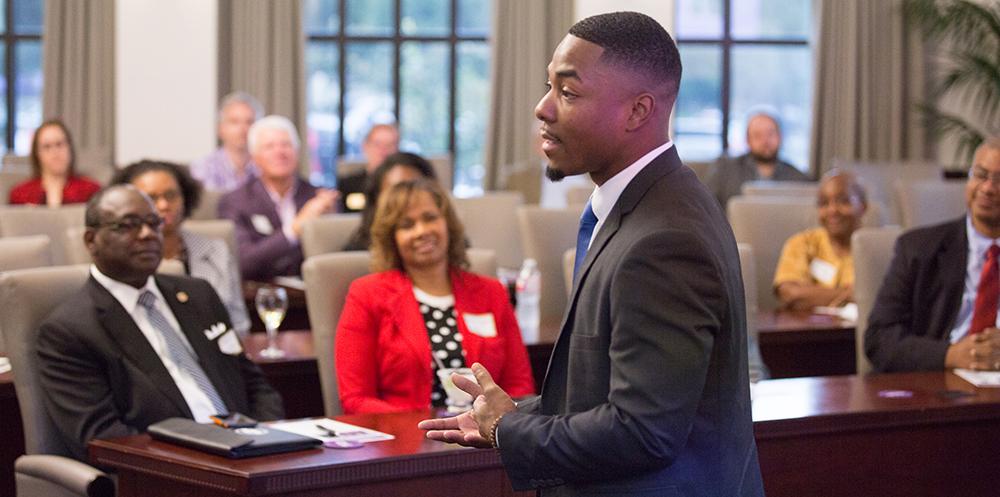 "NABA is important at TCU to provide tactical support of the University's Diversity Equity and Inclusion initiatives," said Ann Tasby, accounting instructor and faculty advisor for TCU NABA.
TCU NABA will provide advanced leadership development, technical training, scholarships, strategic mentoring, career opportunities and networking. 
Student members connect with a powerful national network of professionals who are eager to help build their futures.
"Investing in our NABA chapter and emphasizing community engagement through the launch of the Accounting Career Awareness Program are two examples of inclusive excellence at TCU," said Daniel Pullin, the John V. Roach Dean at the TCU Neeley School of Business. "At TCU Neeley, we are committed to student success at every turn. This includes a relentless focus on attracting, retaining and propelling talent, and creating an inclusive and accessible environment that celebrates a diversity of people and ideas." 
The annual NABA Regional Student Conference gives TCU students the opportunity to interview for internships and permanent positions; network with peers and professionals from leading companies; and attend interactive technical sessions.
NABA also brings its signature pipeline program, Accounting Career Awareness Program, to TCU this summer. High school students at all grade levels from TCU's Community Scholar, STEM Scholar and College Advising Corp high schools are invited to apply. Students must have a minimum GPA of 3.0 and submit an application, essay and two teacher recommendations, then go through an interview process. More information on the summer program will be available in January. 
For more information on TCU Chapter of the National Association of Black Accountants and the Accounting Career Awareness Program, contact Ann Tasby at a.j.tabsy@tcu.edu.