The first floors of the new Hays and Sumner Halls are open for classes, meetings and team rooms. Room numbers in Tandy and Smith Halls have changed, too. Here's everything you need to know.
August 21, 2019
We can hardly wait to see students filling our new halls and classrooms.
Two years in the making, the new Spencer and Marlene Hays Business Commons unites all four halls in the TCU Neeley School of Business under one roof.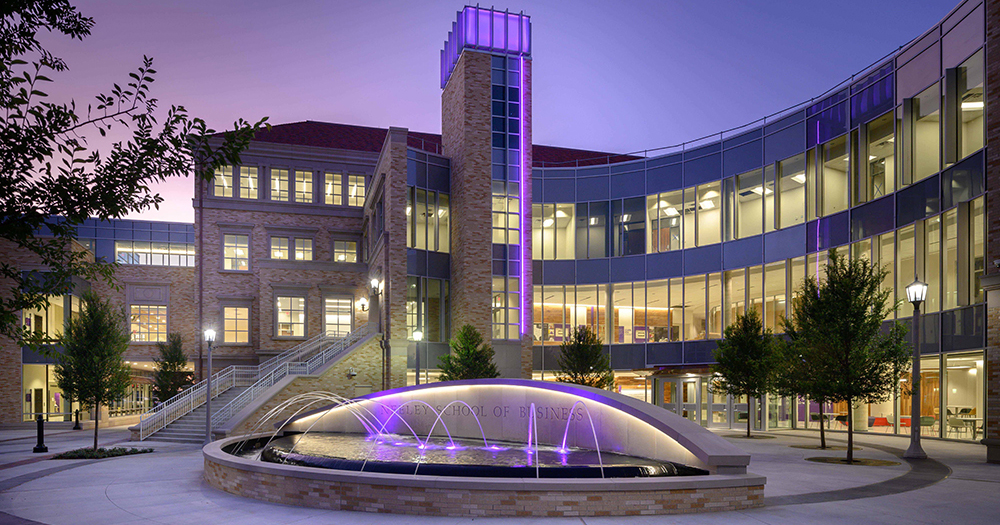 Beginning August 26, 2019, first day of classes at TCU, the first floors of the new Hays Hall and Sumner Hall are open for classrooms, meeting rooms and team rooms. We'll also have a new auditorium and a new café.
Only the first floor of the new building is open at this point. The second, third and fourth floors will open in January with offices for faculty and staff. 
All floors of Smith Hall and Tandy Hall are open.
NOTE: Room numbers have changed throughout. There will be plenty of signs to guide you. Here is a quick reference:
LOCATION

FORMER NUMBER

NEW NUMBER

Floor

Hays Hall/Sumner Hall Classrooms

(New)

1201
1205
1208
1217
1218
1219
1307
1308
1309
1313

First Floor

Rogers Rotunda

(New)

1300

First Floor

Shaddock Auditorium

(New)

2410

Second Floor 

Tandy Hall Classrooms and Computer Labs

111
125
221
226
291
325

1103
1105
2107
2108
2113
3115

First Floor

Second Floor


Third Floor

Tandy Hall Conference Rooms

120
382

1104
3123

First Floor
Third Floor

Smith Hall Classrooms

116
117
118
103
201
202
203
204
212
213
(New)
(New)
314
328
(New)
(New)

1508
1509
1510
1519
2525
2526
2527
2528
2506
2507
2408
2410E
3505
3516
3402
3403

First Floor

 

Second Floor

 

 

 


Third Floor

Smith Hall Conference Rooms

104 AB
312

1520 AB
3503

First Floor
Third Floor