First in Texas and second in the U.S. The power of purple prevailed when Oil and Gas Investor evaluated the merits of energy graduate degrees and certifi­cate programs across the United States.
March 04, 2020
By Elaine Cole
The TCU Energy MBA stood out among energy programs across the nation for providing a flexible format, top-ranked professors, a global perspective and tools for success in the energy industry.
The TCU Energy MBA has more energy specific business courses – 13 – than any other program in the country, all taught by C-level energy executives and TCU's No. 1 worldwide ranked MBA faculty.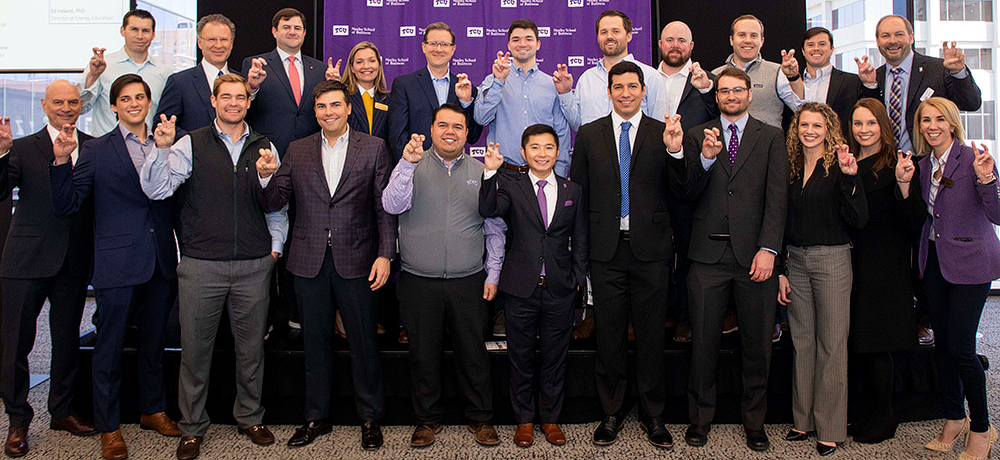 Oil & Gas Investor lauded the TCU Energy MBA for:
Both on-campus and virtual courses in the evenings, designed for working professionals.
A degree that can be completed in 15 to 22 months.
A 10-day course at an energy rich international destination for firsthand knowledge of international energy issues and meetings with global energy executives.
Combining the business perspective of an MBA with industry specific practices and tools.
Advisory board of energy professionals who update the curriculum to reflect industry changes.
Taught by a mix of university faculty and industry experts.
Partnership with industry is a strength and differentiator of the TCU Energy MBA. All students receive one-on-one mentoring from and unprecedented exposure to energy leaders. They also get advice for their capstone project – focused on innovation in the energy industry – from board members who are respected energy professionals.
The first class of TCU Energy MBAs graduated in 2013. Today, 115 TCU energy alumni are in careers across more than 40 companies. Half come from the operations side of the business (engineers, geologist, landmen). 
"The TCU Energy MBA is designed for professionals to excel and gain the business acumen they need to balance their ops background with an MBA. It positions them perfectly for senior management and C-suite positions in their careers," said Ann Bluntzer, associate professor of professional practice in management and leadership and faculty advisor for the TCU Energy MBA.
For more information visit neeley.tcu.edu/energymba. 
Top 15 Executive Energy Graduate Programs 2020 – Oil & Gas Investor
University of Oklahoma, Executive MBA
Texas Christian University, Energy MBA
University of Colorado Denver, MS in Global Energy Management
Texas A&M, Executive MBA
New York Institute of Technology, MS in Energy Management
Oklahoma City University, MS in Energy Management
Oklahoma City University, MS in Energy Legal Studies
University of Texas at Dallas, MS in Energy Management
Texas A&M Texarkana, MBA in Energy Leadership
University of Houston, MS in Global Energy Management
University of North Carolina at Chapel Hill, MBA in Energy
University of Tulsa, Master of Energy Business
University of Oklahoma, Energy Executive Management Program
University of San Francisco, MS in Energy Systems Management
Texas A&M, MS in Energy
Methodology: Research was conducted in fall 2019 and targeted U.S.-based graduate degrees and certificate programs that help professional students advance their careers in the energy industry. All qualifying programs were invited to participate.