Institute poised to play 'strategic role in the ongoing transition of the energy industry.'
November 09, 2021
By Rachel Harris
The TCU Energy Institute is changing its name to the Ralph Lowe Energy Institute at the TCU Neeley School of Business in honor of the late Ralph Lowe for his longtime leadership in the energy industry and his family's generous support of Texas Christian University, effective immediately.
Mary Ralph Lowe, a member of the TCU Board of Trustees, made a significant philanthropic investment to help endow and name the Ralph Lowe Energy Institute as a tribute to her late father. Her gift also supports Lead On: A Campaign for TCU, the university's most ambitious philanthropic campaign in its nearly 150-year history.
"I am thrilled and proud that the legacy of my father and his impact on the energy industry will be honored in such a meaningful and lasting way," said Trustee Lowe. "Our family looks forward to continuing to play a role in the development of future leaders through the Ralph Lowe Energy Institute at the TCU Neeley School of Business."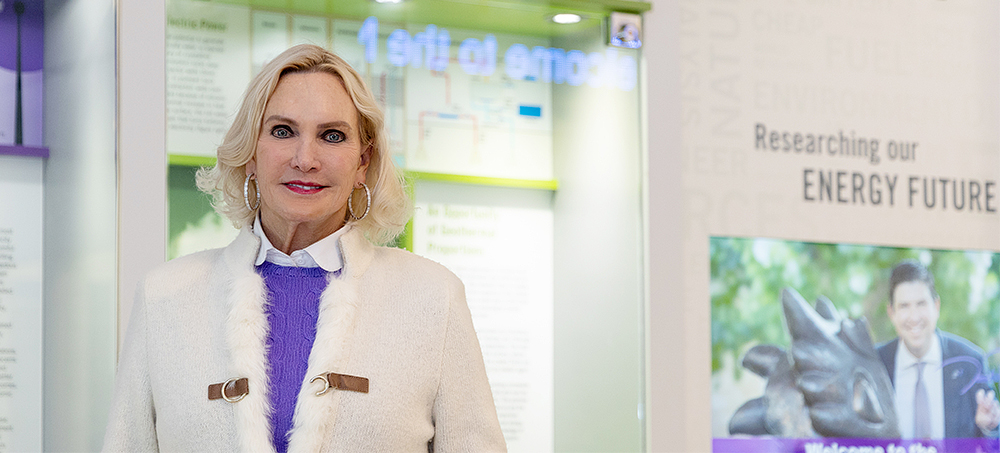 Housed in the nationally ranked Neeley School of Business, home of the No. 1 ranked Energy MBA program in Texas and No. 2 in the United States by Oil and Gas Investor magazine, as well as No. 1 ranked MBA Faculty in the World by The Economist, the institute is dedicated to developing tomorrow's energy leaders for a sustainable future. This is achieved through its focus on academics and innovation in the classroom, and research and outreach through building relationships with energy and business industries.
"The Ralph Lowe Energy Institute is playing a strategic role in the ongoing transition the energy industry is undertaking, and we are deeply thankful to Mary Ralph Lowe as a partner and leader with extensive expertise and a future-oriented vision," said Ann Bluntzer, associate professor of professional practice, management and leadership and acting director of the Ralph Lowe Energy Institute. "With this generous support, the Neeley School, along with our Energy Advisory Board, will lead in solving the most critical issues facing the energy industry. The weeks, months and years to come are crucial as we engage with key industry, government, academic and community leaders."
For decades, businesswoman and philanthropist Mary Ralph Lowe has played a vital role in the life of TCU. Lowe, who now manages her family's energy interests as CEO of Maralo, LLC, as well as working cattle ranches in the Hill Country, attended both TCU and Briarcliff College. She is a member of TCU's Board of Trustees, a Founder of the Addison & Randolph Clark Society and a KinderFrogs Ambassador. She also served on the Chancellor's Advisory Council, the Leadership Gifts Committee and the Trustee Campaign Planning Committee.
"We are inspired by and grateful for the extraordinary leadership and generosity of Mary Ralph Lowe and her family over the many years they've been part of the TCU community," Chancellor Victor J. Boschini, Jr. said. "Their support continues to make a positive difference in the lives and futures of our students, and through them, the world. I'm convinced that history will remember the name Mary Ralph Lowe as a true game-changer for the trajectory of Texas Christian University."
In the early 1930s, Missouri-born Ralph Lowe came to Midland, Texas, where he opened and successfully operated a Texaco Station before turning his talents to oil exploration. Using a contract cable tool rig, he completed his first oil well in June 1940. From then until his death in 1965, Mr. Lowe participated in more than 500 wells in Texas, Oklahoma, Louisiana and New Mexico. As a child, Mary Ralph Lowe analyzed oil maps, studied geology and learned about the business from her father. He died while she was a TCU student, and a few years later, she took over running the family's oil and gas business. Ralph Lowe was elected to The Petroleum Museum Hall of Fame in 1973.
Mary Ralph Lowe has recognized members of her family with frequent gifts to the university in their names. She established the Erma and Ralph Lowe Chair of Texas History, the first of its kind in the state, in honor of her parents, and renovated the building for TCU's School for Classical & Contemporary Dance, Erma Lowe Hall, which is named for her mother. The Samantha Yost Pace Scholarship in Nursing at TCU honors her daughter, who attended TCU's Harris College of Nursing & Health Sciences.
Her generosity extends beyond the campus. Mary Ralph Lowe and her mother, who was also a TCU Trustee, founded the Lowe Foundation in 1988 to support the health and educational needs of Texas women and children. Over the years, the foundation has given millions of dollars to more than 400 Texas charities.