The TCU Neeley Office of Inclusive Excellence launches new speaker series, providing a platform for diverse business leaders and executives to provide students with real-world insights into global business topics and equip them to overcome challenges young professionals face in their early careers.
March 12, 2022
By Neeley News
The Shaddock Auditorium at the TCU Neeley School of Business provided a dynamic setting for the inaugural Against All Odds: Stories of Grit and Determination Speaker Series. Launched by the TCU Neeley Office of Inclusive Excellence, the inaugural event featured Kenny Thompson, Jr. '03, TCU Board of Trustees member and former Horned Frogs baseball player.
As the Vice President of External Affairs of North America for PepsiCo, Thompson uses his previous experience at the White House to help lead the company's influence and investment in bridging the gap between the public and private sectors with federal, state and local stakeholders. He previously served on the Biden-Harris transition team and held several other key roles in the Obama administration.
The Against All Odds Speaker Series concept was conceived by V. David Russell '12, Neeley Board of Advisors and Chancellor's Advisory Council member, TCU adjunct finance professor, and the head of Family Office Services at MGO Private Wealth. As the moderator of the speaker series, Russell sat down with Thompson for the inaugural conversation of the series.
Russell said that the seeds for the series were sown during his days at the business school, specifically two speaker programs featuring TCU alumni who inspired his career trajectory and ambition.
"I thought back to when I was a TCU Neeley student and about the experiences that connected with me as a student," Russell said. "Those experiences with existing leaders who shared their paths helped shape my thinking about the path I wanted to pursue and attributes necessary to succeed."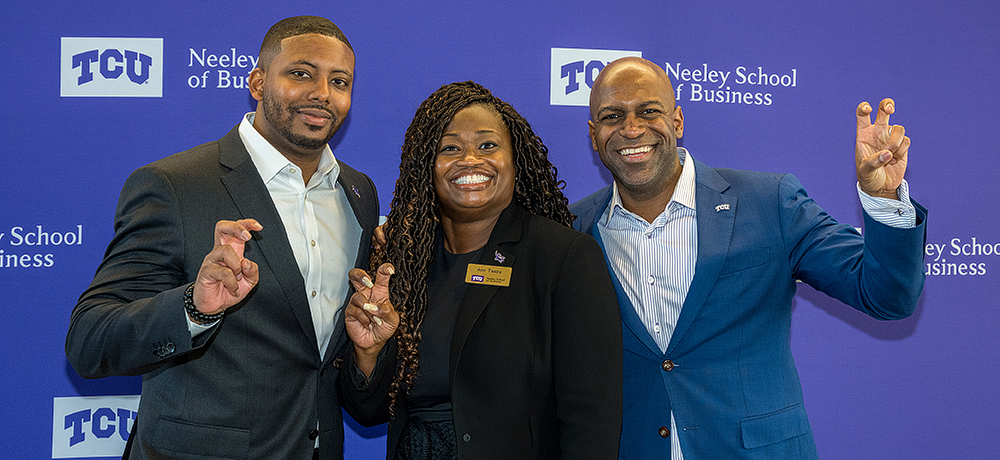 Russell worked with Ann Tasby, director of the Office of Inclusive Excellence, to bring Against All Odds to fruition. Tasby explained how the speaker series aligns with the future direction of the Office of Inclusive Excellence.
"One of the key goals of our office's strategic growth plan is to recruit, retain and propel talent in an inclusive environment, celebrating the diversity of people and ideas," Tasby said. "To achieve this goal, we are committed to working arm-in-arm with our students, alumni, industry leaders, faculty and staff."
Russell moderated the inaugural speaker series event, intentionally walking through Thompson's career trajectory from college graduation to present day, with the 100 in-person attendees in the auditorium rapt with attention and more than 300 attendees joining virtually.
Thompson discussed the inspiration he received from his father, the first Black official elected in Pflugerville ISD School Board history, who took him to vote for Jesse Jackson in the 1984 Democratic primary.
His love for politics also came from his father who advised Thompson to "find people who you want to be like and who are doing what you want to do," and then build a connection. One great example of Thompson following through was his outreach and connection-building with then-Mayor Ron Kirk of Fort Worth, one of few Black mayors in the U.S. That relationship still endures today and led to national leadership opportunities.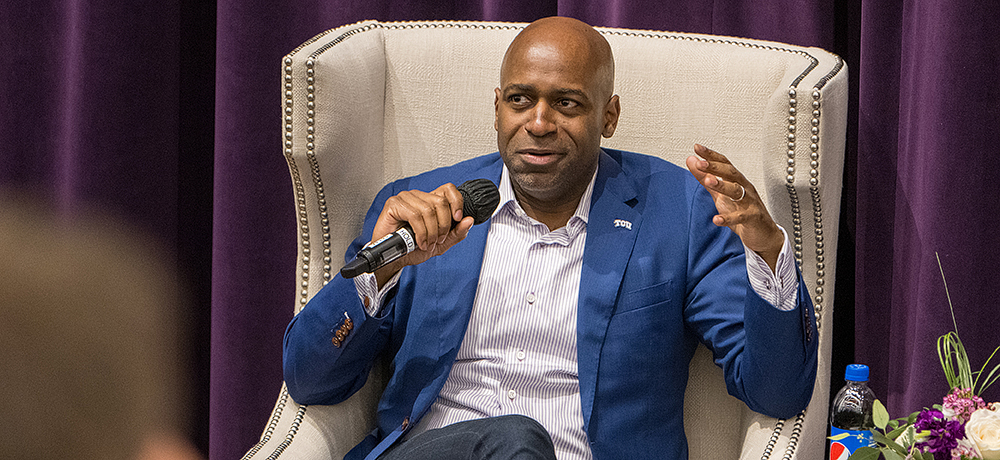 But first, after Thompson's baseball playing days came to an end and he graduated with a degree in political science, it was time to grow up and leave the nurturing TCU environment. "It was a tough time and I was lost for a while," Thompson confessed. While working as a substitute teacher in his hometown of Pflugerville, Texas, Thompson soon realized that pursuing a career more closely aligned with his passion for politics would serve him best.
His first big break came with the opportunity to run (and win) the campaign of the first Black woman elected to the Austin City Council. Thompson then volunteered for Barack Obama's presidential campaign, and against the advice of everyone but his parents, he took a full-time position with the campaign. After President Obama was elected, Thompson had stints at the White House, both in then Vice President Biden's office and with Ron Kirk, who had taken on the role of U.S. Trade Ambassador by that time.
Thompson's career has shown the value of taking risks and having the courage to step outside of one's comfort zone. He encouraged the students in the audience to "say yes" during their careers even when it might seem scary.
"There are going to be opportunities that you may feel you're not quite ready for," Thompson explained. "You should say yes to them, because that's where you're going to grow."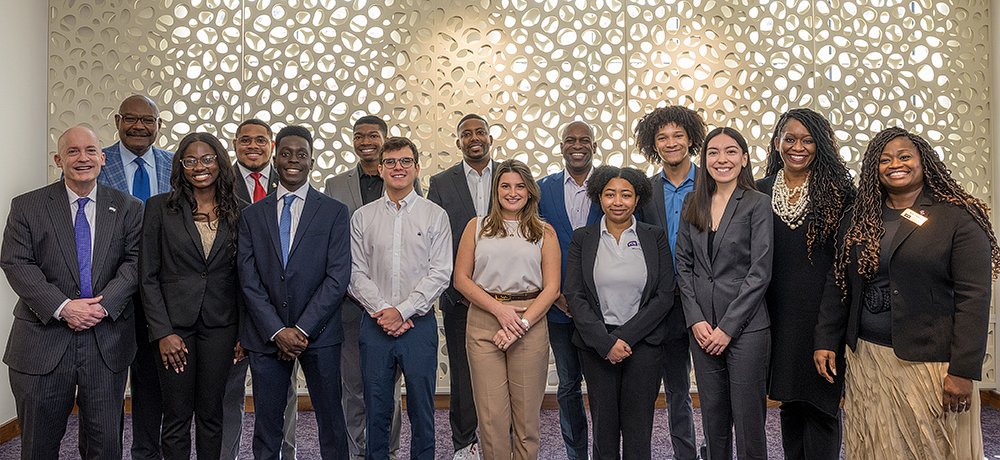 TCU Student Government Association President Lau'Rent Honeycutt introduced the speakers at the event and said he gained valuable insight from the conversation.
"The greatest lesson I learned is that there is no one path to success," Honeycutt said. "The road each of us travels will vary at every level, but no matter what it is, your purpose and willingness to fail will propel you forward."
Russell and Tasby believe the inaugural speaker series event is only the beginning and aim for students to "gain more insights from speakers like Thompson. "We want to create and share a series of unique conversations designed and centered around engaging students with diverse business leaders who are all making impact in their own way," Russell said.
The next Against All Odds speaker series event features Sekou Lewis, general counsel for the Dallas Mavericks, on April 8, 2022.