The inaugural NAPE/TCU Energy Innovation Case Competition attracted top MBA students who put their analytical skills and energy expertise to the test for $40,000 in prize money.
February 05, 2020
By Elaine Cole
On February 4, 2020, the first NAPE/TCU Energy Innovation Case Competition brought together MBAs from 11 top universities to compete at the NAPE Summit in Houston. The teams had five hours to work on the case before presenting their oil and gas knowledge to a panel of judges made up of leaders from industry and academia.
The case: Analyze the implications of the wide performance of U.S. E&P equities in 2019 and create innovative real-world solutions.
Up for grabs: $40,000 in prize money.
The judges: Senior executives from Chevron, Enverous, Texas Commission on Environmental Quality, Wood MAC and Centennial Resources, and Sean Marshall, president of the AAPL Education Foundation, which sponsored the competition.
First place of $25,000 was awarded to the University of Texas at Austin team of Nick Gibson, James Fraser, Ehren Burgh and Chris Romanczuk. The first place team made a lunchtime presentation to attendees of the NAPE Global Business Conference.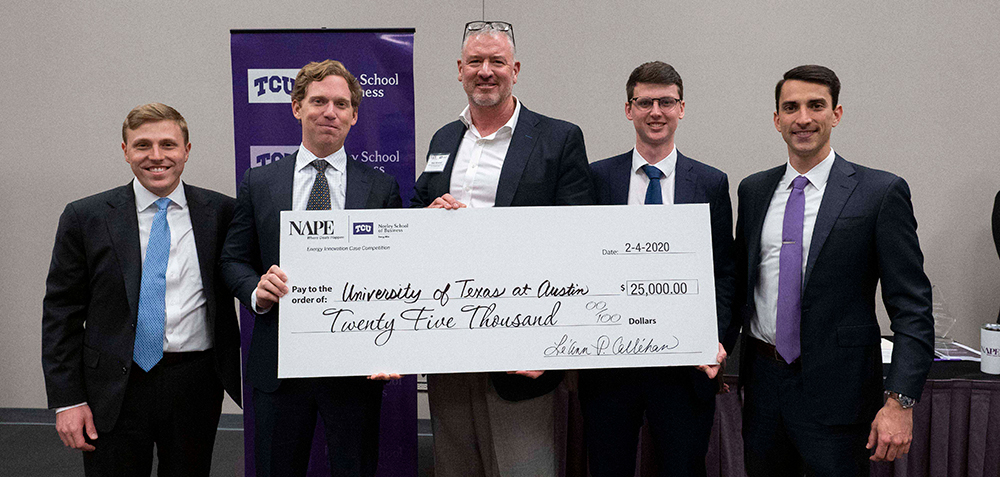 Second place of $10,000 was awarded to the University of Denver team of Brent Troxell, Bryan Karr, Rico Dominguez and Norbert Peyfuss.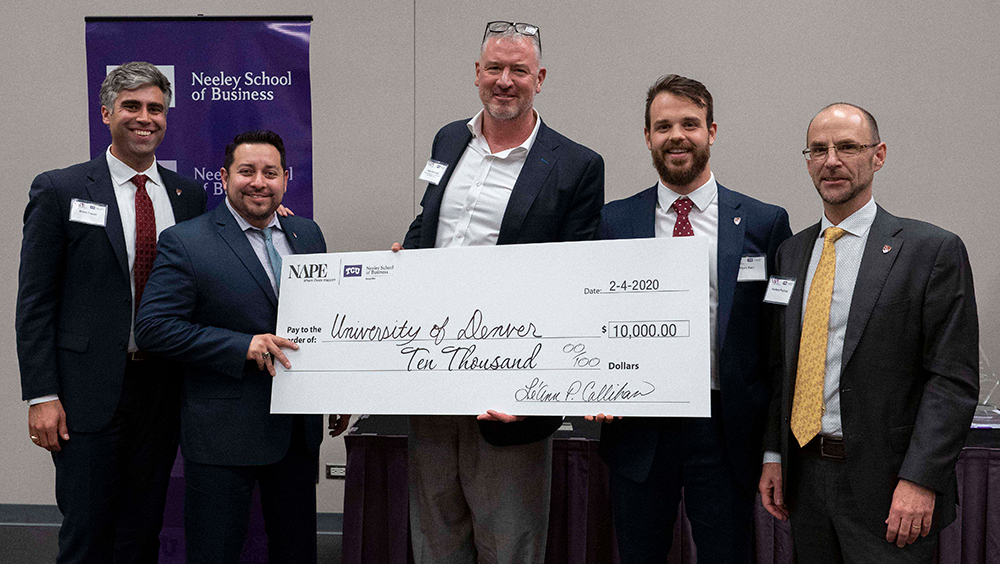 Third place of $5,000 was awarded to the Southern Methodist University team of Travis B. Little, Morgan Mitchell, Mark Avioli and Emily Mallon.
The TCU team of James Bayless, Diego Vega, Jenny Wheelan and Daryl Stafford took fourth place.
"My TCU MBA teammates and I are proud that we were finalists in the competition. It was a fantastic opportunity to network with other schools, meet impressive industry professionals, and challenge myself with big questions facing the energy industry," said Stafford, vice president of energy banking for Texas Capital Bank and a student in the TCU Energy MBA program.
"Our first case competition a compelling success and an excellent example of collaboration between higher education and industry to solve some of the biggest issues facing the energy sector. It was inspiring to watch the next generation of leaders share their innovative ideas towards energy security in the future," said Ann Bluntzer, associate professor of professional practice in management and leadership at the TCU Neeley School of Business and faculty advisor for the TCU Energy MBA.
"The accelerating pace of innovation in global energy markets requires graduate business education to prepare market-relevant leaders through world-class programs like the TCU Energy MBA for working professionals. TCU Neeley's partnership with NAPE helps meet this challenge by providing an experiential learning platform for top schools to showcase student expertise and deepen engagement with energy executives," said Daniel Pullin, the John V. Roach Dean of the Neeley School of Business at TCU.
"NAPE is the place where deals happen — and that includes opportunities for our future industry leaders," said Le'Ann Callihan, director of NAPE. "With NAPE's Job Fair, networking and now the NAPE/TCU Case Competition, NAPE Summit is an excellent venue for energy students to make meaningful connections to build successful careers."
Participating universities were:
Rice University — Jones Graduate School of Business
Southern Methodist University — Cox School of Business
Texas Christian University — Neeley School of Business
Tulane University — Freeman School of Business
University of Colorado — Leeds School of Business
University of Denver — Daniels College of Business
University of Houston — Bauer College of Business
University of North Carolina Chapel Hill — Kenan-Flagler Business School
University of Oklahoma — Price College of Business
University of Texas at Austin — McCombs School of Business
University of Texas at Dallas — Naveen Jindal School of Management
NAPE is the oil and gas industry's marketplace for the buying, selling and trading of prospects and producing properties. NAPE offers two expos annually in Houston, bringing together prospects and all the key players needed to evaluate, facilitate and execute deals. 
The TCU Neeley School of Business delivers a world-class, global curriculum with an emphasis on experiential learning. The Economist ranks TCU MBA faculty No. 1 in the world and Bloomberg Businessweek ranks the TCU MBA program No. 4 in Texas. TCU Neeley offers the TCU Energy MBA for working professionals, held evenings on the TCU campus and via virtual live learning accessible from anywhere.