They came to win. Graduate students from 18 universities converged at TCU to impress judges with their supply chain skills. Five winning teams made the cut.
February 24, 2020
By Elaine Cole
TCU Neeley gave them the best geographic information system software available, from Esri, and the opportunity to work on a supply chain case for a well-known national food chain, Chick-fil-A. 
The graduate students had one day to receive the case and brainstorm solutions, and then present their best answers the next day to supply chain executives from major corporations who judged the competition.
The case, provided by Chick-fil-A, addressed the challenges of supporting high supply chain growth in seven western states. Utilizing demographics, consumer behaviors and natural seasonality, each team had to expand a distribution network to meet customer demand for Chick-fil-A products. In dense areas such as Los Angeles, the teams had to augment their plan with nighttime deliveries and innovative daytime deliveries timed with the ebb and flow of demand surges.  
"The supply chain executives got to see how they used opportunities to overcome obstacles and pave the way for a successful result," said Morgan Swink, executive director of the Center for Supply Chain Innovation at the TCU Neeley School of Business.
Winners
First place $10,000 and iPads – Georgia Tech 


Second place $5,000 and iPads – Brigham Young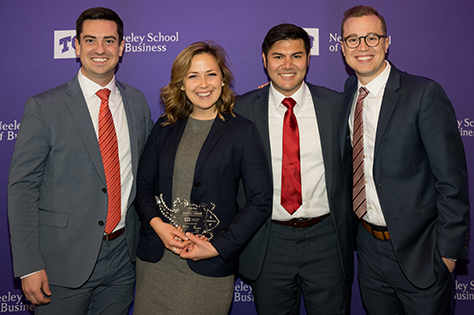 Third place $3,000 and iPad minis – University of Washington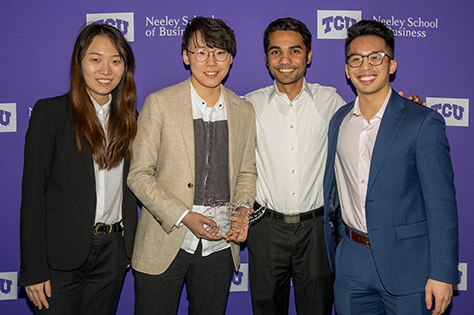 Fourth place $1,500 – University of South Carolina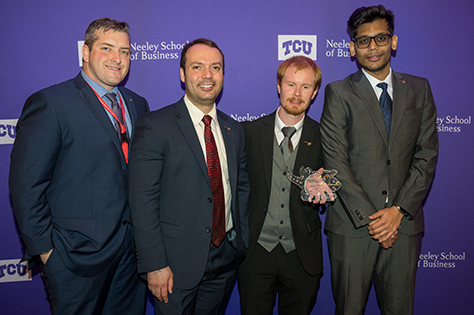 SAP Auxiliary Case $1,000 – Combined team of students from SMU and Rutgers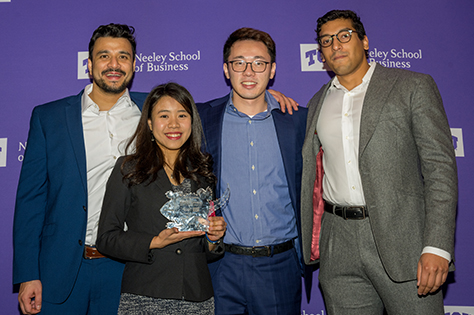 "We are pleased to be the exclusive premier sponsor working alongside Chick-fil-A for TCU's Graduate Supply Chain Competition this year," said Cindy Elliott, Esri head of global commercial industry strategy. "Using location intelligence technology as the cornerstone, all 18 teams worked hard to understand and analyze a complex challenge. These are some of the brightest graduate students in the country. The industry needs innovators like these, and it is inspiring to watch them define, develop and present solutions that will shape supply chain technology in the years to come."
2020 Graduate Supply Chain Teams 
Arizona State University
Brigham Young University
Columbia University
Georgia Tech 
Iowa State University
Lehigh University
Rutgers University
Saint Louis University
Southern Methodist University
Syracuse University
Texas Christian University
University of Arkansas
University of Maryland
University of Pittsburgh
University of South Carolina
University of Washington
University of Wisconsin-Madison 
West Virginia University
The competition is presented annually by the TCU Neeley Center for Supply Chain Innovation. 
2020 Sponsors 
Exclusive Premier Partner - Esri 
Case Provider: Chick-fil-A
Partners: BNSF Railway, HollyFrontier, Lockheed Martin, NFI 
Associate Partners: Corning, Hillwood, The Shepherd Foundation, Shoppa's Material Handling 
Auxiliary Case Competition Sponsor: SAP
Team Sponsors: Andrews Tool Company, Blue Sky Capital Strategies, C.H. Guenther & Son, Dunaway, Frito-Lay, o9 Solutions, Oncor, Pegasus Logistics Group, PepsiCo, RGP
Supporters: Digital Press, HF Custom Solutions, Hilton Fort Worth, J&S Audio Visual
Esri, the global market leader in geographic information system (GIS) software, location intelligence, and mapping, offers the most powerful geospatial cloud available, to help customers unlock the full potential of data to improve operational and business results. Founded in 1969, Esri software is deployed in more than 350,000 organizations including 90 of the Fortune 100 companies, all 50 state governments, more than half of all counties (large and small), and 87 of the Forbes Top 100 Colleges in the U.S., as well as all 15 Executive Departments of the U.S. Government and dozens of independent agencies. With its pioneering commitment to geospatial information technology, Esri engineers the most advanced solutions for digital transformation, the Internet of Things (IoT), and advanced analytics. Visit us at esri.com.