In addition to Ryan and Schieffer, the 19th Annual Investment Strategies Conference included futurists, analysts, researchers and authors who provided investment strategy expertise at the TCU event, presented by LKCM Center for Financial Studies at the TCU Neeley School of Business and TCU Investment Management.
October 28, 2022
By Tiara Ellis Richard
High-profile industry leaders were invited to the 19th Annual Investment Strategies Conference to share their expertise with investment professionals, students, faculty and staff. The event is presented each year by the LKCM Center for Financial Studies at the TCU Neeley School of Business and the TCU Investment Management.
The half-day conference regularly sells out quickly, primarily due to the prominent and influential speakers invited to participate and share their thought leadership. For the luncheon this year, Paul Ryan, immediate past speaker of the US House of Representatives, was joined on stage by Bob Schieffer '59, CBS News Correspondent and former moderator of "Face the Nation." Schieffer interviewed Ryan on topics ranging from economics to politics.
Daniel Pullin, the John V. Roach Dean of the TCU Neeley School of Business, described this investment conference as an annual event that provides a valuable experience for students and industry professionals.
"In addition to delivering compelling insight from futurists, researchers, analysts and authors, the conference provides the unique opportunity for our students to be in the room for a frank and open discussion about current market and policy trends with influential decision-makers," Pullin said. "Priority emphasis is placed on providing our TCU network and our students with   advantageous experiences to prepare all for leadership, influence and success at every level."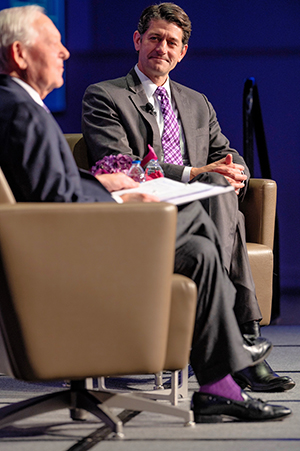 Ryan engaged with students throughout the conference in multiple settings. In the morning, a select group of students from colleges and schools throughout TCU joined Ryan for a conversation about economic and political topics, said Mauricio Rodriguez, a co-host of the conference and Director, LKCM Center for Financial Studies at the Neeley School of Business.
At the conclusion of the 45-minute keynote with Ryan and Schieffer, students also had a public question and answer session.
TCU Neeley Accounting and Finance senior Sean Payne said Ryan was so thorough with his responses while being interviewed by Schieffer that when it was time for him and others to ask the former Speaker of the House a question, their choices were limited.
"Every time I wrote a question, he would answer it in the next couple of sentences and I'd have to re-write it and try again," said Payne.
Payne agreed with Pullin's assessment, and said that he saw an immediate return on investment with the Investment Strategies Conference.
"When you have a conference like this, there are a lot of professionals here. Sometimes people forget the educational part," said Payne, adding that he enjoyed hearing from self-proclaimed futurist Mike Walsh in one session.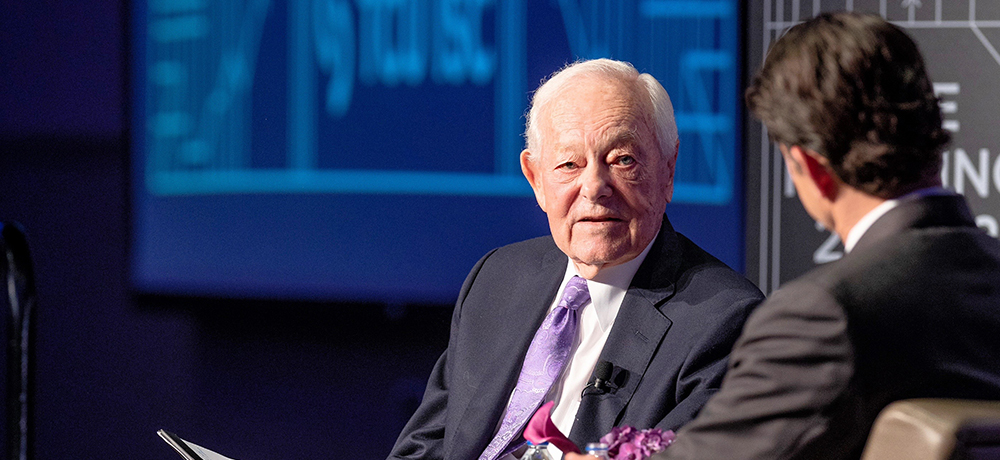 "I liked hearing how well he communicated what he thought business would look like moving forward. For me, as a part of the next generation, those are some of the things as I am thinking about as I start my career."
The event was co-hosted by Rodriguez and Jason Safran, Chief Investment Officer, the TCU Investment Management. Additional speakers for the conference included:
Raj Agrawal, Partner, Global Head of Infrastructure, KKR
Joyce Chang, Chair of Global Research, J.P. Morgan
Lauren Farrelly Searway, Portfolio Manager, TCU Investment Management
Jason Trennert, Chairman and Chief Executive Officer, Strategas Research Partners LLC
Wil Vanloh '92, Founder and CEO, Quantum Energy Partners
Mike Walsh, CEO of Tomorrow, Futurist, and Author
In previous years, speakers have included former United States President George W. Bush and Janet Yellen, an American economist who is currently serving as Secretary of the Treasury of the United States.