MBA students from 15 top universities across the country met online to come up with fresh new ideas for PepsiCo in the 2020 case competition.
October 29, 2020
By Elaine Cole
They drank in the challenge, crunched the numbers and delivered satisfying results. They met online, teamed up and brainstormed virtually, and delivered their recommendations to PepsiCo judges, all without leaving their homes.
On October 22, MBA students from 15 universities were randomly assigned to nine mixed teams of four from different schools, and given the case by PepsiCo executives the next morning.
They worked quickly with their new teammates for nine hours throughout the day Friday, and then presented their solutions to PepsiCo executives Saturday for 15 minutes each, with 20 minutes of Q&A. They were judged on the strength of their case and their presentation.
"Our long partnership with PepsiCo for this competition allows us to bring together top MBA students to impress executives and potential employers with their teamwork, intelligence and skills. They collaborate with new teammates, not colleagues they go to class with every day, which gives them the chance to work across skills and schools to come up with compelling answers to challenging cases. It's a win all the way around," said Daniel Pullin, the John V. Roach Dean of the Neeley School of Business.  
First Place of $7,000 was awarded to the winning team of (L-R): Jacquelyn Turner, TCU Neeley School of Business; Delaney Berman, Rice University Jones Graduate School of Business; Akhil Dewan, SMU Cox School of Business; and Thomas Hayes, Vanderbilt University Owen Graduate School of Business.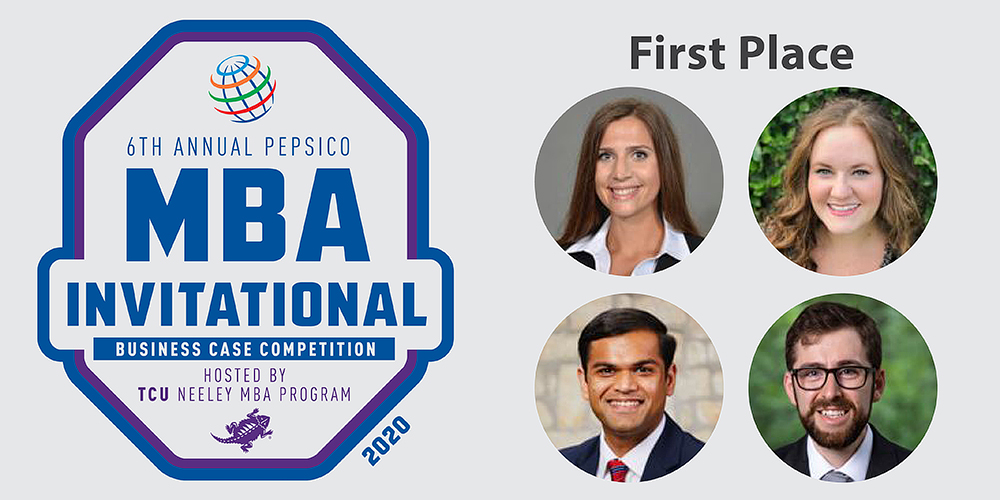 Second Place of $5,000 was awarded to the team of (L-R): Andres Crosby, TCU Neeley School of Business; Meredith Zingale, Duke University, Fuqua School of Business; Frances Ampah, University of Maryland Smith School of Business; and Todd Wirsch, University of Pennsylvania, Wharton Business School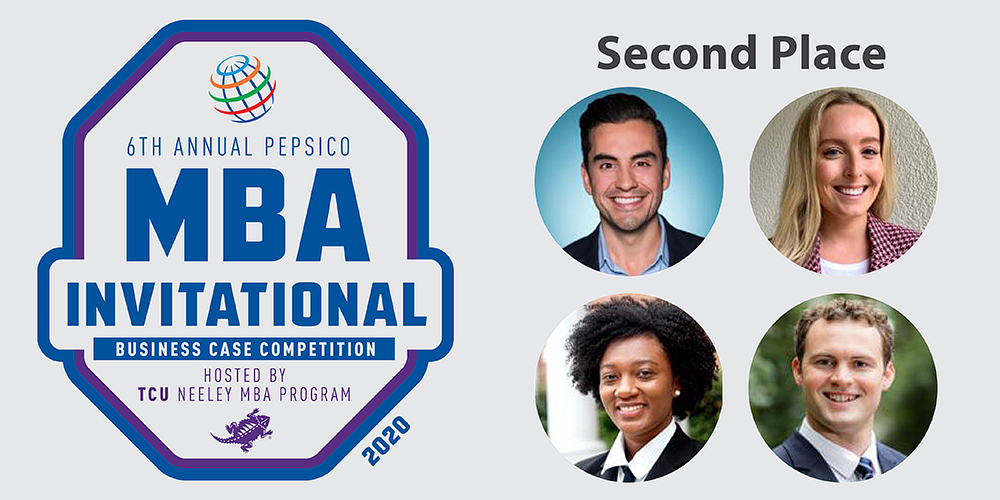 Third Place of $3,000 was awarded to the team of (L-R): Trung Nguyen, TCU Neeley School of Business; Alexander Monje, UNC Kenan-Flagler Business School; Samantha Marrus, Yale School of Management; and Candance Samuel, University of Michigan Ross School of Business.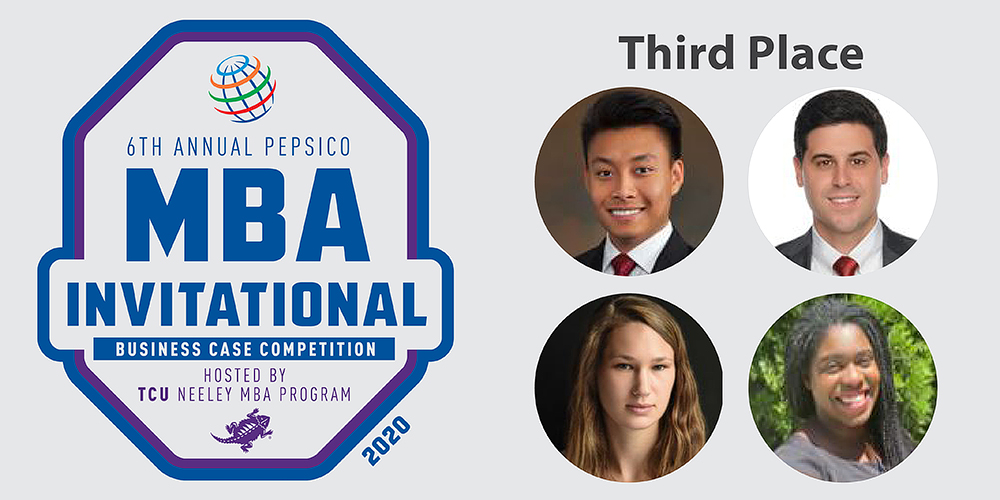 Judging the competition for PepsiCo were: Ralph Goedderz MBA '97, CFO and vice president of PepsiCo Global Information Technology; Jamie Caulfield, CFO for PepsiCo Foods North America; Tina Mahal, vice president of marketing for global foods, transformation brands and innovation; Karol Nurse, senior finance director; Sean Lovett MBA '08, senior director of sales; Todd Huerta MBA '05, senior finance director; Emma Haugh, senior finance director; Josh Baschnagel, senior sales director; Hana Golden BBA '09, Kroger shopper marketing for PepsiCo brands; Marc Lickteig, senior finance director; and Mohan Komanduri, vice president of PepsiCo Global Procurement
"In each of the presentations it was clear that it was not about personal glory but about combined team effort" Caulfield said. "The lack of ego and push for common purpose is exactly what we are looking for."
"In this virtual space, to come together with people you don't know and collaborate and get to recommendations was incredibly impressive," Mahal said.
Caulfield added, "Plus, I spent two hours on Zoom on a Saturday and enjoyed it. There can be no higher praise. 
This is the sixth year for the PepsiCo MBA Invitational Case Competition at TCU, made possible by a partnership between TCU Neeley and PepsiCo, one of the world's leading food and beverage companies with brands including Pepsi, Lay's, Tropicana, Quaker and Gatorade, and products sold in more than 200 countries and territories around the world.
Participating schools for 2020 were:
Cornell University, SC Johnson College of Business
Duke University, The Fuqua School of Business
Harvard University, Harvard Business School
New York University, Stern School of Business
Rice University, Jones Graduate School of Business
Southern Methodist University, Cox School of Business
Texas Christian University, Neeley School of Business
University of California, Anderson School of Management
University of Maryland, Smith School of Business
University of Michigan, Ross School of Business
University of North Carolina, Kenan-Flagler Business School
University of Pennsylvania, Wharton Business School
University of Rochester, Simon Business School
Vanderbilt University, Owen Graduate School of Management
Yale University, Yale School of Management